BEIJING — A look at recent developments in the South China Sea, where China is pitted against smaller neighbors in multiple disputes over islands, coral reefs and lagoons in waters crucial for global commerce and rich in fish and potential oil and gas reserves:
___
EDITOR'S NOTE: This is a weekly look at the latest developments in the South China Sea, the location of several territorial conflicts that have raised tensions in the region.
___
CHINA SLAMS UK PLAN TO SEND CARRIERS TO SOUTH CHINA SEA
China's foreign ministry criticized plans by Britain to send its new aircraft carriers on freedom of navigation missions in the South China Sea to challenge Beijing's expansive territorial claims in the strategic waterway.

HMS Queen Elizabeth
Ministry spokesman Lu Kang told reporters Friday in response to a question on statements by British officials that "some countries" from outside the region "insist on stirring up trouble while the situation is trending toward calm in the South China Sea."
"Regardless of what banner these countries or individuals fly under, or what excuses they may peddle, their record of the same kind of sanctimonious interference in the affairs of other regions, leaving behind chaos and humanitarian disaster, prompts countries in this region to maintain a high degree of vigilance," Lu said.
China's foreign ministry spokesman Lu Kang
British Foreign Secretary Boris Johnson confirmed following a high-level meeting in Sydney with his Australian counterpart, Julie Bishop, that missions to the South China Sea would be near the top of deployment plans for the new carriers, the HMS Queen Elizabeth and HMS Prince of Wales.
"One of the first things we will do with the two new colossal aircraft carriers that we have just built is send them on a freedom of navigation operation to this area to vindicate our belief in the rules-based international system and in the freedom of navigation through those waterways which are absolutely vital for world trade," Johnson said.
British Foreign Secretary Boris Johnson, left, and Australian Foreign Minister Julie Bishop look at each other during a press conference following their meeting in Sydney, Thursday, July 27, 2017. Johnson said that he supports a proposed free trade agreement between the United Kingdom and Australia, as his country looks to strengthen its relationships with allies ahead of Britain's departure from the European Union. (AP Photo/Rick Rycroft)
British Defense Secretary Sir Michael Fallon later said exact plans for the deployments had not yet been finalized.
"But, yes, you would expect to see these carriers in the India Pacific Ocean, this part of the world because it is in this part of the world we see increasing tension, increasing challenges," Fallon said.
China has strongly objected to repeated freedom of navigation missions carried by the U.S. Navy along with the presence of the navies of Japan, Australia and others in the waterway, through which an estimated $5 trillion in annual trade passes each year.
___
OFFICIAL CHINESE MAGAZINE LAUDS PRESIDENT XI FOR 'PERSONALLY' LEADING SOUTH CHINA SEA EXPANSION
An official Chinese magazine says President Xi Jinping personally directed the enlargement of China's presence in the South China Sea through the construction of man-made islands and other measures, crediting him with constructing a "maritime Great Wall."
China's President Xi Jinping addresses 12,000 troops during an unprecedented display of China's military muscle in Inner Mongolia, Sunday, July 30, 2017. Xinhua photo
Xi "personally led and directed a series of great struggles to expand strategic advantages and safeguard national interests," the Study Times, published by the ruling Communist Party's central training academy, said in an article published Friday.
The president's policies, including the building of islands and administrative changes elevating the status of China's claims in the disputed Paracel island group, have "altered the basic direction of the South China Sea strategic situation."
They have "created a solid strategic foundation for the winning final victory in the struggle for upholding rights in the South China Sea, the equivalent of building a maritime Great Wall," the magazine said, referencing the centuries-old defensive structure built to protect China from invasions by Mongols and tribes from the north.
Under Xi, China has constructed seven man-made islands in the highly contested Spratly group by piling sand and cement atop coral reefs, later adding runways, aircraft hangers and other infrastructure with defensive uses. Islands in the Paracel islands and elsewhere have also been expanded and similarly augmented.
China claims the construction is mainly to improve safety for shipping and fishermen, although the Study Times article again appeared to underscore its military purpose.
The article also cited Xi's involvement in policy regarding uninhabited Japanese-controlled islands in the East China Sea that China claims.
Giving "measures for measure," China unilaterally declared control over a large swath of airspace in the East China Sea — a move declared illegitimate and ignored by the U.S. and others — and patrols the area on a regular basis, the article said.
It said Xi's moves have "in one fell swoop, shattered Japan's many years of maintaining 'actual control'" over the islands, known in Chinese as Diaoyu and in Japanese as Senkaku.
Related:
China Military display is latest effort by President Xi Jinping to improve standing as party leadership shuffle looms
China's Xi Jinping urges need for 'world-class' army loyal to Party
US Pacific Command, Navy Adm. Harry Harris Jr. Talks North Korea, China, South China Sea, Islamist Terrorism, Southeast Asia
'Philippines not giving up territory to China' — Joint oil exploration in the South China Sea
Philippines: North Korean delegation visits Manila ahead of regional security meeting — ASEAN Joining China and North Korea?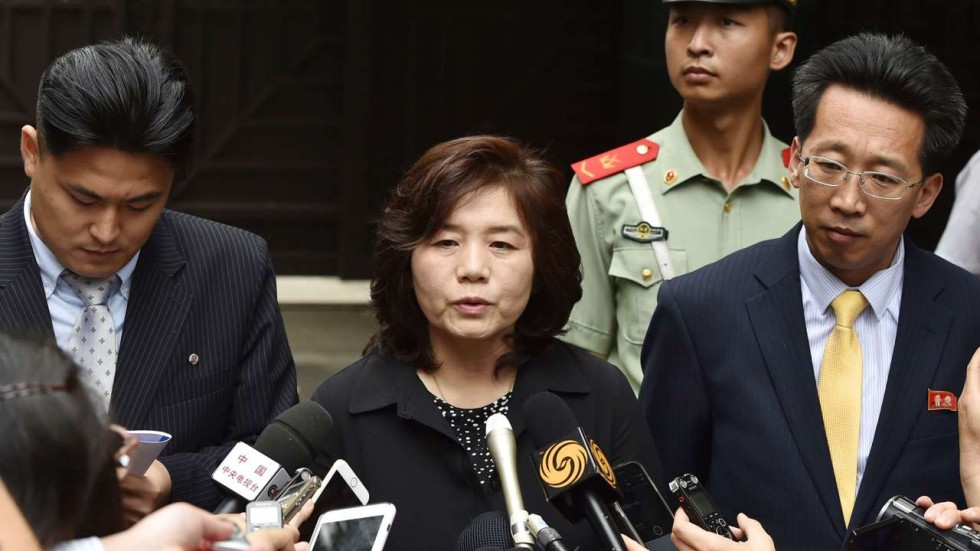 North Korea's Vice Foreign Minister Choe Hui Choi in Beijing, China in June of 2016. Kyodo Photo
Sri Lanka sign into controversial $1 billion port deal with China along world's busiest east-west shipping route
Iran rules out halt to missile tests — Says U.S. Navy fired warning shots — Accuses the U.S. Navy of unprofessional behavior
Top India, China National Security Advisors Meet But Fail To Resolve Mountain Military Standoff
China, Russia responsible for N.Korea threat: Tillerson
Western nations express displeasure at Iran's space launch; US levies sanctions — Iran likely close to North Korean-type ICBM capability
Vietnam asks Indonesia to investigate South China Sea shooting
North Korea Tests Another ICBM, Claims All of U.S. in Strike Range
Tags: aircraft carriers, Australia, Britain, British Foreign Secretary Boris Johnson, China, Diaoyu, East China Sea, freedom of navigation, HMS Prince of Wales, HMS Queen Elizabeth, India, Japan, Julie Bishop, Lu Kang, Malaysia, maritime Great Wall, militarized islands, Paracel Islands, Philippines, Royal Navy, Senkaku, South China Sea, Spratly Islands, Taiwan, U.S., U.S. Navy, UK, Vietnam, Xi Jinping