HANOI — Vietnam on Tuesday condemned China's construction and operation of a movie theater on the Paracel islands, as tension between the neighbors rises over energy claims in the disputed South China Sea waterway.
The cinema on Woody Island in the Paracels, which are also claimed by Taiwan and Vietnam, is equipped with the most advanced projection equipment, China's state news agency Xinhua has said.
http://www.amusingplanet.com/2015/10/sansha-city-that-includes-almost-entire.html
"That action by China has infringed Vietnam's sovereignty over Hoang Sa Archipelago, violated international law and cannot alter Vietnam's sovereignty over this archipelago," foreign ministry spokeswoman Le Thi Thu Hang said, using the Vietnamese name for the islands.
"Vietnam opposes it and demands that China not repeat similar actions."
Telephone calls to the Chinese embassy in Vietnam to seek comment went unanswered. Officials of China's foreign ministry were not immediately available for comment.
Tension between the neighbors revived in mid-June when oil drilling began in Vietnam's Block 136/3, which is licensed to Vietnam's state oil firm, Spain's Repsol and Mubadala Development Co [MUDEV.UL] of the United Arab Emirates.
The block lies inside the U-shaped "nine-dash line" that marks the vast area China claims in the sea and overlaps what it says are its own oil concessions.
China has urged Vietnam to stop the drilling while Vietnam has said countries should respect its right to drill in its waters.
Vietnamese fishermen
China claims most of the energy-rich South China Sea through which about $5 trillion in ship-borne trade passes every year. Brunei, Malaysia, the Philippines, Taiwan and Vietnam also have claims.
China took full control of the Paracels in 1974 after a naval showdown with Vietnam.
Woody Island is the seat of what China calls Sansha city, its administrative center for the South China Sea.
Though China calls it a city, Sansha's permanent population is no more than a few thousand, and many of the disputed islets and reefs in the sea are uninhabited.
(Reporting by My Pham; Editing by Clarence Fernandez)
Related:
China will protect its sovereignty: Xi
South China Sea: China Criticizes British Freedom of Navigation Mission Plans — U.S., Allies Standing By International Law
South China Sea: China Is Here To Stay, Opens Cinema, Other Entertainment Venues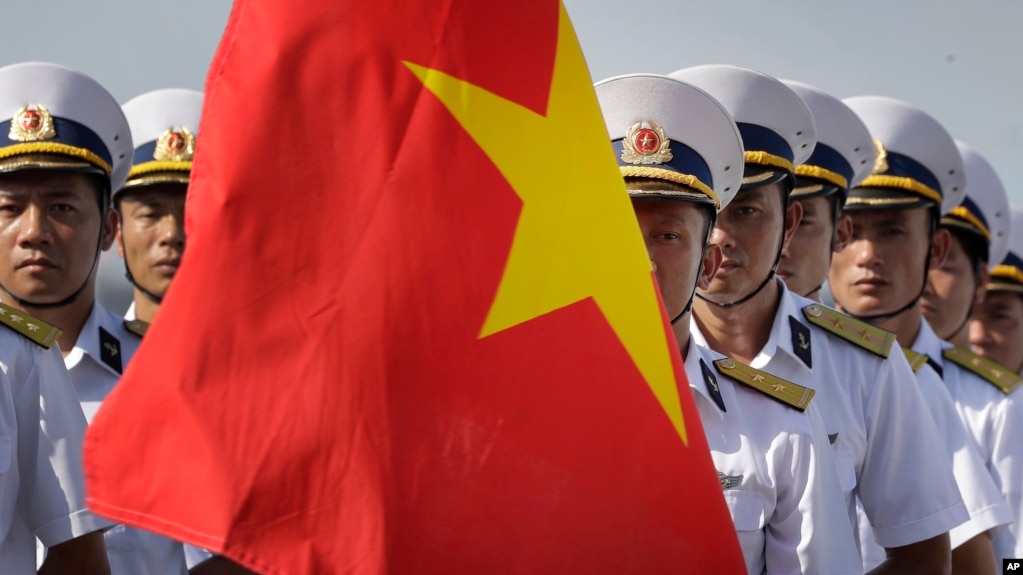 U.S. delivers patrol boats to Vietnam — Cooperation in maritime law enforcement and humanitarian assistance between U.S. and Vietnam
Vietnam Takes Asia Lead in Figuring Out Trump Policy on South China Sea
China's Threat Of War Against Philippines Is Baseless Scare Tactic — Deception, coercion, intimidation, lies and threats are to be expected. As they say in Vietnam, "This is just China." (Contains links to several earlier related stories)
China says it has sovereignty over all the South China Sea north of its "nine dash line." On July 12, 2016, the Permanent Court of Arbitration in The Hague said this claim by China was not valid. But China chose to ignore international law.
Tags: Brunei, China, cinema, Hoang Sa, Hoang Sa Archipelago, international law, International law is on Vietnam's side, Malaysia, movie theater, natural gas, nine-dash line, oil, oil drilling, Paracel Islands, Philippines, Repsol and Mubadala Development, Sansha, South China Sea, Spain, Taiwan, United Arab Emirates, Vietnam, Vietnam on Tuesday condemned China's construction and operation of a movie theater, Vietnam's Block 136/3, Vietnam's sovereignty, violated international law, Woody Island