AUGUST 2, 2017 / 12:56 PM
By Alexis Akwagyiram
Reuters
LAGOS (Reuters) – A Boko Haram faction with ties to Islamic State and responsible for the kidnapping of a Nigerian oil prospecting team which led to at least 37 people being killed has become a deadly force capable of carrying out highly-organized attacks.
Nigerian government forces have focused on crushing the best-known branch of the Islamist militant group whose leader Abubakar Shekau has led an eight-year insurgency to create an Islamic state in the northeast which has killed thousands.
But while Nigeria has claimed the capture of Shekau's main base in the Sambisa forest and freed many of more than 200 schoolgirls abducted by his faction in April 2014 in Chibok town, a rival wing has developed the capacity to carry out attacks on a larger scale.
At least 37 people, including members of the team, rescuers from the military and vigilantes, died last week when security forces tried to free those being held by the Boko Haram faction led by Abu Musab al-Barnawi who is trying to thwart government efforts to explore for oil in the Lake Chad Basin.
That wing is "much better organized than the Shekau faction" which typically stages suicide bombings in mosques and markets, said Malte Liewerscheidt, senior Africa analyst at Verisk Maplecroft consultancy group.
"The Shekau faction does not seem to have a clear ideology or any strategy," said Liewerscheidt. That makes it easier for al-Barnawi's faction to recruit whereas Shekau's faction was not trusted by locals, he said.
And despite the assessment that it is less organized, Shekau's faction has stepped up suicide bombings in the last few weeks, killing at least 113 people since June 1, according to a Reuters tally.
The combined attacks by the two wings marks a resurgence by the group, months after President Muhammadu Buhari's announcement in December 2016 that Boko Haram's stronghold in the Sambisa forest had been captured.
Boko Haram, which has killed more than 20,000 people and forced some 2.7 million to flee their homes since 2009, split last year.
The division led by Shekau, Boko Haram's most recognizable figure known for videos taunting Nigerian authorities circulated on social media, operates in the northeastern Sambisa forest and usually deploys girls as suicide bombers.
Is Named Al-Barnawi
But, since Islamic State named al-Barnawi as Boko Haram's leader in August 2016 after the west African militants pledged allegiance the previous year, his Lake Chad-based faction has been moving fighters and ammunition across porous borders in northeast Nigeria, Cameroon, Niger and Chad.
Boko Haram militants (in camouflage) embrace and shake hands with Boko Haram prisoners, released in exchange for a group of 82 Chibok girls, who were held captive for three years by Islamist militants, near Kumshe, Nigeria, May 6, 2017.Zanah Mustapha/File Photo
The head of a private Nigerian security firm, who did not want to be named, said al-Barnawi's IS affiliation meant his wing benefits from sub-Saharan trade routes to ship weapons from lawless Libya where Islamic State is active.
His group has been planning a larger scale attack for some time, said a Western diplomat, speaking anonymously.
Boko Haram launched two attacks in June – the most prolonged raid on the northeastern city of Maiduguri in 18 months and an attack on a police convoy – which were more ambitious than routine suicide attacks. Shekau's faction is widely believed to have been behind the two attacks.
Buhari has repeatedly said the insurgents are on the verge of defeat since the army, helped by neighboring countries, wrested back most of the land in Nigeria's northeast, an area the size of Belgium, that the militants took in early 2015.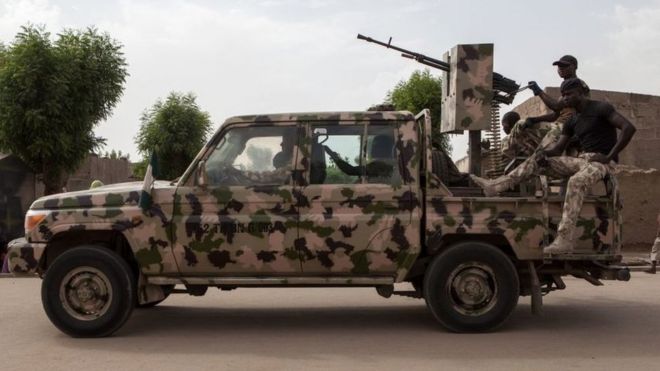 Nigeria's military has been battling the insurgents since 2009. AFP photo
A military vehicle drives into the Emir's palace in Bama, which was the former headquarters of the Boko Haram militants in Bama, Borno, Nigeria, August 31, 2016.Afolabi Sotunde/File Photo
But security experts say the territorial gain has given a false impression because much of the liberated areas beyond main roads patrolled by the army remain no-go areas where displaced people cannot return to farm.
"While insurgent-held territory has been recaptured, this was conflated with a military victory," said Ryan Cummings, director of Africa-focused risk management company Signal Risk.
"All that has happened is that Boko Haram has reverted to the asymmetrical armed campaign it had waged for the seven out of the eight years of its armed campaign against the Nigerian state," he said.
The military has been forced to concentrate forces around Maiduguri, capital of the insurgency's birthplace, Borno state, where Shekau's faction has stepped up suicide bombings, which now occur on a near-daily basis.
Ransom Money
A security analyst said Shekau's wing used ransom money paid by the government to free Chibok girls to buy weapons and recruit fighters — the attacks stepped up after a deal was brokered in May to free 82 of them.
The return of experienced commanders freed in exchange for the girls had also bolstered his group, said the analyst, who asked not to be named. "The fact that they were held for some time suggests they were serious players," he said.
Acting-President Yemi Osinbajo, in power while Buhari takes medical leave in Britain for an unspecified ailment, responded to the oil team's abduction and frequent attacks by ordering military chiefs to "scale up their efforts" in Borno, according to a statement.
The military said armed forces chiefs relocated to Maiduguri on August 1. "This move and action are expected to give impetus to the military effort," it said, without elaborating. The theater army commander is already based in the city.
Additional reporting by Paul Carsten in Abuja; Editing by Ulf Laessing and Peter Millership
Related:
Boko Haram Extremists Storm Nigeria Village, Killing 7
14 Dead After Suicide Bombing in Northeastern Nigeria — Bombing blamed on the Boko Haram extremist group
Nigeria: Kidnapped oil workers speak on Boko Haram video
U.N. Urges Nigeria to Rescue All Chibok Girls, Ensure Schooling — Chibok girls were abducted by Boko Haram in Nigeria in April 2014 — "Bring Back Our Girls" No Match For Nigerian Government
At Least 8 Dead After Suicide Bombers Hit Camps in Nigeria — Believed to Be Boko Haram — Nigeria's government declared the group "crushed" last year
Nigeria: 3 female Boko Haram terrorists killed — Army Chief of Staff wants Boko Haram leader Abubakar Shekau apprehended dead or alive
Four female suicide bombers kill 15 in Maiduguri, Nigeria — Boko Haram, Islamic State group affiliate
Nigeria Parliament Inquiry Calls Ex-President Jonathan Over Oil Block Sale Scandal
*************************************************
New Boko Haram Leader, Al-Barnawi Is The Son Of Executed Founder Of Boko Haram
Strong indication emerged yesterday that the new Boko Haram leader, Abu Musab al -Barnawi, is the son of the group's founder, Mohammed Yusuf, according to a Boko Haram insider.
The source told Cable Network news (CNN) that al-Barnawi, who is about 25 years – old was the second son of Yusuf, who founded the group in 2002 and was captured and executed after a clash with Nigerian security forces in 2009.
The insider said there was a split in the ranks of the Boko Haram terror group three months ago, which led to Barnawi, known as Habib Yusuf within the group, to leave the Sambisa forest where the sect are believed to be hiding out.
He re-emerged this week after he was introduced as the new leader of the terrorist sect in an interview in the ISIS' magazine al -Naba. Boko Haram has long had links with ISIS, pledging allegiance to the group in March.
Similarly, al – Barnawi in an interview published by an online news portal, The Japan Times, had revealed that his major targets, is to bomb churches and kill Christians, while ending attacks on mosques and markets used by ordinary Muslims.
In the interview, al-Barnawi said under his leadership, the militants would work to seize back territory.
Even though al-Barnawi is now supposedly the leader of Boko Haram , the source told CNN that the group's long – time leader, Abubakar Shekau, still has the larger number of followers in the Sambisa forest and crucially has control of the abducted Chibok schoolgirls.
Abubakar Shekau
The schoolgirls are seen as a powerful bargaining chip for the terrorist group, whose base has been significantly weakened.
Western intelligence sources close to negotiations believe, however, that the defection of manpower and erosion of support leaves Shekau more exposed and could possibly lead to a breakthrough in the search for the abducted girls.
The Boko Haram source told CNN that al- Barnawi was Boko Haram's head of armoury before he fell out with Shekau and left with some followers.
The source said: " Shekau is seen as erratic and disorganised and Habib didn't agree with a lot of his decisions anymore."
http://www.naijaloaded.com.ng/others/new-boko-haram-leader-al-barnawi-son-executed-founder-boko-haram-photo
Tags: Abu Mus'ab Al-Barnawi, Abubakar Shekau, al-Barnawi, Al-Barnawi Is The Son Of Executed Founder Of Boko Haram, better organized than the Shekau faction, Boko Haram, Chibok schoolgirls, Habib Yusuf, Islamic state, kidnapping, Lake Chad, Malte Liewerscheidt, New Boko Haram Leader, Nigeria, Nigerian oil prospecting team, oil workers, President Muhammadu Buhari, Sambisa forest, Shekau