Bill Shine would be walking into a controversy-ridden White House
By Alexandra Wilts Washington DC
The Independent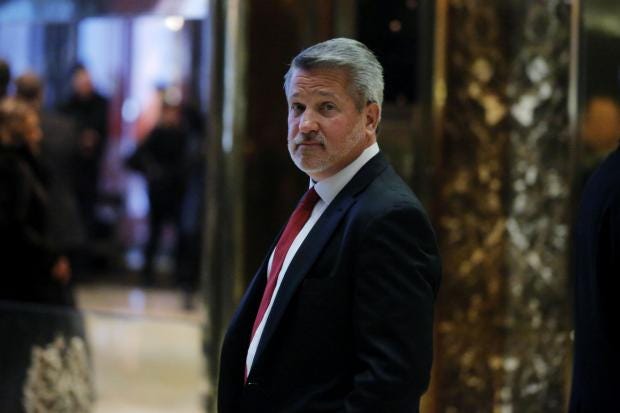 Donald Trump is reportedly considering Bill Shine, a former Fox News executive, for a role on his press team, a day after the humiliated Anthony Scaramucci was removed as White House communications director.
Mr Shine – who was forced out of Fox News following allegations that he covered up incidents of sexual harassment against anchor Bill O'Reilly and former chief Roger Ailes – is said to have spoken with White House officials about taking a position on the communications team. Mr Shine has denied all wrongdoing regarding the allegations, as did Mr Ailes, who died in May.
Whether or not Mr Shine would have such a high-profile position as Mr Scaramucci is unclear.
The New York Times reported the administration was considering a behind-the-scenes role for Mr Shine.
While he has no background in politics beyond cable news, Mr Shine counts Fox News host Sean Hannity as one of his allies. An informal advisor to Mr Trump and one of his most loyal on-air supporters, Mr Hannity dined with Mr Shine, the President and the first lady at the White House last week.
If selected to join the communications team, Mr Shine would be walking into a controversy-ridden White House that is seen as chaotic and out-of-control by many observers. Staff has seen several changes over the last month, all of which culminated in the firing of Mr Scaramucci on Monday – a move that has left Washington still reeling.
Mr Scaramucci turned the White House upside down during the 10 days he worked for the US President – who the former New York financier declared he reported directly to, without the interference of intermediaries such as Mr Trump's then-chief of staff, Reince Priebus.
Upon resigning in July, ex-Press Secretary Sean Spicer reportedly told Mr Trump that hiring Mr Scaramucci as communications director would be a big mistake.
Less than a week later, Mr Scaramucci, whose tough-talking persona was viewed to be similar to Mr Trump's, told a New Yorker reporter that Mr Priebus was a "paranoid schizophrenic, a paranoiac" and accused him of leaking information to journalists. On Friday, Mr Trump announced that John Kelly, his then-Secretary of Homeland Security, would replace Mr Priebus as White House Chief of Staff.
Mr Kelly, a retired four-star Marine general, is believed to have been selected to help bring discipline to the White House, and it appears that his first order of business was to get rid of "the Mooch", as Mr Scaramucci likes to be called.
Mr Trump is said to have removed Mr Scaramucci at the request of Mr Kelly, who was sworn in as White House Chief of Staff on Monday.
In a statement announcing Mr Scaramucci would be leaving his role, the White House said: "Mr Scaramucci felt it was best to give Chief of Staff John Kelly a clean slate and the ability to build his own team."
During a briefing following the firing, Press Secretary Sarah Huckabee Sanders also told reporters that Mr Trump "certainly felt that Anthony's comments were inappropriate for a person in that position," referring to his remarks made to the New Yorker journalist.
She also later added: "As I think we've made clear a few times over the course of the last couple of days to several of you individually, but General Kelly has the full authority to operate within the White House, and all staff will report to him."
Any new member of the communications team would be on the front lines defending Mr Trump's directives and decisions – a job made more difficult by the President's social media use and off-the-cuff communication style. Mr Trump's press secretaries have also constantly battled questions from the media related to ongoing investigations into possible collusion between Trump campaign officials and the Russian government.
Names that have been floated to fill the role of White House communications director include Kellyanne Conway, currently a counsellor to the President, and Laura Ingraham, a conservative radio host and commentator.
During his profanity-laced discussion with the New Yorker, Mr Scaramucci suggested he was considering Mr Shine for a position.
"Oh, Bill Shine is coming in," Mr Scaramucci told reporter Ryan Lizza, apparently in an impersonation of Mr Priebus, adding, in colourful language, that Mr Priebus would likely try to leak that information.
http://www.independent.co.uk/news/world/americas/us-politics/fox-news-executive-white-house-job-anthony-scaramucci-replace-communications-bill-shine-a7871931.html
Tags: Anthony Scaramucci, Bill Shine, Chief of Staff John Kelly, Donald Trump, John Kelly, Kellyanne Conway, Laura Ingraham, President's social media use, Priebus, Sarah Huckabee Sanders, Sean Spicer, Twitter, U.S., White House, White House communications job
This entry was posted on August 2, 2017 at 7:13 am and is filed under Uncategorized. You can follow any responses to this entry through the RSS 2.0 feed. You can leave a response, or trackback from your own site.