Memorial of Saint John Vianney, Priest
Lectionary: 405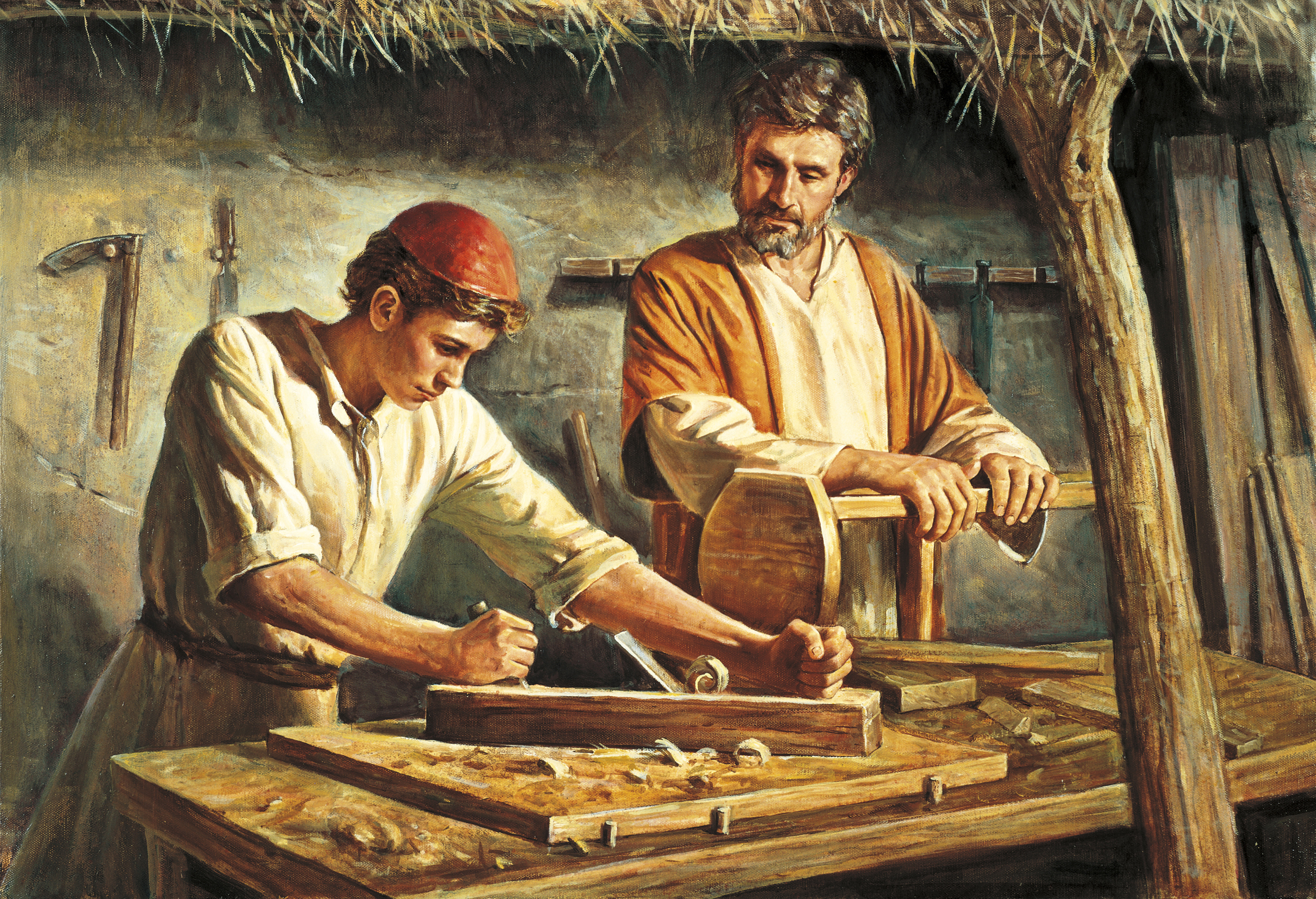 Is he not the carpenter's son? — "Seeing God in the ordinary…"
The LORD said to Moses,
"These are the festivals of the LORD which you shall celebrate
at their proper time with a sacred assembly.
The Passover of the LORD falls on the fourteenth day of the first month,
at the evening twilight.
The fifteenth day of this month is the LORD's feast of Unleavened Bread.
For seven days you shall eat unleavened bread.
On the first of these days you shall hold a sacred assembly
and do no sort of work.
On each of the seven days you shall offer an oblation to the LORD.
Then on the seventh day you shall again hold a sacred assembly
and do no sort of work."
The LORD said to Moses, "Speak to the children of Israel and tell them:
When you come into the land which I am giving you,
and reap your harvest,
you shall bring a sheaf of the first fruits of your harvest
to the priest, who shall wave the sheaf before the LORD
that it may be acceptable for you.
On the day after the sabbath the priest shall do this.
"Beginning with the day after the sabbath,
the day on which you bring the wave-offering sheaf,
you shall count seven full weeks,
and then on the day after the seventh week, the fiftieth day,
you shall present the new cereal offering to the LORD.
"The tenth of this seventh month is the Day of Atonement,
when you shall hold a sacred assembly and mortify yourselves
and offer an oblation to the LORD.
"The fifteenth day of this seventh month is the LORD's feast of Booths,
which shall continue for seven days.
On the first day there shall be a sacred assembly,
and you shall do no sort of work.
For seven days you shall offer an oblation to the LORD,
and on the eighth day you shall again hold a sacred assembly
and offer an oblation to the LORD.
On that solemn closing you shall do no sort of work.
"These, therefore, are the festivals of the LORD
on which you shall proclaim a sacred assembly,
and offer as an oblation to the LORD burnt offerings and cereal offerings,
sacrifices and libations, as prescribed for each day."
R. (2a) Sing with joy to God our help.
Take up a melody, and sound the timbrel,
the pleasant harp and the lyre.
Blow the trumpet at the new moon,
at the full moon, on our solemn feast.
R. Sing with joy to God our help.
For it is a statute in Israel,
an ordinance of the God of Jacob,
Who made it a decree for Joseph
when he came forth from the land of Egypt.
R. Sing with joy to God our help.
There shall be no strange god among you
nor shall you worship any alien god.
I, the LORD, am your God
who led you forth from the land of Egypt.
R. Sing with joy to God our help.
R. Alleluia, alleluia.
The word of the Lord remains forever;
this is the word that has been proclaimed to you.
R. Alleluia, alleluia.
.
Jesus in the Synagogue at Nazareth, by Greg K. Olsen
Jesus came to his native place and taught the people in their synagogue.
They were astonished and said,
"Where did this man get such wisdom and mighty deeds?
Is he not the carpenter's son?
Is not his mother named Mary
and his brothers James, Joseph, Simon, and Judas?
Are not his sisters all with us?
Where did this man get all this?"
And they took offense at him.
But Jesus said to them,
"A prophet is not without honor except in his native place
and in his own house."
And he did not work many mighty deeds there
because of their lack of faith.
.
***************************************
.
First Thoughts from Peace and Freedom
.
Matthew's Gospel today bears a striking resemblance to John 14:6.
.
Matthew record the doubters of Jesus saying, "Is he not the carpenter's son?"
.
John quotes the doubters saying, "Nazareth! Can anything good come from there?"
.
These two lines bring us back to, "Judge not, lest ye be judged."
.
What Did Jesus Mean When He said, "Judge Not, Lest Ye Be Judged" (Matthew 7:1)?
.
Most of us know the answer to THAT! We all judge others too quickly, too harshly and too often. Jesus seems to be teaching us, "Live and let live."
.
**************************************************
.
.
Reflection by  The Most Rev Msgr William Goh Archbishop of Singapore
.
04 AUGUST, 2017, Friday, 17th Week, Ordinary Time
SEEING GOD IN THE ORDINARY
SCRIPTURE READINGS: [ LEV 23:1-37; MT 13: 54-58]
In our lives, we must have come across many great, famous and charismatic people.  And we have been impressed by them.  Yet, who are those people that are really great? Are they those who are highly gifted; making themselves so awesome to approach; making us feel small when we speak to them? Or are they those who are highly gifted and yet appear and relate to us as if they are normal and ordinary people?  Indeed, the truly, truly great are those who are great per se but make themselves so ordinary; are so humble in their ways, making us feel that we are somebody before them.  I was told by the helpers of MC that when Mother Teresa came, she lived among the sisters and lived as one of them without any special treatment accorded to her.  That is indeed someone really great.
Yes, this is the theme of today's gospel.  God comes to us in ordinary ways, in very human ways.  Unfortunately, like the people in Jesus' hometown, many of us cannot accept that God can manifest Himself to us that way.  The people could not accept Jesus because they knew Him too well.  He was so ordinary, He was one of them.  They knew His family and relatives too.  How could one with such a village background be the Messiah who was promised in the Old Testament? And so they rejected Him, as they would again at the crucifixion.  They wanted God to appear in more fantastic and spectacular ways.  Yes, Jesus was a scandal to them.
But that is not the way of God.  In fact, God has always revealed and related to us in ordinary and human ways.  The first reading from the book of Leviticus prescribes the three great festivals of Israel, viz, the Passover, Weeks or Pentecost; and Tabernacles.  The lives of the Jews were structured around these three great feasts.  The origin of the Passover was a pastoral festival which celebrates the spring firstlings.  The Feast of Pentecost, also called the Feast of Weeks, is simply the harvest festival, the feast of the first-fruits of the grain harvest.  The Feast of Tabernacles celebrated at autumn is actually a harvest festival for the fruits of the threshing floor and wine press.  Like Passover and Pentecost, Tabernacles combines an agricultural motif and a historical motif which developed later on.
What, then, are the implications for us with regard to our own lives and in our relationship with others?
Firstly, with regard to ourselves, how should we live our lives?  We should live ordinary lives in an extraordinary way.  That is to say, we should just be.  There is no need to make a show of what we do or who we are.  When we are natural with ourselves, we will radiate the love of God and the presence of God.  But when we attempt to exaggerate the uniqueness in us, we become artificial and phony.  Being ordinary does not mean to be mediocre.  Mediocre people are those who pretend to be what they are not and, worst of all, fall short of what they pretend to be.  Precisely, Jesus was so ordinary that people who lacked the faith-vision or God-vision could not see His divine presence.
Secondly, with regard to others, we should not be too impressed by what they do and who they are.  Quite often, we are easily impressed by how the person speaks and dresses, and the credentials and offices he holds.  And we tend to treat those who are more impressive with greater respect and honour.  But let us not be deceived.  Not all of them are truly great people.  They might be impressive, but behind the mask of their externals, they could be hiding deep insecurities and inferiority.  Rather, the great man is one who is truly great but thinks that he is ordinary.  He does not want to be treated differently and prefers to be just ordinary.  They are the people who are wise and great and who live happy lives.  These are people whom we should really look up to so that we too can live full lives.
But to think and live that way takes faith. Jesus told us in the gospel to see how God is working in our ordinary lives.  Without faith, we cannot see the prophetic signs of God working through the lives of others and in our ordinary events.  And like the people of Jesus' time, we will deprive ourselves of experiencing the miracles of God in our lives.  So the question is:  do we see the world with the vision of God and Jesus, or through the eyes of the world?
.
Written by The Most Rev William Goh Roman Catholic Archbishop of Singapore
.
.
****************************************************
.
Commentary on Matthew 13:54-58 From Living Space
Immediately following the discourse on the parables of the Kingdom, we see Jesus going to his home town of Nazareth. TheNew American Biblemarks this as the beginning of a new section in Matthew's gospel which it calls 'Jesus, the Kingdom and the Church'. It ends with chapter 18, which contains the fourth of the five discourses which are distinctive to Matthew.
As was his right, Jesus spent some time teaching in the synagogue at Nazareth. The townspeople were quite amazed to hear the local carpenter's son speaking as he did. "Where did he get his wisdom and his miraculous powers?" (The New International Version says that the word usually translated 'carpenter' could also mean 'stonemason'.) All his family were well known to the people and they knew he could not have got it from them but they failed to make the next step as to the real origin of what he was saying and doing.
And, in the contrariness of human nature, they were so impressed that they rejected him! He was just too much. A perfect example of familiarity breeding contempt and blinding the eyes to the obvious. And Jesus sadly comments that a prophet can get a hearing everywhere except among his own. Probably all of us have had some experience, directly or indirectly, of this! We Irish, in particular, are well known for our 'begrudgery'!
It might be helpful for us to see how often and where we ourselves have been guilty of this. How often have we written off what people we know very well, or think we know very well, suggest to us? It is important for us to realise that God can communicate with us through anyone at all and we must never decide in advance who his spokespersons will be.
Finally, we are told that Jesus could not do in Nazareth any of the wonderful things he had done elsewhere "because of their lack of faith". His hands were tied. Jesus can only help those who are ready to be helped, those who are open to him. How open am I?
http://livingspace.sacredspace.ie/O2176G/
***************************************
.
Lectio Divina from the Carmelites
.
Reflection
.• The Gospel today tells us the visit of Jesus to Nazareth, his native community. Passing through Nazareth was painful for Jesus. What was his community at the beginning, now it is no longer so. Something has changed. Where there is no faith, Jesus can work no miracles.
.
• Matthew 13, 53-57ª: The reaction of the people of Nazareth before Jesus. It is always good for people to go back to their land. After a long absence, Jesus also returns, as usual, on a Saturday, and he goes to the meeting of the community. Jesus was not the head of the group, but just the same he speaks. This is a sign that persons could participate and express their own opinion. People were astonished. They did not understand Jesus' attitude: "Where did the man get this wisdom and these miraculous powers?" Jesus, son of that place, whom they knew since he was a child, how is that now he is so different? The people of Nazareth were scandalized and do not accept him: "This is the carpenter's son, surely?
.
The people do not accept the mystery of God present in a common man as they are, as they had known Jesus. In order to speak about God he should be different. As one can see, not everything was positive. The persons, who should have been the first ones to accept the Good News, are the first ones to refuse to accept it. The conflict is not only with foreigners, but also with his relatives and with the people of Nazareth. They do not accept because they cannot understand the mystery envelops Jesus: "Is not his mother, the woman called Mary, and his brothers James and Joseph and Simon and Jude? And his sisters too, are they not all here with us? So where did the man get it all?" They are not able to believe.
.
• Matthew 13, 57b-58: Reaction of Jesus before the attitude of the people of Nazareth. Jesus knows very well that "no one is a prophet in his own country". And he says: A prophet is despised only in his own country and in his own house". In fact, where there is neither acceptance nor faith, people can do nothing. The prejudice prevents it. Jesus himself, even wanting, can do nothing. He was astonished before their lack of faith.
.
• The brothers and sisters of Jesus. The expression "brothers of Jesus" causes much polemics between Catholics and Protestants. Basing themselves in this and in other texts, the Protestants say that Jesus had many brothers and sisters and that Mary had more children! Catholics say that Mary did not have any other children. What can we think about this? In the first place, both positions, that of Catholics as well as that of Protestants, contain arguments taken from the Bible and from the Tradition of their respective Churches.
.
For this reason, it is not convenient to discuss this question with arguments which are only intellectual, because it is a question of profound convictions, which have something to do with faith and with the sentiments of both and of each one. The argument which is only intellectual cannot change a conviction of the heart! It only irritates and draws away! Even if I do not agree with the opinion of others, I have to respect it. In the second place, instead of discussing around texts, all of us, Catholics and Protestants, should unite ourselves much more to fight for the defence of life, created by God, a life so disfigured by poverty, injustice, lack of faith.
.
We should recall some other phrases of Jesus. "I have come so that they may have life and life to the full" (Jn 10, 10). "That all may be one, so that the world may believe that you, Father, has sent me" (Jn 17, 21). "Do not prevent them! Anyone who is not against us is for us" (Mk 10, 39.40)
.
Personal questions
.
• In Jesus something changed in his relationship with the Community of Nazareth. Since you began to participate in the community, has something changed in your relationship with the family? Why?
• Has participation in the community helped you to accept and to trust persons, especially the more simple and the poorest?
 .
Concluding Prayer
.
For myself, wounded wretch that I am,
by your saving power raise me up!
I will praise God's name in song,
I will extol him by thanksgiving. (Ps 69, 29-30)
Tags: 'live and let live', A prophet is not without honor except in his native place, August 4 2017, Is he not the carpenter's son, Is not his mother named Mary, James, John 14:6, Joseph, Judas, judge not lest Ye be judged, LV 23:1 4-11 15-16 27 34B-37, making us feel small, Matthew 7:1, Moses, Mt 13:54-58, oblation to the LORD, Prayer and Meditation, Psalm 81, sacred assembly, Saint John Vianney, Simon, Sing with joy to God our help, the carpenter's son, the festivals of the LORD, unleavened bread, who are those people that are really great?, you shall proclaim a sacred assembly