KIGALI, Rwanda — The Latest on Rwanda's presidential election (all times local):
___
11:55 p.m.
With 40 percent of the polls reporting, President Paul Kagame is leading Rwanda's presidential election with over 99 percent of the vote.
Neither of his challengers — Frank Habineza and Philippe Mpayimana — has reached the 1 percent mark so far, according to preliminary results announced by the electoral commission Friday night.
Kagame won 93 percent of the vote in the 2010 presidential election.
___
10:25 p.m.
Preliminary results from Rwanda's election show the long-time president with a strong lead against his two challengers.
Rwanda's electoral commission is releasing results from about 20 percent of the total votes cast, but provisional results will be announced Saturday afternoon.
Results from some rural districts show President Paul Kagame with numbers exceeding 95 percent.
Kagame has led the East African nation of 12 million people since the end of its genocide in 1994.
The 59-year-old president has been praised for the country's economic growth, but human rights groups accuse his government of using state powers to silence opponents. Rwandan authorities deny it.
A constitutional amendment in 2015 allows Kagame to stay in power until 2034 if he pursues it.
___
8:30 a.m.
Rwandans are voting in an election that the country's longtime president is widely expected to win.
President Paul Kagame is running against Frank Habineza of the opposition Democratic Green Party and independent candidate Philippe Mpayimana.
There are long queues Friday morning in the capital Kigali, where all the candidates are registered to vote.
Kagame won the 2010 election with 93 percent of the vote.
The 59-year-old has been de-facto leader or president of the nation of 12 million people since his rebels ended the 1994 genocide. While he remains popular for presiding over economic growth, critics accuse him of using the powers of the state to remove perceived opponents.
Rwanda has about 6.9 million registered voters.
Polls close at 3 p.m. local time, and provisional results are expected late Friday.
**********************************************
Rwanda election: President Paul Kagame wins by landslide
BBC News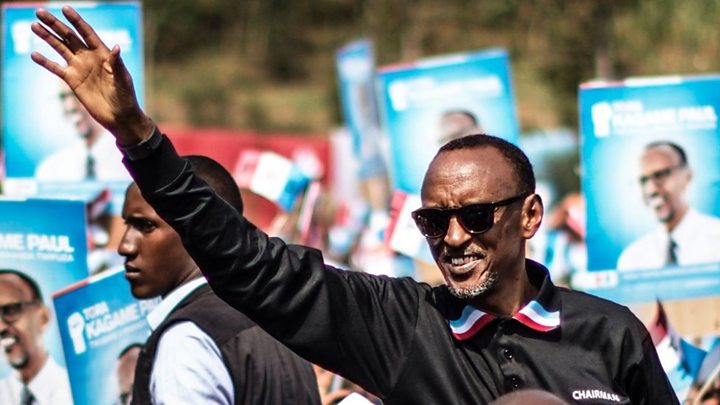 The electoral commission in Rwanda has announced that President Paul Kagame has won a third term in office with a landslide.
The commission said partial results of Friday's election had given him 98% of the votes.
Mr Kagame's supporters began celebrating before the announcement.
They say that he has brought stability and economic development after the horrors of the 1994 genocide.
But his critics – most of whom are outside the country – say he has ruled through fear.
Mr Kagame, who has been in power for 17 years, was challenged by Frank Habineza and Philippe Mpayimana.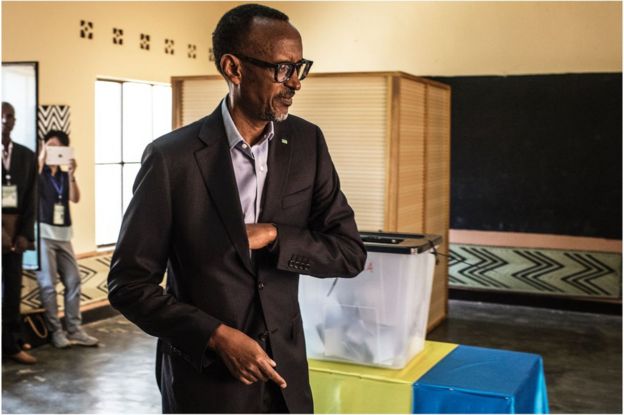 He came to power in 1994, when his rebel group took control of the capital, Kigali, ending the genocide in which some 800,000 ethnic Tutsis and moderate Hutus were slaughtered.
Rwanda's constitution was amended in 2015, giving Mr Kagame a chance to stay in power until 2034.
The two challengers have complained that their supporters are being intimidated, which they say explains the low turnout at their pre-election rallies.
The candidates have also accused some local authorities of undermining their campaign.
The ruling party denies any accusations of wrongdoing.

Paul Kagame at a glance:

Seen as military genius
His rebel forces helped end 1994 genocide – he has been in power ever since
Twice invaded much larger neighbour, DR Congo
Accused of suppressing the opposition and ordering assassination of critics
Sees Singapore and South Korea as models – economy growing at 7% a year
Champions women's rights; most MPs are women
Rwanda genocide: 100 days of slaughter
http://www.bbc.com/news/world-africa-40822530
See also:
African leader's former adviser has accused him of lining his pockets with millions in aid from UK taxpayers.
https://www.thesun.co.uk/news/4175012/rwandas-president-paul-kagame-accused-of-pocketing-millions-in-aid-from-uk-taxpayers/
Tags: British, corruption, Frank Habineza, Philippe Mpayimana, President Paul Kagame, presidential election, Rwanda, UK taxpayers