BBC news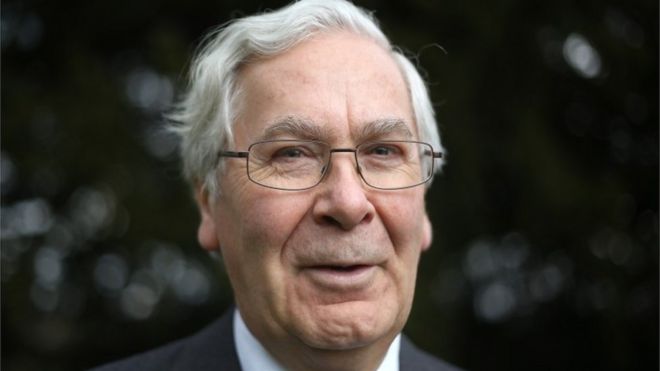 The UK needs a "credible fallback" in case no EU trade deal is reached during Brexit negotiations, former Bank of England governor Mervyn King has said.
Lord King said British negotiators needed to show Brussels the country has an alternative over a bad trade deal post-Brexit.
The former governor, who served between 2003 and 2013, said no deal was "not the first preference of anybody".
He said the government "probably wasted a year" on its contingency plans.
The first round of Brexit negotiations at the European Commission ended in July.
Brexit Secretary David Davis said Brussels might delay trade talks due to a lack of progress on the cost of the UK's "divorce" settlement.
David Davis (left) and Michel Barnier — getting nowhere
Brexit: What is at stake in EU-UK talks?
The people who will negotiate Brexit
Speaking to BBC Radio 4's Today programme, Lord King said: "We are where we are, and we are in a negotiation and it's important that the negotiation succeeds.
"But it cannot succeed without a credible fallback position and that is something which I think is a practical thing that the civil service ought to be taking a lead on."
Previously Prime Minister Theresa May has said: "No deal is better than a bad deal."
If the UK left the EU without a trade deal with the 27 other nations it would rely on World Trade Organisation rules, and trade agreements between Europe and other countries may not be available to Britain.
On Thursday current governor of the Bank of England Mark Carney announced that uncertainty over Brexit was reducing growth in the British economy.
As a result the bank lowered this year's growth forecast from 1.9% to 1.7%.
Mr Carney said: "Uncertainties about the [UK's] eventual relationship [with Europe] are weighing on the decisions of some businesses."
Lord King said: "I don't know what the economic consequences of Brexit will be, that's the only honest answer."
Previously, Brexit minister Steve Baker said the government was preparing for all possible outcomes over Brexit talks, but added a no-deal with Brussels was unlikely.
Includes video:
http://www.bbc.com/news/uk-40836488
Related:
Weakening UK growth outlook as the country negotiates its exit from the European Union
"Brexit is the challenge of our generation" — Irish Prime Minister Taoiseach outlines solutions to UK leaving customs union, single market
Bank of England Makes Gloomy Economic Predictions Amid Brexit Uncertainty
Brexit uncertainty is dragging the UK economy down and people's wages with it, says Mark Carney
'Infinitesimally Small' Chance of Brexit by March 2019, Archbishop Says — Raised the possibility of Britain cancelling Brexit
UK PM's Office Says Free Movement From EU Will End in 2019
Boris Johnson and Liam Fox 'out of loop' on EU migrants as Cabinet rift deepens — "No consensus on what Brexit will look like."
With Theresa May on Holiday, UK Ministers Disagreements On Brexit Spills Into The Open — "Mr Hammond is living in cloud cuckoo land"
British government divided on free movement after Brexit — Philip Hammond's Brexit transition plan causing Tory splits
Brexit transition could last until 2022: UK minister
Brexit Transition Talks Only Possible After Divorce Issues Settled: EU Commission
After Trump and Brexit, is this the end for the Anglo Saxon west?
In Dublin, a tougher stance on Brexit could undo the PM in London
Brexit plans in chaos as Government contradicts itself over end of free movement when Britain leaves EU
Next phase of Brexit negotiations will be delayed for two months because of the UK's refusal to discuss 'Brexit divorce bill'
Tags: Brexit, Brexit fallback, Brexit negotiations, Britain, Brussels might delay trade talks, David Davis, European Commission, former Bank of England governor, Mark Carne, Mervyn King, Michel Barnier, Theresa May, UK, UK's "divorce" settlement, World Trade Organisation, WTO