U.S. lauds China for supporting latest U.N. sanctions, but Pyongyang has no plans to change
MANILA—The U.S. praised China for backing new economic sanctions by the U.N. Security Council against Pyongyang over the regime's weapons program, but North Korea indicated to its most important economic partner that there would be no change in policy.
"The fact that the Chinese were helpful and instrumental in setting up this really sweeping set of international sanctions shows they realize that this is a huge problem they need to take on, that it's a threat to them and their region," Susan Thornton, the U.S. State Department's acting assistant secretary for East Asian and Pacific affairs, told journalists on the sidelines of regional security meetings in the Philippines on Sunday.
U.S. Secretary of State Rex Tillerson, who is attending the forum bringing together 27 nations, including China, Russia, South Korea and North Korea, described the sanctions as "a good outcome" as he works to curb Pyongyang's nuclear-weapons program.
The Security Council on Saturday unanimously passed a resolution that would slash about $1 billion from North Korea's annual foreign revenue. Ms. Thornton called the sanctions the strongest against the regime in a generation. China and Russia, two permanent council members who had previously resisted fresh sanctions against Pyongyang, said the rogue nation's recent provocations were unacceptable.
Chinese Foreign Minister Wang Yi on Sunday met his North Korean counterpart, Ri Yong Ho, in Manila and urged Pyongyang to halt its missile tests and other actions that violate Security Council resolutions, according to the People's Daily Online, an official Chinese state media website.
"The China side pressed the North Korea side to deal calmly with the new UN Security Council resolution regarding North Korea, and to stop the missile tests, and even nuclear research, which violate UN Security Council resolutions and the wishes of the international community," the People's Daily Online said.
The North Korean minister restated Pyongyang's policy on the nuclear weapons issue, but indicated a "willingness to maintain communications with the China side on this point," according to Chinese state media. North Korea says it needs such weapons and maintains the right to build them to defend itself from the U.S.
The nine-page U.N. resolution steps up trade restrictions with Pyongyang by aiming to cut off a third of its $3 billion annual export revenue. It bans North Korea from trading coal, iron, lead, iron and lead ore, and seafood, and prohibits countries from hiring North Korean laborers and from entering or investing into new joint ventures with Pyongyang.
The resolution came after a months-long drive by the U.S. to pressure nations to isolate the North Korean regime in response to an unprecedented pace of missile testing in its ambitions to become a nuclear power. Last month, North Korea fired two missiles that appeared capable of reaching the continental U.S. and Europe. Diplomats said this raised the stakes and elevated North Korea's military and nuclear threat from regional to global.
Before meeting with the North Korean minister in Manila, Mr. Wang said the sanctions were a necessary reaction to the launches, but urged countries to resume the negotiations known as the six-party talks, stalled since 2008. The talks included China, the U.S., South Korea, North Korea, Japan and Russia.
Mr. Wang repeated China's call for a "dual freeze," in which North Korea would halt its missile and nuclear programs in exchange for the U.S. and South Korea stopping major military exercises. The U.S. and South Korea rebuffed that proposal previously, and Ms. Thornton did so again Sunday.
The U.S. will also focus on ensuring China follows through on fully implementing the new sanctions, Ms. Thornton said, suggesting China had in the past acted initially, before "slipping back" over time. "We want to make sure China…is working actively to continue putting pressure on North Korea," she said.
Ms. Thornton also praised Saturday's "really strong" statement by the 10-member Association of Southeast Asian Nations, which hosts the annual security meetings. The countries condemned North Korea's weapons testing and called on the regime to comply with U.N. measures.
Mr. Tillerson doesn't have a scheduled meeting with North Korea's Mr. Ri, but both men are expected during the meeting of all 27 participants Monday.
The U.S. Secretary of State did meet with Russian Foreign Minister Sergei Lavrov for more than an hour late Sunday, ahead of a gala dinner. Neither official made any public comment.
—Eva Dou in Beijing contributed to this article.
Write to Ben Otto at ben.otto@wsj.com
https://www.wsj.com/articles/north-korea-shrugs-off-sanctions-despite-chinas-push-to-end-missile-tests-1502020932?mod=e2tweu
Related:
Japan Says Time for 'Effective Pressure' on North Korea, Not Dialogue — Japan also gravely concerned about China's building "large-scale outposts" in the South China Sea
ASEAN overcomes communique impasse, urges non-militarisation in South China Sea
Amid US-Russia feuding, chief diplomats Tillerson and Lavrov stay tight-lipped over talks
China urges North Korea dialogue, says sanctions not sole solution — North Korean Foreign Minister Looks Delighted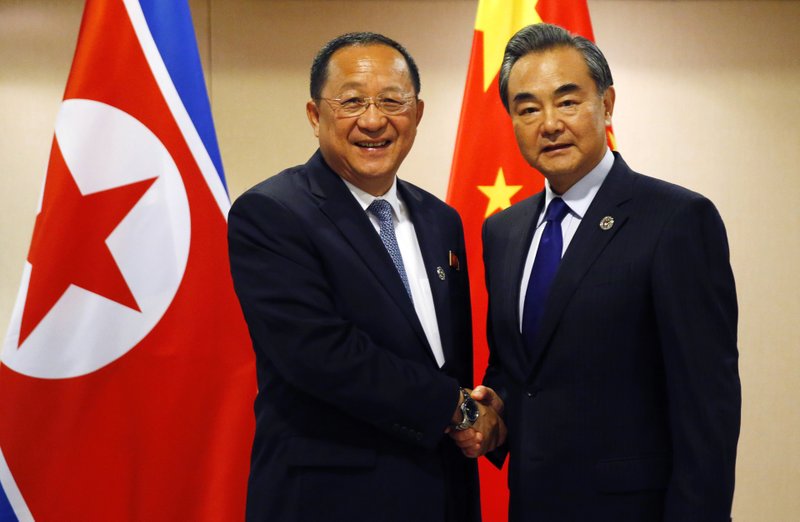 South China Sea: China's foreign minister says maritime code negotiations with ASEAN to start this year
U.S. Pushes China To Enforce North Korea Sanctions
Disagreements Over South China Sea, North Korea Delay ASEAN Communique — Cambodia sides with North Korea, China
Vietnam challenges China in Asean talks — "The issue is Chinese illegal territorial encroachment in the South China Sea"
United Nations bans key North Korea exports over missile tests — China's sanctions support shows recognition of gravity of North Korea threat: U.S. official
Tough new sanctions approved by U.N. could cost North Korea $1 billion in exports annually
Chinese Foreign Minister Says He Pressed North Korea to Follow U.N. Resolutions
Tags: ballistic missiles, China, Donald Trump, economic sanctions, ICBMs, Japan, North Korea, nuclear weapons, nuclear weapons program, Ri Yong Ho, Russia, Russian Foreign Minister Sergei Lavrov, sanctions, Security Council resolutions, South Korea, South Korean Foreign Minister Kang Kyung Wha, Trump administration, U.N. Security Council, U.S., U.S. Secretary of State Rex Tillerson, U.S. to pressure nations to isolate the North Korean regime, Wang Yi