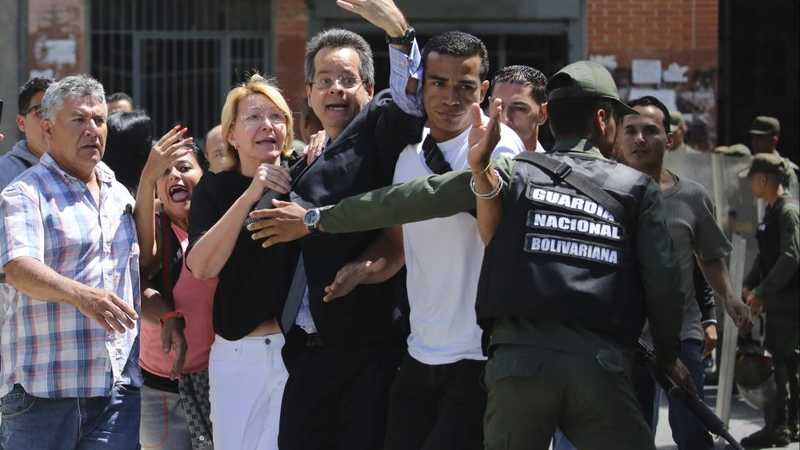 Venezuelan General Prosecutor Luisa Ortega Diaz, third left, is surrounded by loyal employees of the General Prosecutor's office, as she was barred from entering her office by security forces, outside of the General Prosecutor headquarters in Caracas, Venezuela, Saturday, Aug. 5, 2017. Security forces surrounded the entrance ahead of a session of the newly-installed constitutional assembly in which the pro-government body is expected to debate the onetime loyalist turned arch critic's removal. (Wil Riera/Associated Press)
.
CARACAS, Venezuela — The Latest on Venezuela's political crisis (all times local):

8:25 a.m.

Venezuelan ruling party chief Diosdado Cabello says there has been a "terrorist" attack at a military base controlled by troops loyal to the government and several people have been arrested.

Cabello reports via Twitter that troops acted quickly to control the situation at the Paramacay base in the central city of Venezuela.

The announcement came after a small group of men dressed in military fatigues, some armed with assault rifles, released a video declaring themselves in rebellion in Carabobo state, where Valencia is located.

In the video a man identifying himself as Capt. Juan Caguaripano said that any unit refusing to go along with its call for rebellion would be declared a military target.
FILE photo — A young woman shows a sign that says "your indifference makes me ashamed." Valencia, Carabobo, Venezuela. Juan Carlos Hernandez/Zuma Press/PA Images.
Tags: attack at army base, General Prosecutor's office, Luisa Ortega Diaz, Maduro, rebellion in Carabobo state, small group of men dressed in military fatigues, Venezuela