DUBAI — A small fire broke out a Dubai hotel on Monday, forcing guests and staff to leave, in the third such blaze in the United Arab Emirates tourism and trade hub in less than a week.
Several fire engines and an ambulance were deployed at the Movenpick hotel near the Marina district as scores of people gathered outside.
A video of the hotel posted on social media showed thin clouds of smoke wafting around a lower floor.
The hotel said on its official Twitter account that the fire was "swiftly brought under control and guests and staff were safely evacuated."
Civil defense workers gave the all-clear for people to return inside and there were no reports of injuries.
A blaze shot up the side of a nearby residential tower on Friday, and local media reported that a smaller fire was quickly put out at a neighboring building on Sunday. No injuries were reported in either of those fires.
The series of fires in tall buildings in the UAE has revived questions about the safety of cladding materials used in the Gulf region and beyond.
(Reporting By Sylvia Westall; Writing by Noah Browning; editing by John Stonestreet)
Related:
Fire erupts in Dubai residential highrise (It's the cladding)
Flames Engulf 86-Story Residential Skyscraper in Dubai — One of the world's tallest residential towers
Flames shoot up the sides of the Torch tower residential building in the Marina district, Dubai, United Arab Emirates, in this Fri., Aug. 4, 2017 picture.
© AFP | Exterior cladding installed during a recent renovation has been blamed for spreading the fire that consumed London's Grenfell Tower, killing at least 80 people
Renovators at UK blaze tower were asked to cut costs: The Times reported Friday
London Police Raise Grenfell Fire Toll to 80
UK Public sector pay cap under review, No 10 suggests
Cheap cladding fuelled Grenfell Tower inferno — Expect building code reviews — Warnings at Grenfell Tower ignored for at least 18 years
95 Buildings Fail Fire Safety Testing After London Tower Blaze Killed at Least 79 People
.
British PM May Tries to Quell Public Anger After Deadly London Fire — Death toll is expected to rise, as at least 60 people remain unaccounted for
.
.
UK's PM May Rushed Away Under Police Guard After Meeting Residents Near Deadly Fire
London: Grenfell Tower tensions could boil over as thousands set to attend 'justice' rally
London fire toll death rises to 30 — Dozens of people still missing — Police begin criminal investigation — Cladding used is banned in US buildings taller than 40 feet
"She didn't use her humanity" — UK PM Criticized Over Grenfell Tower Fire Visit, But Gets Some Defenders
Theresa May showed no 'humanity' to Grenfell fire victims, ex-Tory deputy leader says
London fire latest: Grenfell Tower anger grows as death toll could soar above 100 — Whole families missing, feared dead
At Least 65 People Missing or Feared Dead in London Fire — "I'd like to hope that it isn't going to be triple figures."
London: Grenfell Tower inferno a 'disaster waiting to happen' as concerns are raised for safety of other buildings
Death toll of 12 expected to rise in London tower block fire — Related to Dubai building fires?
Fire Engulfs 72 Storey Skyscraper in Dubai
The high-rise Fountain Views complex is being built by state-backed Dubai developer Emaar Properties CREDIT:  KARIM SAHIB/AFP
Dubai Skyscraper Fire Again Alarms Residents
A fire rages at a skyscraper in the Dubai Marina section of Dubai, United Arab Emirates, Wednesday, July 20, 2016. The residential skyscraper in Dubai caught fire in the densely populated Marina district, sending columns of smoke into the air and pieces of the building's facade tumbling below. It's the latest in a number of skyscraper fires across the United Arab Emirates in recent months. The most prominent was a New Year's inferno at a 63-story residence near the world's tallest tower. (AP Photo/Adam Schreck)
Fire Breaks Out in Another Dubai Skyscraper
High-rise towers are Emirates' killers in waiting
Dubai Luxury Has a Cost: Three major skyscraper fires in as many years — Flammable materials on skyscraper exteriors
Dubai Fire: New Year's Eve Skyscraper Fire Investigation Begins
Huge fire erupts at Dubai hotel ahead of New Year celebrations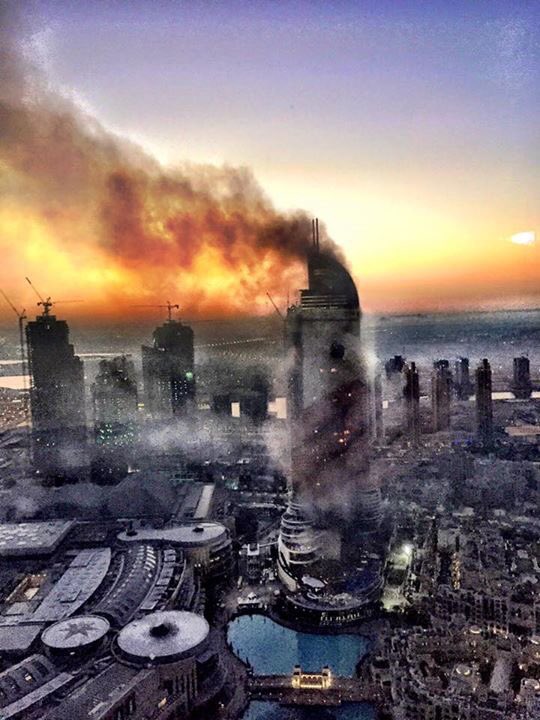 The Address Hotel Dubai, on Friday Morning, January 1, 2016
.
The Address Downtown is on fire, with the flames reaching from the ground floor up another 40 storeys
Emergency services were quickly on the scene of the fire, which is said to be confined to the outside
.
The hotel is very close to the Burj Khalifa, the world's tallest skyscraper, and where the city were about to celebrate the New Year
It is unclear whether anyone has been injured in the fire, which can be seen across the city
Tags: Burj al-Khalifa, cladding, Dubai, Dubai has announced tougher rules to minimise fire risks, Dubai hotel, FIRE, fire safety rules, Grenfell Tower, highrise fire, hotel, London, Marina district, Movenpick hotel, New Year's Eve fire, Skyscraper in Dubai, skyscrapers, The Torch, Tiger Tower, Torch, Torch Tower, towering inferno, UAE, United Arab Emirates