BELFAST — Northern Irish police called for calm on Tuesday after cars were burned out and a disused building set on fire as officers came under attack by masked Irish nationalist youths throwing petrol bombs and other missiles.
The trouble, which erupted late on Monday, was sparked when Belfast City Council sought to remove materials from a bonfire in the "Markets" area close the city center which had been prepared to mark the anniversary of the introduction of internment without trial.
Internment, the rounding up and imprisoning of hundreds of people in the early 1970s in response to growing Irish Republican Army (IRA) violence, sparked even greater bloodshed and is marked annually across Northern Ireland with bonfires, parades and other events.
"Police urge for calm to remain after dealing with some localised disorder in Belfast tonight," police said on Twitter.
"People living there do not want this type of behaviour."
There were no reports of police injuries.
Paul Maskey, a lawmaker from the nationalist Sinn Fein party, condemned the violence as "wanton destruction" and also called for calm at a time when the British-run province is also grappling with a political crisis.
A power-sharing coalition between pro-British Protestant unionists and Irish Catholic nationalists collapsed in January and the protracted political impasse raised fears that inter-community relations might deteriorate.
Traditional July and August marches are seen as a barometer of those relations and annual parades last month that frequently trigger sectarian violence were among the most peaceful since a 1998 peace deal ended three decades of sectarian fighting in which 3,600 people died.
(Reporting by Ian Graham, editing by Padraic Halpin and Michael Holden)
***************************************
BBC News
Belfast disorder: PSNI appeal for calm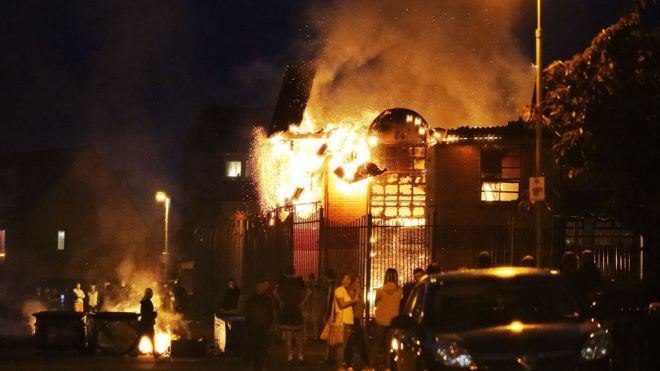 Police have called for calm after cars and a disused building were set on fire during disorder in Belfast on Monday night.
It happened after contractors removed bonfire material from a nationalist area of the city in the afternoon.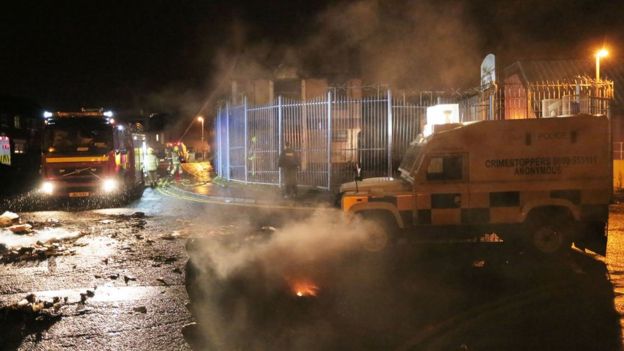 The PSNI said it had dealt with "small localised disorder caused by a small group of people" in the Markets, New Lodge and North Queen Street areas.
Earlier, petrol bombs, stones and other missiles were thrown at police.
The blaze was at a former credit union on Ross Road in west Belfast. The police assisted the fire service in dealing with it.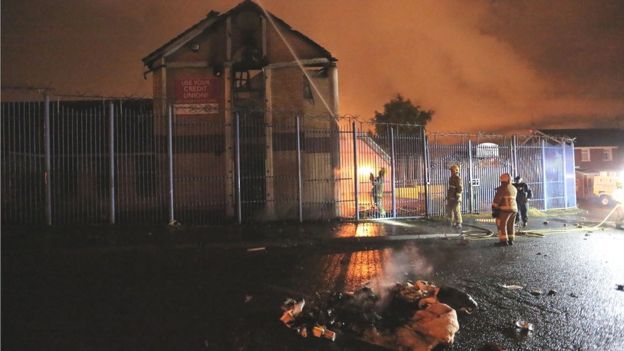 On Monday afternoon, two cars were destroyed after they were set on fire and other vehicles were damaged by stones and paint.
The disturbances in the Markets area, close to the city centre, saw police officers targeted with petrol bombs, bricks and bottles.
The trouble followed the removal of material gathered by republican youths for an anti-internment bonfire.

The scene this morning – Aileen Moynagh
I set off just before 7am and travelled first to the Markets area.
Straight away, as you turn off East Bridge Street beside Central Station, you come across three burnt-out cars. Driving through the area there's a lot of stones and debris on the road.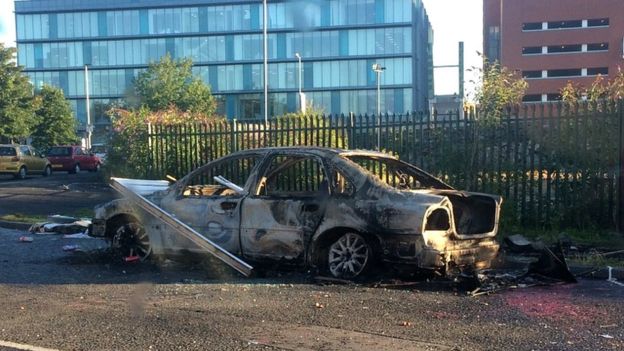 I headed up North Queen Street and turned into Victoria Parade in the New Lodge area – a bonfire has been erected there and a number of youths were standing around it – some of them sitting on top if it.
In west Belfast I went to Ross Road where that derelict building – a former credit union – was set on fire. A lot of overturned bins on the street, a lot of debris on the streets.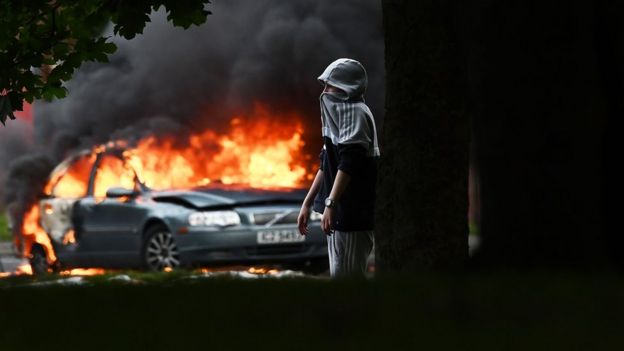 Alliance councillor Emmet McDonough-Brown described the scenes in Belfast as "disgraceful" and said they must be "condemned in the strongest terms".
"The responsibility for last night's behaviour rests solely with the people who carried it out," he told BBC Radio Ulster.
"The agreement to remove materials was agreed by all parties and I think this is not the first test of the issue."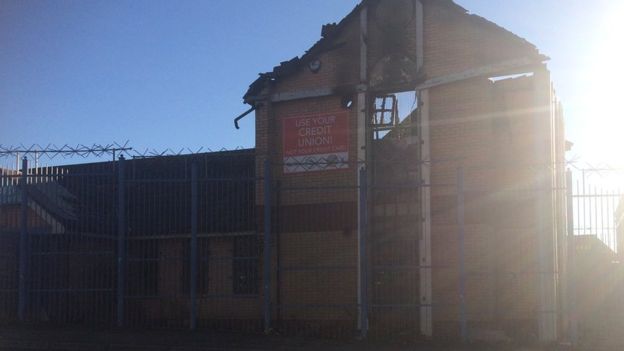 Sinn Féin councillor Deirdre Hargey said residents in the Markets area were "completely disgusted" at the trouble.
"They don't want this and those involved in this disgusting behaviour are not representative of this community," she added.
Ms Hargey said she did not expect the level of anti-social behaviour and vandalism and did not believe it was "completely linked" to Belfast City Council's decision to tackle dangerous bonfires.
"There have been ongoing incidents and I think a large part of those who have been involved in incidents either in the Markets, or especially in Divis, are involved in vandalism every other day of the year," she added.
"They have just used this as an opportunity or an excuse to carry out this type of behaviour that they do every other day."
She said she was concerned that there were "older, more sinister elements involved in trying to encourage younger people into this activity", but did not think they were dissident republicans.
Bonfires are traditionally lit in some republican areas to mark the anniversary of the introduction of interment – detention without trial – on 9 August 1971.
On Twitter, the PSNI also "thanked those in affected communities who helped settle tensions" on Monday evening.
Tags: BELFAST, Deirdre Hargey, Ira, Irish Catholic nationalists, Irish Republican Army, Northern Ireland, PoliceServiceNI, pro-British Protestant unionists, PSNI, Sinn Fein, the Markets area, violence as wanton destruction