The President says it's his way to communicate directly
By Andrew Buncombe New York
The Independent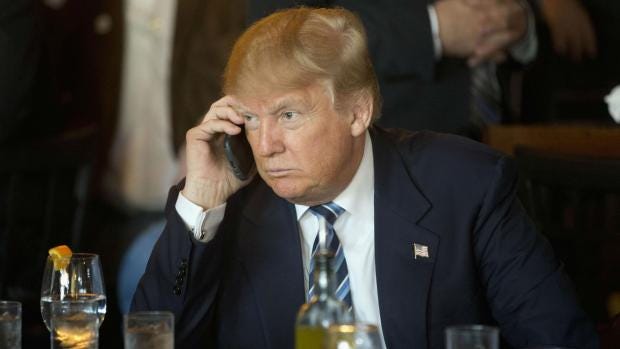 The President's tweeting has resulted in no shortage of controversies 
Everybody knows just how much Donald Trump enjoys tweeting.
The White House has said his tweets should be considered official statements from the US President, while Mr Trump believes they are the most effective way to communicate directly to his supporters.
"The FAKE MSM is working so hard trying to get me not to use Social Media," he tweeted in June. "They hate that I can get the honest and unfiltered message out."
But Mr Trump better get ready for a surprise: a survey has suggested the majority of Americans do not actually appreciate his tweeting. And an even larger proportion of the public think it is not an appropriate way for a leader to communicate.
The poll for CNN found seven out of ten Americans believed his tweeting habits "too often seem to be in response to news he may have seen on TV" and believe Twitter is a "risky way for a President to communicate".
More than six in ten believed that his tweets "too often turn out to be misleading" and were "easy to misunderstand".
Mr Trump has long defended his tweeting. "My use of social media is not Presidential – it's MODERN DAY PRESIDENTIAL," he tweeted on July 1. "Make America Great Again!"
But his social media habits have repeatedly placed him in hot water. One of the many Twitter controversies Mr Trump sparked during the election, was an early morning attack he launched on former Miss Universe Alicia Machado.
Since he has entered the White House, Mr Trump's tweeting has not become any more polite or measured – despite repeated calls from his advisors that he stop tweeting spontaneously.
In June, the President sparked more outcry when he attacked television anchor Mika Brzezinski, who had recently voiced mild criticism of him. He said she had a low IQ and had been "bleeding badly from a face-lift" during a social gathering at Mr Trump's resort in Florida during the New Year.
This week, despite the appointment of John Kelly as a new Chief of Staff, a former four star general tasked with trying to bring discipline to the West Wing, he has fired off a series of tweets attacking Richard Blumenthal, a Democratic senator from Connecticut. Mr Trump called him "a phony Vietnam con artist" on Twitter after the senator appeared on television to voice support for continuing the investigation into alleged Russian meddling in the 2016 election.
The same survey found that Mr Trump has historically low approval ratings. Just 38 per cent of people said they approved of his handling of the presidency, while 56 per cent said they disapproved.
http://www.independent.co.uk/news/world/americas/us-politics/donald-trump-stop-tweeting-us-voters-approval-ratings-latest-poor-cnn-president-a7882916.html
Tags: communicate directly to his supporters, Donald Trump, John Kelly, Richard Blumenthal, social media, tweeted, Tweeting, unfiltered message out
This entry was posted on August 9, 2017 at 6:26 am and is filed under Uncategorized. You can follow any responses to this entry through the RSS 2.0 feed. You can leave a response, or trackback from your own site.