Bloomberg
By Heejin Kim
August 13, 2017, 2:27 AM EDT August 13, 2017, 5:00 AM EDT
Dunford to meet South Korean President Moon on Monday

Visit follows week of threats by Pyongyang and Washington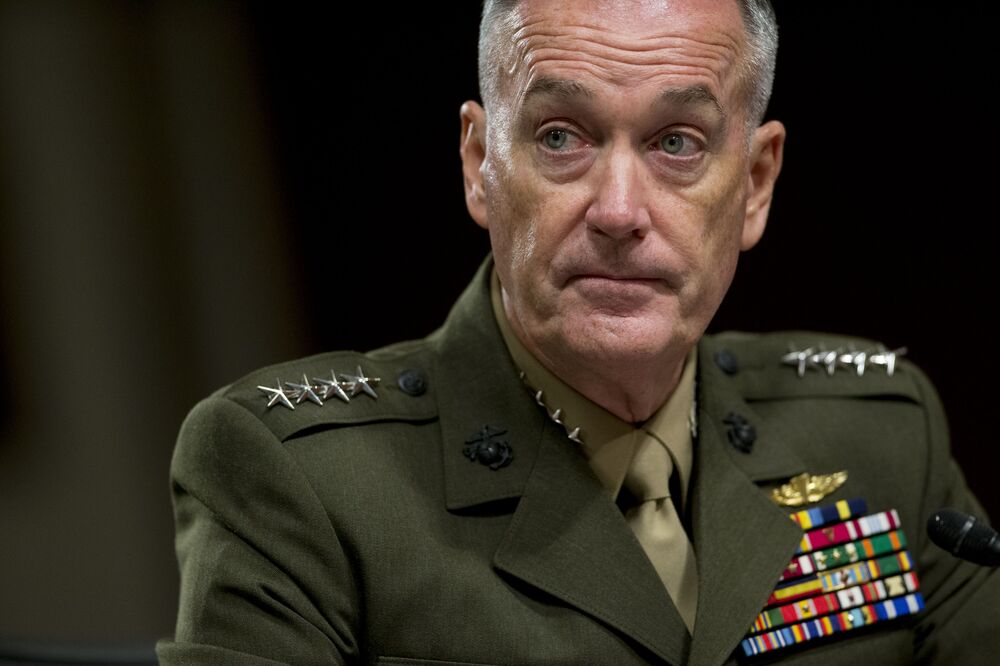 The U.S.'s top general plans to meet with South Korean President Moon Jae-in on Monday, just days after his counterpart Donald Trump said military options against North Korea were "locked and loaded."
General Joseph Dunford, chairman of the U.S. Joint Chiefs of Staff, will meet with senior military officials along with Moon, according to an official with South Korea's Blue House who asked not to be identified. He will head to China next on the previously scheduled visit, Yonhap News Agency reported, citing an unidentified military official.
Dunford's Asia visit comes as fears grow that a war of words between Trump and North Korean leader Kim Jong Un will lead to a miscalculation that sparks an actual military conflict. In a call with Trump on Saturday in Asia, Chinese President Xi Jinping called for all sides to maintain restraint and avoid inflammatory comments.
The U.S. Pacific Command referred all questions on Dunford's schedule to the Joint Chiefs of Staff. Nobody at the office picked up the phone after regular working hours. A tweet from the joint chiefs on Sunday showed him arriving at Yokota Air Base in Japan.
The U.S. hasn't taken any public steps to prepare for hostilities such as evacuating Americans from Seoul, which is within range of North Korean artillery, or moving ships, aircraft or troops into position for an imminent response. The U.S. has about 28,500 troops stationed in South Korea.
Read more on signs that a war may be coming
Following Trump's vow to unleash "fire and fury" on North Korea, Kim's regime threatened to fire four Hwasong-12 missiles over Japan into waters near Guam, home to U.S. military bases in the region. The U.S. and its allies warned Kim against such a move, and Japan deployed four Patriot missile interceptors into the western part of the country.
Some analysts expect further escalation in the coming days as both North and South Korea celebrate the Aug. 15 anniversary of the end of Japan's occupation of the Korean peninsula, and the latter conducts joint military exercises with the U.S. from Aug. 21. Japan is also holding annual military drills with the U.S. over the next few weeks.
North Korea's state-run media on Sunday condemned the planned military drills and said the U.S. is "letting out dangerous war rhetoric." The Korean Central News Agency added that Trump's "wild remarks" are causing concern and anger in South Korea.
Moon's administration has pushed to start talks with North Korea even while looking to strengthen its defenses after North Korea test-fired two intercontinental ballistic missiles in July. On Sunday, Deputy Unification Minister Chun Haesung said South Korea was seeking to ease tensions and the door for dialogue with North Korea was still open.
'Die Over There'
Recent comments from Trump have raised concerns that the U.S. would be willing to accept collateral damage among its Asian allies to protect the American homeland.
Dunford said last month that it was "unimaginable" to allow North Korea to develop the capability to strike a U.S. city with a nuclear weapon. South Carolina Senator Lindsey Graham, a Republican, told NBC News that Trump told him that "if thousands die, they're going to die over there."
More recently, Defense Secretary James Mattis has sought to reassure U.S. partners in the region. He said on Thursday that the U.S. works closely with its allies to ensure that any military response wouldn't be unilateral, warning that the impact of a conflict "would be catastrophic."
Trump has continued to take an aggressive tone on North Korea. On Friday, Trump said that if Kim makes any "overt threat" or strike at a U.S. territory or ally "he will truly regret it and he will regret it fast." Trump also said the U.S. was considering tighter sanctions against North Korea.
China Pressure
"Hopefully it will all work out," he told reporters in Bedminster, New Jersey. "Nobody loves a peaceful solution better than President Trump."
China, North Korea's main benefactor, agreed to harsh United Nations sanctions earlier this month even while calling on all sides to take a step back and negotiate a solution. Beijing is reluctant to put so much pressure on the regime that it risks collapse, in part to avoid a scenario that could lead to a unified Korea and push U.S. troops right up to China's border.
Trump has sought to pressure China to do more by linking action on North Korea to better trade terms. On Monday, he plans to take steps that will increase pressure on China over what the U.S. perceives to be theft of intellectual property.
Trump's posture suggested he was trying to dissuade Kim from further provocations rather than setting the stage for a U.S. military strike, according to Terence Roehrig, a national security affairs professor at the U.S. Naval War College in Newport.
"The president's rhetoric could be aimed at China, but largely it is aimed at North Korea, trying to deter," Roehrig said. "North Koreans are not suicidal. They may continue launching missile tests but they don't want a war, and the U.S. doesn't want military action either."
— With assistance by Yuan Gao, Janet Ong, Reinie Booysen, Heejin Kim, Nafeesa Syeed, Kenneth Pringle, Min Jeong Lee, and Takashi Amano
https://www.bloomberg.com/news/articles/2017-08-13/top-u-s-general-jets-into-asia-as-north-korea-tensions-run-high
Tags: chairman of the U.S. Joint Chiefs of Staff, China, Donald Trump, Dunford, fire and fury, Guam, Joseph Dunford, Kim Jong Un, Moon Jae-in, North Korea, South Korea, U.S., Xi Jinping