Police focused on Moroccan national Abdelbaki Es Satty, who led a mosque in Ripoll, Spain
PAU BARRENA/AGENCE FRANCE-PRESSE/GETTY IMAGES
Aug. 20, 2017 8:12 p.m. ET
RIPOLL, Spain—An imam in northeastern Spain emerged as a prime suspect in the investigation of the terror attack in Barcelona as Spanish authorities look into whether he radicalized a group of young men and plotted with them to launch an even deadlier assault.
Spanish authorities said Sunday they are looking into Abdelbaki Es Satty in connection with the attack Thursday, when a terrorist drove a van into a crowd in central Barcelona and killed 13 people. Mr. Es Satty, a Moroccan national, was the former imam at a mosque in Ripoll, the hometown of most of the 11 others police suspect of involvement.
Josep Lluís Trapero, police chief in Catalonia, said investigators believe that the cell may have been conspiring for more than six months to carry out one or more bombings in Barcelona, but was aborted when gas canisters being used to build bombs exploded.
https://www.wsj.com/articles/imam-in-spanish-town-emerges-as-suspect-in-barcelona-attack-1503274339
*********************************************
Barcelona attack: Moroccan imam at centre of Spain terror cell had links with Madrid bombers and Belgium
Investigation widening amid fears van driver may have fled into France
The Independent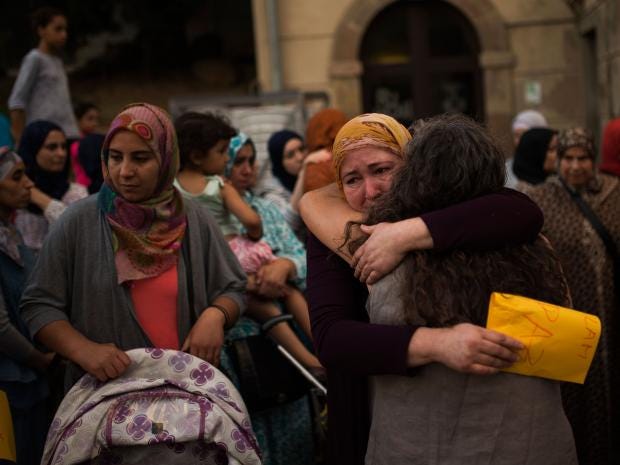 .
Tags: Abdelbaki Es Satty, Al-Qaeda, Anis Amri, Ansar al Islam, Barcelona, Belgian immigration, Catalonia, Es Satty, explosives, imam, Islamic state, Moroccan imam, Morocco, mosque in Ripoll, radical Islamist, radicalized, Salah Abdeslam, Spain, TATP, terrorism