BEIRUT (Reuters) – The main Syrian opposition body said on Thursday a Russian-sponsored Syrian peace conference later this month represented a deviation from U.N.-led diplomacy and an attempt to rehabilitate President Bashar al-Assad's government.
"We, in the High Negotiations Committee (HNC), insist on rejecting discussion of Syria's future outside the legal, U.N. framework," the HNC said in a statement sent to Reuters.
Writing by Tom Perry; Editing by Gareth Jones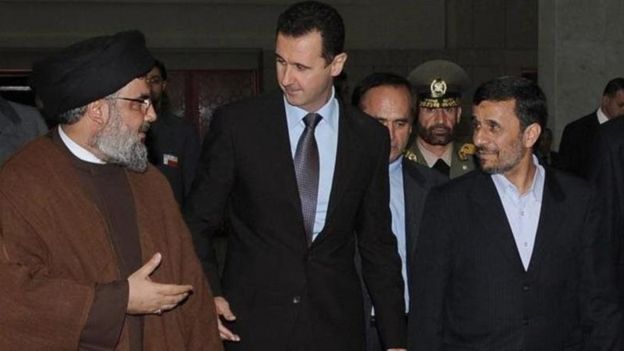 Sheikh Hassan Nasrallah, Bashar al-Assad and Mahmoud Ahmadinejad (file photo)
Related:
Tillerson says Russia either complicit or incompetent in Syria chemical weapons deal
No role for Assad in Syria's future: Tillerson
**********************************************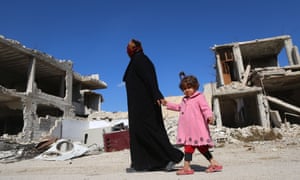 Russia's efforts to broker a Syrian peace deal outside the UN's Geneva process stumbled on Wednesday after the official Syrian opposition said it would not attend talks planned for later this month.
Turkey also said it opposed an invitation to Syrian Kurds to attend Moscow's "congress of Syrian national dialogue", which aims to bring together 33 delegations in the Russian city of Sochi on 18 November. Moscow has said any groups that do not attend the conference will suffer as a consequence.
The initiative, at which discussion about a future constitution for Syria is on the agenda, appears to be a clear attempt to bypass the UN-brokered peace talks due to recommence in Geneva 10 days later.
The Russian president, Vladimir Putin, met Iran's leaders in Tehran on Wednesday to push his Syrian plan.
The Syrian president, Bashar al-Assad, has accepted the process, believing the new constitution, likely to be based on an existing Russian draft, will entrench him in power ahead of any elections.
The Geneva process has been bogged down for over a year, largely over whether Assad's departure should be a precondition for any talks on a political transition.
The military might of Moscow and Tehran in Syria has helped prop up Assad's forces and turn the protracted conflict in his favour with a string of key battlefield victories.
Mohammad Alloush, a member of the Syrian opposition's high negotiations committee (HNC), dismissed the Sochi conference as a "meeting between the regime and the regime".
The HNC was surprised it had been mentioned in a list of groups invited to the Sochi and would "issue a statement with other parties setting out the general position rejecting this conference", he said.
The Turkey-based Syrian National Coalition, which is linked to the HNC, also said the Russian initiative was an attempt to circumvent "the international desire for political transition" in Syria.
"The coalition will not participate in any negotiations with the regime outside Geneva or without UN sponsorship," an SNC spokesman said.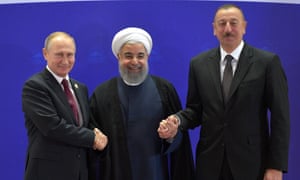 In a further sign of Russian attempts to marginalise the role of the United Nationsin Syria, there were reports that Moscow would block the renewal of a UN resolution permitting cross-border aid to enter Syria, arguing all aid must be administered from Damascus.
Cross-border aid is seen as a lifeline for tens of thousands of people still trapped and starving inside Syria. The resolution needs to be renewed by the end of the year.
Western diplomats argue they have one last card left to play to prevent total Russian, or indeed Iranian control, over Syria's future, and that is the cost of the country's reconstruction.
"There are no spoils of victory in Syria, only rubble," said one diplomat. The IMF has put the cost of rebuilding Syria at $200bn (£150bn) but no one knows who will fund reconstruction on this scale and on what terms.
The EU is due to stage a second Syria reconstruction conference early next year in Brussels, and still hopes to mesh western aid into the UN talks.
Read the rest:
https://www.theguardian.com/world/2017/nov/01/syrian-opposition-refuses-to-attend-russian-peace-talks
********************************************
Syrian opposition: We still believe in the revolution
Representatives of some of Syria's armed opposition groups attending talks in Kazakhstan say they are hopeful of achieving a lasting ceasefire agreement in eight of the country's 14 war-ravaged provinces.
Ayman al-Asemi, a member of the Free Syrian Army's military council attending the talks in Astana, said while the meetings would not produce a final settlement to the war, they could see a final agreement to the set-up of four so-called "de-escalation zones".
The Astana talks are aimed at finalising a plan for the four zones, which will include certain areas of Idlib, Latakia, Aleppo, Hama, Homs, Eastern Ghouta, Deraa and al-Quneitra.
The closed-door meetings are also seeing discussions on the release of detainees held by the government of President Bashar al-Assad, as well as about the delivery of food and aid to besieged areas.
"This war is far from over," al-Asemi told Al Jazeera.
He said while the situation on the ground did not bode well for Syrians, regional and international powers were to blame having exposed themselves as spectators to the violence being perpetrated.
"We will not compromise our freedom and our ultimate goal of removing Assad and his regime from power," al-Asemi said.
He added that the opposition had submitted several "secret files" to the UN delegation in Astana, with "solid evidence" of crimes committed by the regime.
According to al-Asemi, the crimes include the use of chemical weapons, the torture of detainees inside Homs central prison, forced expulsion of residents based on their ethnic and religious affiliations and war crimes committed by Iranian revolution guards against civilians.
'Astana eclipses Geneva'
The seventh round of negotiations on the war in Syria was brokered by Russia and Iran, who support Syrian President Bashar al-Assad's regime, and Turkey, which backs the opposition.
Joshua Landis, a professor at Oklahoma University and editor of the Syria Comment blog, told Al Jazeera that although there have been several international initiatives aimed at bringing the war to an end, "Astana has turned into the real venue for Syria negotiations.
He added the talks in Afghanistan had eclipsed "Geneva in importance", referring to the separate UN-sponsored negotiations held in the Swiss city.
Landis said Astana has practically replaced "years of fruitless grandstanding in Geneva" achieving tangible results on the ground in the form of "de-escalation zones", which brought about some reprieve to the affected population.
Talks in Geneva had failed to put an end to more than six years of war that left much of Syria in ruins, killed nearly half a million people, and displaced half of the population.
Landis said that backers of the Syrian opposition – mostly Gulf Arab states, the US and Turkey – had come to terms with the end of the "revolution".
On Monday, former Qatari Prime Minister Sheikh Hamad Bin Jassim Al Thani said that "Qatar, along with Saudi Arabia and the US, had jointly coordinated the arming and funding Syrian opposition groups".
Landis said Saudi Arabia and the UAE were now preoccupied with the conflicts in Yemen and Libya and their diplomatic dispute with Qatar.
Colonel Fateh Hassoun, who heads the opposition military delegation to the Astana talks, said that he still had faith in the "Syrian revolution."
"The aim of the Syrian opposition is still to reach a political solution to the war and lead to a transition period without the regime of Assad."
Follow Ali Younes on Twitter @ali_reports
Tags: Assad, Bashar al-Assad, chemical attacks, chemical weapons, crimes against humanity, destruction, former Qatari Prime Minister Sheikh Hamad Bin Jassim Al Thani, Free Syrian Army, Hassan Nasrallah, High Negotiations Committee, HNC, human rights, Iran, Israel, Jim, Joint Investigative Mechanism, Khan Sheikhoun, Mahmoud Ahmadinejad, murders, nerve agent, President Bashar al-Assad, Putin, Qatar, Russia, Russian-sponsored Syrian peace conference, sarin, Saudi Arabia, Syria, Syrian President Bashar al-Assad, U.N. framework, U.S., U.S. Secretary of State Rex Tillerson, UAE, UN Human Rights Council, UN human rights investigators blaming the Syrian government, Vladimir Putin