South Korea's Moon visits Beijing in effort to repair ties with China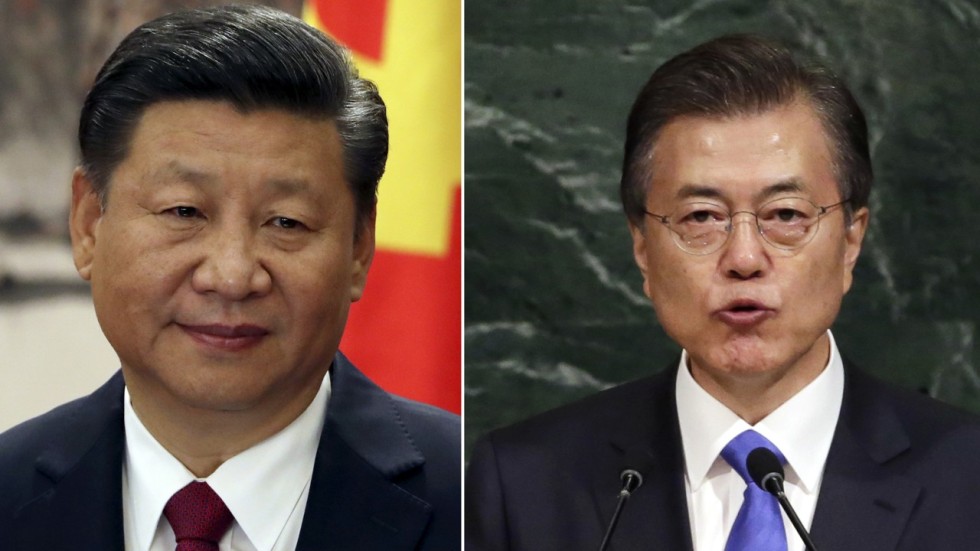 Chinese President Xi Jinping (left) and South Korean President Moon Jae-in. Photo: AP
.
Tillerson: U.S. Open to North Korea Talks Without Preconditions
.
BEIJING—South Korea, China and the U.S. signaled a new push to pursue dialogue to help reduce tensions over North Korea's nuclear program, as the South Korean leader arrived in Beijing for an official visit aimed at repairing bilateral ties.
President Moon Jae-in's four-day trip began Wednesday, hours after Washington indicated its willingness to open talks with Pyongyang without preconditions—a softened stance that could help unify North Korea's neighbors in dealing with the hermit state.
China-South Korea ties had soured in the past year as Beijing reacted angrily to Seoul's deployment of an American missile-defense battery, in a dispute that has hampered efforts to coordinate a regional response against North Korea's advances in nuclear and ballistic-missile technology.
Both sides agreed in October to set aside the dispute, paving the way for Mr. Moon's first visit to China since taking office in May. His priorities in a Thursday meeting with Chinese President Xi Jinping —their third this year—are to secure the restoration of economic links and coordinate policy on North Korea.
South Korean President Moon Jae-in and his wife arrive in China
"China and South Korea share common interests and similar positions on denuclearizing the Korean Peninsula through dialogue and negotiation," Chinese Foreign Ministry spokesman Lu Kang said Tuesday at a regular briefing.
The Threat From North Korea's Missiles
For Beijing, friendlier ties with Seoul strengthen its hand in nudging Washington toward accepting Chinese proposals for direct talks with Pyongyang, said Cheng Xiaohe, an associate professor at Renmin University in Beijing.
With U.S. Secretary of State Rex Tillerson opening the door to direct talks with North Korea, "there's a loosening of positions" that sets up the Xi-Moon summit as an opportunity to "discuss how to sustain this momentum toward negotiations," Mr. Cheng said.
Mr. Tillerson's Tuesday comments included assurances that U.S. troops would stay away from the Chinese border in the event of regime collapse in North Korea—remarks that Chinese analysts call an important concession to Beijing.
"It might encourage China to actively help, for example by putting direct pressure on North Korea to accept the offer," said Su Hao, an international relations expert at Beijing Foreign Studies University.
Asked Wednesday about Mr. Tillerson's comments, Mr. Lu, the Chinese Foreign Ministry spokesman, said Beijing welcomes efforts to ease tension on the Korean Peninsula. South Korea said Mr. Tillerson's comments emphasized the need for North Korea to stop its provocations and return to dialogue.
Secretary of State Rex Tillerson said Tuesday the U.S. wants to have a dialogue with North Korea "anytime," backing away from Washington's previous demand that Pyongyang give up its nuclear weapons before they come to the table. Photo: AP
"Under the principle of no tolerance for North Korea's nuclear weapons, Korea and the U.S.'s position is that various forms of contacts are possible, if it helps in achieving the goal of complete discard of North Korean nuclear weapons in a peaceful way," said a spokesman for the South Korean presidency.
The left-leaning South Korean administration has held open the door for a resumption of talks with Pyongyang, but those outreaches have been ignored or rebuffed.
Related Coverage
Tillerson Rules Out a Containment Strategy for North Korea (Dec. 12)
How North Korea's Global Financing Web Works Around Sanctions (Dec. 12)
There was no reaction to Mr. Tillerson's remarks from North Korea on Wednesday via its state media.
Mr. Moon's itinerary in China includes a Thursday state banquet and a Friday meeting with Premier Li Keqiang, the country's No. 2 leader. The South Korean president will then travel to the inland megacity of Chongqing, where he will visit a Hyundai Motor Co. factory and meet the city's top official, Chen Min'er, a protégé of Mr. Xi.
The visit comes amid signs of Chinese anxiety about simmering tensions over the Korean Peninsula, including efforts by Chinese authorities in areas bordering North Korea to improve public readiness to cope with contingencies.
The official newspaper of Jilin province published a full-page advisory last week teaching residents how to protect themselves from nuclear explosions and radioactive fallout. "Upon detecting the flash from an explosion, don't watch the fireball. Move quickly into various civil-defense infrastructure for protection," the advisory said.
Officials in a Chinese border county have set up settlement areas for hosting potential North Korean refugees, according to a purported internal document from a state-owned telecommunications firm widely shared on Chinese social media last week.
Chinese analysts and state media say such measures are necessary precautions that don't imply any fears in Beijing about an imminent outbreak of armed conflict or a humanitarian crisis on China's northeastern border.
Rather, the preparations suggest that Chinese authorities are feeling "pessimistic" about the prospects of easing tensions over the Korean Peninsula, said Wang Sheng, a professor at Jilin University who has studied North Korean affairs.
"Having tried its best to put pressure on North Korea, China must now do its best to safeguard the interests of its own people," Mr. Wang said. "The authorities are likely undertaking a basket of preventive measures—political, military, economic—to minimize the impact from any crisis, while doing so in a low-profile manner to avoid alarming the public."
—Josh Chin and Kersten Zhang in Beijing, and Min Sun Lee in Seoul contributed to this article.
Write to Chun Han Wong at chunhan.wong@wsj.com
https://www.wsj.com/articles/south-korea-u-s-and-china-unite-to-give-talks-with-north-korea-another-chance-1513163544
.
Related:
Tags: China, Li Keqiang, Moon Jae-in, North Korea, nuclear weapons, Rex Tillerson, South Korea, Talks Without Preconditions, U.S., Xi Jinping