Bloomberg
By Katia Dmitrieva
Investor expectations increase for Fed rate hike in March

Retail sales data indicate robust holiday-shopping season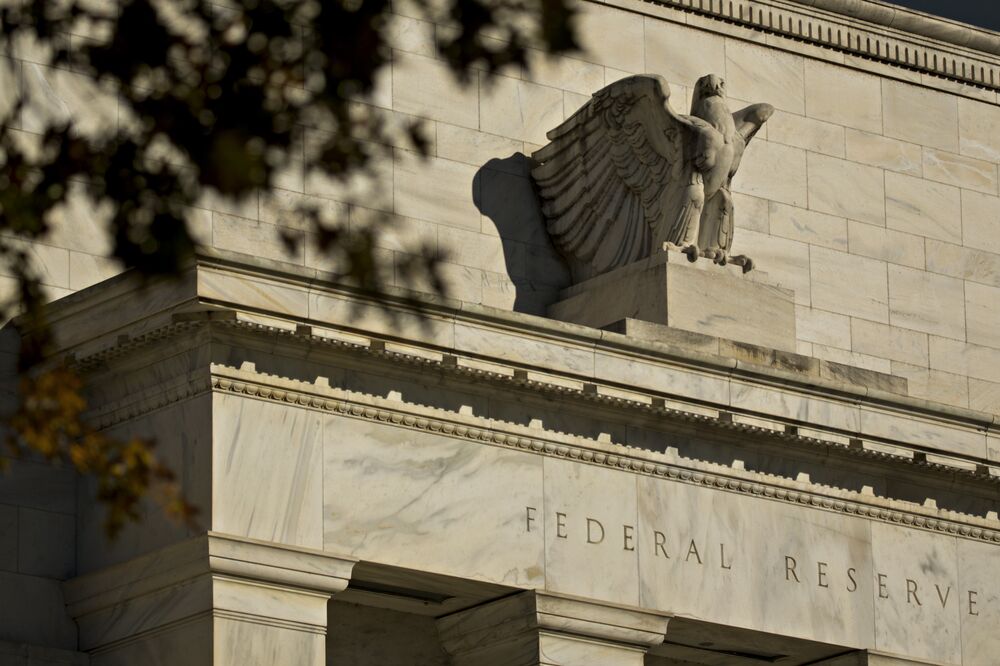 The underlying pace of U.S. inflation unexpectedly accelerated in December amid increased housing costs, reinforcing the outlook for the Federal Reserve to raise interest rates several times in 2018.
Excluding food and energy, the so-called core consumer price index increased 1.8 percent from a year earlier after a 1.7 percent advance, including a 0.3 percent monthly gain that topped analyst projections and was the most in almost a year. Including all items, the broader CPI showed a smaller gain in December in line with estimates, as energy prices declined, a Labor Department report showed Friday.
Investors' already-firm expectations rose for a Fed interest-rate increase in March, as the data could help calm an increasingly heated debate among central bank officials over why inflation has stayed relatively placid despite solid economic growth and the lowest unemployment rate since 2000. Fed policy makers have penciled in three rate hikes in 2018 following three last year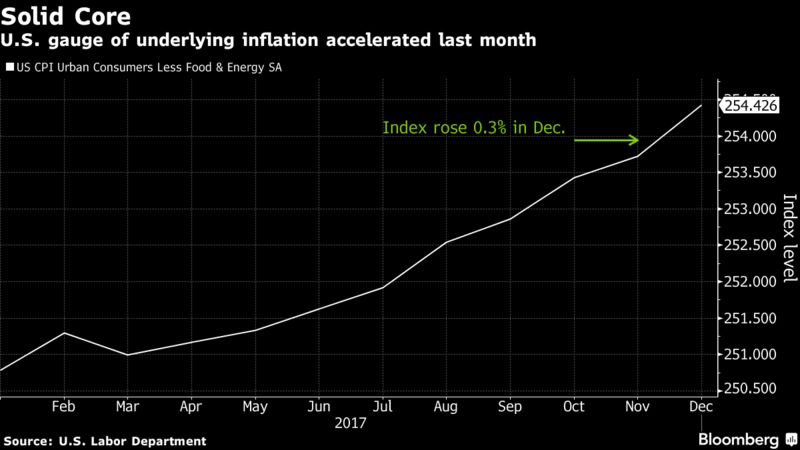 A separate Commerce Department report on Friday showed U.S. retail sales rose in December and November's gain was revised upward, indicating a robust holiday-shopping season.
"The data is consistent with the view of the Fed on inflation, which is that weakness in growth before was due to transitory factors," said Lewis Alexander, chief economist at Nomura Securities International Inc. in New York, who had projected a 0.3 percent monthly gain in core prices. "It's in line with an economy operating at full employment."
He said the biggest positive was the revision to the November retail data, which suggests that fourth-quarter economic growth may have been stronger than previously thought.
Economist Estimates
The 0.3 percent monthly increase in the core CPI topped the 0.2 percent median estimate of economists surveyed by Bloomberg. Shelter costs rose 0.4 percent, the most since August, including a 0.4 percent increase in rents and 0.3 percent in owners' equivalent rent, one of the categories designed to track rental prices.
Prices of medical care rose 0.3 percent, as the index for prescription drugs advanced 1 percent.
The pickup in the core CPI data may help reinforce expectations that the Fed is making progress on stable inflation, one of its twin goals along with maximum employment.
At the same time, the central bank's preferred gauge of inflation — a separate figure based on consumer purchases and issued by the Commerce Department — has mostly missed its 2 percent goal in the past five years. The measure excluding food and energy is also below their target. December figures are due Jan. 29.
Other Details
Energy prices fell 1.2 percent from previous month after 3.9 percent gain; food costs advanced 0.2 percent following no change
Lodging away from home rose 0.8 percent after a November decline
Used-vehicle prices posted a 1.4 percent gain, while the CPI for new vehicles advanced 0.6 percent
Prices of airfares fell 0.5 percent, apparel also down 0.5 percent
Hourly earnings adjusted for inflation rose 0.4 percent from December 2016, according to a separate report from the Labor Department
— With assistance by Kristy Scheuble
https://www.bloomberg.com/news/articles/2018-01-12/u-s-core-inflation-accelerates-amid-increase-in-shelter-costs
Tags: Commerce Department, core consumer price index increased 1.8 percent from a year earlier, Economic growth, energy prices, Federal Reserve, raise interest rates, U.S. economy, U.S. inflation, unemployment rate