REUTERS | 
Indonesia's president Joko Widodo holds a cabinet meeting on a warship off the Natuna Islands, in what has been called Indonesia's strongest message to China over assertion of the South China Sea.
SYDNEY: Indonesia has lobbied Southeast Asian countries to carry out maritime patrols in the disputed South China Sea, claimed in most part by China, to improve security, Defense Minister Ryamizard Ryacudu said on Friday.
.
Indonesia says it's a non-claimant state in the South China Sea dispute but has clashed with China over fishing rights around the Natuna Islands and expanded its military presence there, and also renamed the northern reaches of its exclusive economic zone, asserting its own maritime claim.
.
Austalian Foreign Minister Julie Bishop and Defense Minister Marise Payne held talks with their Indonesian counterparts Retno Marsudi and Ryacudu in Sydney, ahead of an Association of Southeast Asian Nations (ASEAN) summit.
.
Australia is hosting the meeting, despite not being a member of the 10-nation bloc, as it seeks to tighten political and trade ties in the region amid China's rising influence.
.
"For the South China Sea, I went around to friends — ASEAN defense ministers — so that each country that faces the South China Sea patrols up to 200 nautical miles, around 230 kilometers," Ryacudu told reporters at a joint press conference.
HMAS Ballarat (center) conducts a passage exercise in the South China Sea with Japanese maritime self defense force ships,  June 2017
.
Indonesia is focusing on three areas, notably the Sulu Sea, the Malacca Strait and the seas around the coast of Thailand, Ryacudu said, referring to existing cooperation with Thailand, Malaysia, Singapore, Vietnam, Cambodia and the Philippines.
.
"If we look at the (borders) from Vietnam down to Indonesia and to the Philippines, we can see we have secured almost half of the South China Sea (in areas) we are already patrolling."
.
China claims most of the South China Sea, an important trade route and which is believed to contain large quantities of oil and natural gas, and has been building artificial islands on reefs, some with ports and air strips, developments that have irked ASEAN members.
.
China has also been rapidly increasingly its military deployment in the South China Sea and its air force said last month that Chinese Su-35 fighter jets took part in a combat patrol over the disputed waterway.
Su-35 fighter jet
.
Brunei, Malaysia, Vietnam, the Philippines, all of which are members of ASEAN, and Taiwan also have claims in the sea.
.
China's foreign minister Wang Yi said last week that China's resolve to protect peace and stability in the South China Sea was unshakeable, and that outside forces were attempting to muddy the waters.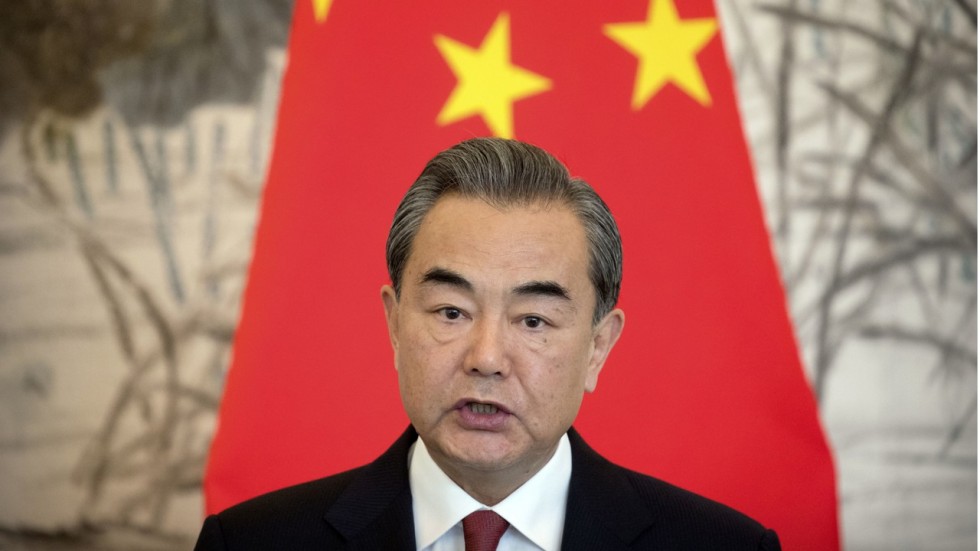 Wang Yi
.
China has been angered in the past by freedom of navigation patrols in the South China Sea by the United States which it sees as provocative.
.
Australia — which says it takes no sides on South China Sea disputes but has supported US-led freedom of navigation activities — has previously said it had no plans to take part in joint patrols.
.
Officially, the ASEAN summit will focus on fostering closer economic ties among the members of ASEAN and Australia, and countering the threat of militants returning to the region from the Middle East.
.
Australian Foreign Minister Bishop also said Australia would "very seriously" consider any formal invitation to join the grouping, a move advocated by Indonesian President Joko Widodo.
**************************************
Peace and Freedom Note:
China has long coveted the Natuna Islands and James Shoal. ASEAN will have to repeatedly invoke international law before China grabs more in the South China Sea.
Related:
Asean-Australia Special Summit Faces Difficult Issues This Week-End
Philippines says its exit marks 'beginning of the end' for International Criminal Court — Duterte Says International Law is "Oppressive"
Most Philippine People Don't Trust China — Filipinos see a "greedy foreign power" — "a fox disguised in sheep's clothing."
Australia to stress international law in South China Sea dispute
China needs to arm South China Sea islands — general
ASEAN military chiefs push for peace in South China Sea
Global risk of conflict in the South China Sea one of the most dangerous potential global situations — The Economist Intelligence Unit says
China's heavily-armed patrol ship spotted a few miles off Pag-asa (Thitu) Island near the Philippines
.
.
Tags: ASEAN, Australia, Cambodia, China, Chinese Su-35 fighter jets, fishing rights, Indonesia, international law, joint patrols, Joko Widodo, Julie Bishop, Malaysia, Natuna Islands, Philippines, Singapore, South China Sea, Taiwan, Thailand, Turnbull, Vietnam, Wang Yi