Everyone is afraid to say "China is Winning." — It's getting harder to tell where the trade war stops and the tech war begins.
As American negotiators arrived in Beijing this week for the latest round of trade talks, U.S. Secretary of State Mike Pompeo was in Hungary pushing the case against Huawei. The U.S. has already warned allies not to use the Chinese company's communications gear, alleging it could facilitate spying. Pompeo on this trip hinted countries face a U.S.-or-China choice when it comes to next generation telecom networks.
Huawei has come to embody this growing rivalry. Its role in setting 5G wireless standards makes it a lightning rod. While its chief financial officer, who's also the daughter of its founder, is out on bail in Vancouver fighting extradition to the U.S., countries from Japan to Canada are mulling bans on Huawei equipment. But in China, its market share is growing.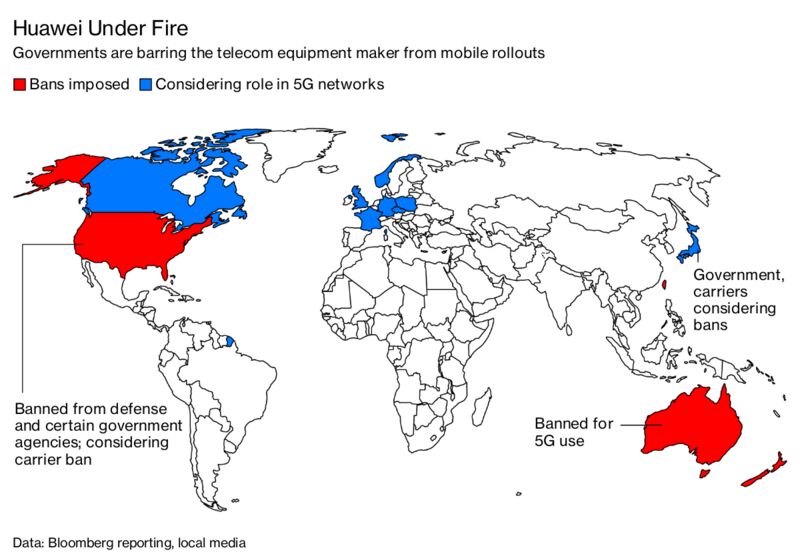 It's not just Huawei. European Union member states began considering retaliation against China for cyberattacks this week. Those deliberations are linked to U.S. indictments unveiled in December accusing Chinese officials of a decade-long espionage campaign.
And in Washington, President Donald Trump signed an executive order prioritizing artificial intelligence in U.S. government research spending. Guess who America's biggest competitor in AI is?
Technology is set to be a source of U.S.-China tensions for some time to come. It'll become even more relentless than trade if Chinese agreements to buy massive amounts of American agriculture and energy are enough to secure a deal that kicks issues of intellectual property and technology transfer down the road.
Looming Deadline
U.S. Trade Representative Robert Lighthizer, U.S. Treasury Secretary Steve Mnuchin and Chinese Vice Premier Liu He continued trade negotiations in Beijing this week. On the horizon is that March 1 deadline, when the trade truce ends and U.S. tariffs on Chinese goods could rise to 25 percent. And while talks in Beijing were ongoing as of this newsletter's publication, it appeared increasingly likely the deadline would be extended by 60 days, even though the two sides have failed to narrow the gap around structural reforms to China's economy that the U.S. has requested.
Action Now
Elon Musk isn't waiting to see if higher tariffs can be avoided. Tesla has loaded at least three cargo ships full of electric cars to be sent to China before the end of February. As part of the trade truce struck in December, China rolled back 25 percent retaliatory tariffs on U.S. cars, which could return without a deal. How Chinese demand for Tesla cars would hold up if the trade war intensified is another question.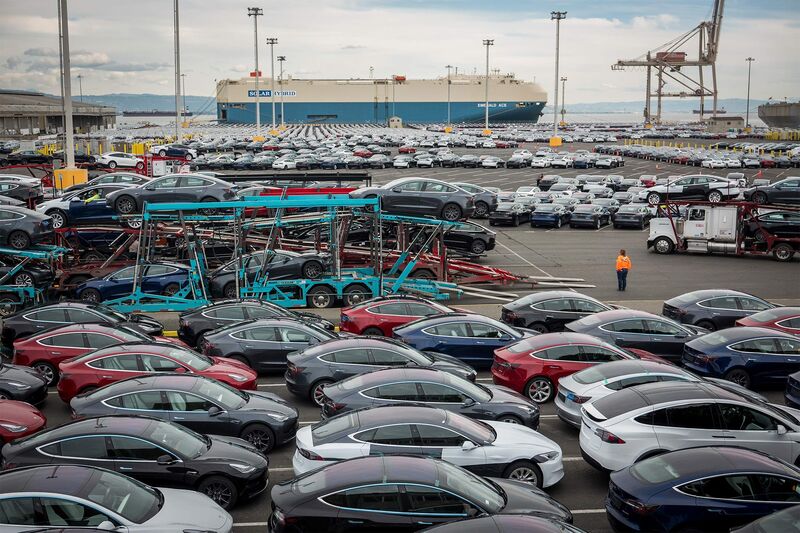 Picture Unclear
China's economy is slowing. By how much has been harder to decipher. Corporate earnings, as one indicator, have been mixed. Apple, Nvidia and Caterpillar are among those that have cautioned of softness in China, along with hundreds of Chinese firms. But companies such as LVMH, Alibaba and Toyota have also reported healthy growth. And while overall spending during the Chinese New Year holiday slowed, it still grew 8.5 percent from a year ago to $149 billion. Macau, the only part of China where gambling is legal, also saw a surge in visitors during that period.
Bad Debt
Don't forget debt when counting up China's challenges. Much of last year's slowdown was caused by a campaign to cut leverage, which by the start of 2018 had exceeded 250 percent of gross domestic product. The tighter financial conditions that resulted left many firms in a liquidity crunch. The latest example is China Minsheng Investment Group.
The company, which once dreamed of being China's JPMorgan Chase, missed a bond payment, had assets frozen and struggled to secure financing. Though by the end of the week it was able to make the overdue payment as Chinese media reported that authorities had stepped in to help.
Feature Film
And finally, there was some good news this week for China's film industry, which suffered mightily in 2018. The misfortune featured revelations that the country's highest-paid movie star, the actress Fan Bingbing, had underpaid more than $100 million in taxes. The ensuing clean-up soon embroiled others and depressed productions; sales also slowed.
But now there's a ray of hope. A new movie, "Wandering Earth," is capturing imaginations around the country and setting box-office records along the way. The plot? In a post-apocalyptic future, it's up to Chinese scientists to save the world.