Reuters
NEW DELHI (Reuters) – Air pollution in New Delhi hit 18 times the healthy limit on Friday under a thick, toxic haze after a night of fireworks to celebrate the Hindu festival of Diwali – despite a court-ordered ban on their sales.
Residents of the sprawling Indian capital, which already ranks among the world's most polluted cities, complained of eyes watering and aggravated coughs as levels of PM 2.5, tiny particulate matter that reaches deep into the lungs, rose alarmingly.
Air quality usually worsens in New Delhi ahead of Diwali, the festival of lights, and the Supreme Court temporarily banned the sale of firecrackers, aiming to lessen the risk to health.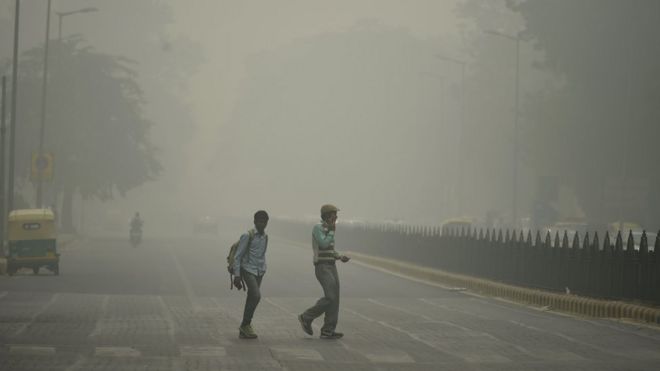 But many still lit fireworks across the capital late into the night, either using old stocks or buying them from neighboring states.
Some environment activists said the court order was poorly enforced and firecrackers were still available to celebrate one of north India's biggest festivals.
"Breathe nitrate and ammonia, home grown, hand made!" said environmentalist Vimlendu Jha in a Twitter post calling for city authorities to declare a public emergency.
An index of air quality had crossed the "hazardous" limit of 300 on Friday, the most severe level on a U.S. embassy scale of measurement which rates a reading of 50 as good and anything above that as a cause for concern.
Some parts of Delhi such as Mandir Marg showed an air quality reading of 941, close enough to the maximum level of 999 beyond which no readings are available. The index measures concentrations of PM 2.5, PM 10, ozone, nitrogen dioxide and sulfur dioxide among other indicators.
A hazardous level is an alert in which everyone may experience ill effects and are advised to stay indoors.
Apart from the firecracker ban, the Supreme Court also ordered diesel generators and a power plant to be shut down to try to reduce the pollution. The Environment Pollution (Prevention and Control) Authority also ordered some brick kilns to close and a halt to the burning of rubbish.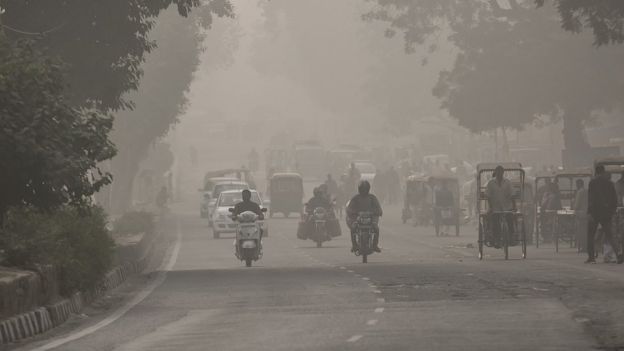 Dipankar Saha, a scientist at the government's Central Pollution Control Board, said the still weather had also played a part in the toxic haze hanging over the city.
But pollution levels were better than at last year's Diwali when crop burning in nearby states and firecrackers combined.
"It was going to be hard to beat last year's level in any case," he said.
Reporting by Sanjeev Miglani
See also:
India Diwali: Delhi acts against pollution menace
http://www.bbc.com/news/world-asia-india-41662498
Related:
New Delhi shuts power plant in fight against Diwali smog
New Delhi coal-burning plant reopens — India's environment minister dismisses a major study of global air pollution
Deaths from India air pollution rivals China — Harmful smog readings in major cities routinely eclipse safe exposure levels for humans
China's Hebei promises new assault on smog after 2017 spike — "Taking action to shut backward coal-fired power plants"
Smog shrouds the Jama Masjid mosque in an old section of New Delhi, which has been called the most polluted city in the world.Credit Dominique Faget/Agence France-Presse — Getty Images
***************************************************
Delhi wakes up to better air quality than 2016, but pollution levels far from safe
Despite SC ban on sale of firecrackers in NCR, Delhi celebrated Diwali, dashing the hopes of cracker-free festivities
New Delhi: The jury is yet to decide whether Supreme Court's ban on sale of crackers worked or not, but citizens of Delhi certainly woke up to better air quality on Friday—the morning after Diwali celebrations—compared to last year. However, the air quality was far from satisfactory even this year.
In 2016, Delhi resembled a gas chamber with particulate matter (PM)10 and PM2.5—the two deadliest components of air pollution—at over eight times the safe limit. This year has been slightly better, with PM10 and PM2.5 levels over two and half times the satisfactory level.
But disturbingly, PM10 and PM2.5 levels—during and after Diwali celebrations in some parts of the national capital—went as high as over 24 times and nearly 15 times, respectively, the satisfactory limit even this year.
According to the System of Air Quality and Weather Forecasting and Research (SAFAR) of the Union ministry of earth sciences, the levels of PM10 and PM2.5 in Delhi on Friday morning were at "poor" and "very poor" levels respectively. The level of PM10 was 256µg/m³ and PM2.5 was 154µg/m³—over two and half times the satisfactory levels.
The satisfactory limit of PM10 is 100µg/m³ and PM2.5 is 60µg/m³. These fine particles can settle deep in the lungs and be absorbed in the bloodstream, which can lead to respiratory problems, cardiovascular diseases and lung cancer.
SAFAR had predicted a few days ago that there will not be a repeat of 2016 this year.
Overall, Delhi's air quality index was calculated at 326 which is "very poor", according to the National Air Quality Index (NAQI). As per SAFAR forecast, the air quality is expected to remain "very poor" on Saturday too with PM10 and PM2.5 levels expected to be at 358µg/m³ and 216µg/m³, respectively.
As per NAQI, very poor air quality "may cause respiratory illness to the people on prolonged exposure. Effect may be more pronounced in people with lung and heart diseases". During such levels, people are advised to use pollution masks and avoid outdoor activities.
This, however, is still far better than 2016 when air quality levels were "severe" and were recorded over eight times the safe limit. In 2016, the day after Diwali, PM10 levels were recorded at severe level of 836.1µg/m³ (over eight times the safe limit) and PM2.5 at 624.2µg/m³ (nearly 10 times the safe limit).
If initial estimates are to go by, the pollution levels of the national capital a day after Diwali are better than 2015 results when PM2.5 levels were 428µg/m³—over seven times the safe limit.
Meanwhile, Delhi's neighbourhood towns like Noida, Gurgaon and Faridabad also did not see the air quality crossing "very poor" level. As per SAFAR, Gurgaon's air quality index was at 341 (very poor level), while Noida's air quality was "poor" with its AQI at 299.
Faridabad, as per data of the Central Pollution Control Board (CPCB), too had "very poor" air quality level with AQI at 336. CPCB is India's nodal pollution watchdog.
Meanwhile, even though the average levels as per SAFAR showed that pollution levels were not alarmingly high, the data recorded by air quality stations of the Delhi Pollution Control Committee (DPCC) showed that levels of PM10 and PM2.5 touched scary levels during and after Diwali celebrations.
For instance, Anand Vihar, which is one of the most polluted areas of the national capital, recorded PM10 at 2,402 µg/m³ early Friday morning (over 24 times the satisfactory limit) and PM2.5 at 626 µg/m³ (over 10 times the satisfactory limit).
Similarly, Mandir Marg area recorded PM10 levels at 1046µg/m³ (over 10 times the satisfactory limit) and PM2.5 at 355µg/m³ (nearly six times the satisfactory limit).
Another area, RK Puram, which regularly witnesses high levels of pollution, recorded PM10 at 1180µg/m³ (nearly 12 times the satisfactory limit) and PM2.5 at 878µg/m³ (nearly 15 times the satisfactory limit) on Thursday night. At 8am on Friday, the area recorded PM2.5 at 925µg/m³, which was nearly 15 times the satisfactory limit.
Now whether the low pollution levels—compared to last year—are due to the apex court's ban on cracker sale leading to less people bursting crackers, awareness among people, favourable weather conditions or the graded response action plan (GRAP), it is yet to be finalized.
On 9 October, the Supreme Court had banned the sale of crackers in Delhi and NCR area.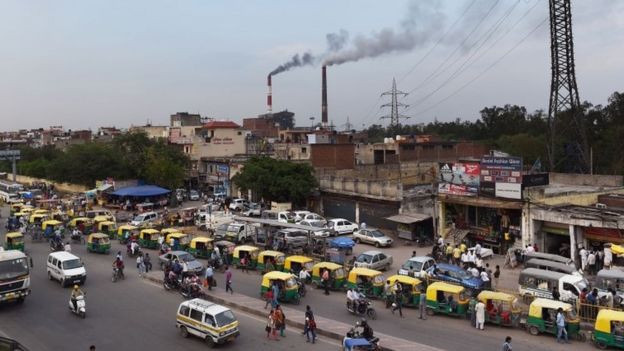 After the high levels of pollution in Delhi-NCR area, SC had approved GRAP to tackle air pollution in Delhi and adjoining regions. The main objective was to institutionalize measures to tackle air pollution emergencies, giving a clear direction of steps to be taken by central and state authorities. GRAP was then notified by the Union environment ministry in January 2017. It classifies air pollution into four categories in terms of air quality—moderate to poor, very poor, severe, and very severe or emergency.
Moderate to poor is when particulate matter PM 2.5 and PM10 levels are between 61-90g/m3 (microgram per cubic metre) and 101-250g/m3 respectively; very poor is when PM2.5 and PM10 levels are between 121-250g/m3 and 351-430g/m3 respectively; severe is when ambient PM2.5 and PM10 levels are more than 250g/m3 and 430g/m3 respectively; and very severe or emergency is when PM2.5 or PM10 levels are above 300g/m3 and 500g/m3 respectively, and persist for 48 hours or more.
In the last few weeks, several aspects of GRAP have already been set in motion.
.