Refusing to bow to Saudi-led demands, emirate speeds up reforms and builds new alliances
DOHA, Qatar—It has been nine months since Qatar turned from a peninsula to a de facto island.
By now, the tiny but wealthy emirate has gotten used to this new reality, developing fresh trade routes and alliances that may affect the Middle East's balance for years to come.
Last June's sudden decision by Saudi Arabia, Bahrain and the United Emirates to cut ties with Qatar over the country's alleged support for terrorism was meant to be a knockout blow. It included a prohibition on Qataris visiting those neighboring nations, a ban on overflights and port use for Qatari trade, and the closure of the nation's only land border.
Qatar, however, has managed to withstand this pressure—and the country's government says it won't capitulate to its bigger Gulf neighbors.
"They don't want us to make our decisions, they want to make decisions for us, they think our decisions are for sale and that we will simply give up and do what they tell us. That will never happen," said Sheikh Saif bin Ahmed Al-Thani, the director of the emirate's government communications office and a prominent member of Qatar's ruling family.
"What happened to us is something that we don't want to happen to another country," he said. "It will be very dangerous for the region if aggressive acts like this become the new norm."
Qatar has responded to the embargo by establishing new trade routes via Turkey and Iran, the two countries that provide an alternative to Saudi Arabia's airspace and road access.
For the Saudis, enmeshed in their own regional effort to contain Iran, this shift by Qatar represents "an own goal," said Nader Kabbani, director of research at the Brookings Doha Center. "These trade links sooner rather than later will become stable and normal, and this may affect the geopolitics of the region in the future."
The U.S.—which maintains a critical military facility in Qatar and is wary of growing Iranian influence in the Gulf—has been trying to mediate this increasingly inconvenient dispute between its allies. President Donald Trump spoke to Qatar's emir and the crown princes (and de facto rulers) of Saudi Arabia and the U.A.E. in late February. All three Gulf leaders are slated to visit him in Washington in coming weeks.
So far, these efforts—as well as mediation by Kuwait and entreaties by European governments to all sides—have proved largely fruitless.
"Right now we have not seen any sign from the blockading countries that they are willing to meet us at the same table to discuss our differences," Qatar's Sheikh Saif said.
Indeed, Saudi-led foes of Qatar—whose governments have wheeled out potential pretenders to the Qatari throne in an effort to put pressure on Doha and possibly spark regime change—seem in no mood to compromise.
"It's not like we think much about Qatar. This can go on for another seven years if need be," said a senior Saudi official. He also quipped that Qataris—who follow the same Wahhabi school of Islam as Saudi Arabia, albeit in a much more liberal interpretation—are "basically Saudis."
Key objections that Saudi Arabia, the U.A.E. and their ally Egypt have about Qatar include the emirate's friendly relationship with the Muslim Brotherhood and coverage by Qatar's Al Jazeera pan-Arab network that is critical of regional countries.
While Saudi-led sanctions on Qatar have caused pain, they also had the unexpected effect of accelerating some reforms. Since June, the emirate has abolished visa requirements for 80 nationalities, moved to establish permanent-residency rights for foreigners, and is setting up free economic zones. There are even plans for holding elections to a new legislature.
"All of these reforms would have taken a lot longer of it were not for the blockade," said Yousuf Mohamed al-Jaida, chief executive of the Qatar Financial Centre, a body that hosts some 485 local and foreign companies. "It's been a blessing in disguise when it comes to business."
Because of severed air links, multinational companies can no longer fly executives on daytrips to Doha from the Gulf's regional hub of Dubai, and many Qatari clients prefer dealing with offices that aren't based in cities they can no longer visit. This has led many international companies to establish branches in Doha, leading to a 70% rise in the number of firms operating under QFC licenses, Mr. al-Jaida said.
It isn't all good news, of course. One of the reasons why Qatar managed to survive an embargo by its key trading partners and food suppliers was because the country owns Qatar Airways, a passenger airline that seeks to become the world's second-largest cargo carrier by next year.
With much of its capacity diverted to provide emergency supplies following the June embargo, and several lucrative regional routes lost, Qatar Airways said last week that it will announce "a very large loss" and may need a government bailout in the future.
Still, the way Qatar's officials see it, it's an acceptable price for maintaining independence. All the main development projects, including preparations for hosting the 2022 soccer World Cup, remain on schedule or have been accelerated, they say.
The International Monetary Fund, in a March statement on Qatar in which it projected GDP growth of 2.6% this year, said "the direct economic and financial impact of the diplomatic rift between Qatar and some countries in the region is fading."
"While economic activity was affected, this has been mostly transitory," it added.
Write to Yaroslav Trofimov at yaroslav.trofimov@wsj.com
https://www.wsj.com/articles/qatar-cut-off-from-neighbors-remains-defiant-1521106201
 ****************************************
.
Qatar Airways responds to blockade by Middle Eastern neighbors by adding new routes
Akbar Al Baker, chief executive of Qatar Airways, has never shied away from a fight.
When Delta, United and American Airlines accused the Doha-based carrier in 2016 of competing unfairly by accepting subsidies from its oil-rich government owners, Al Baker responded by promising to add dozens of new U.S. destinations.
The new destinations included Atlanta, the biggest hub for Delta Air Lines.
"I like to rub a little salt on the wound of Delta when I announce these flights," Al Baker joked at a news conference.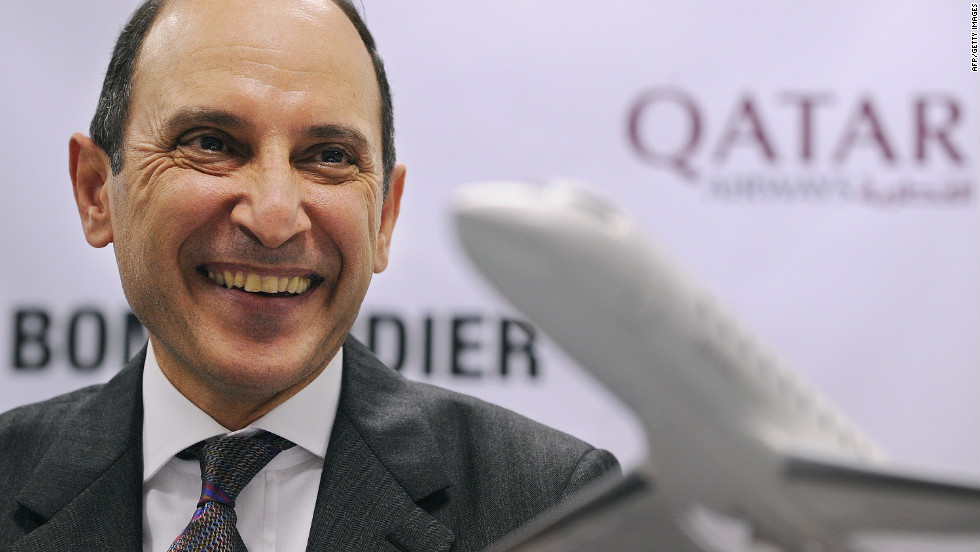 Akbar Al Baker, chief executive of Qatar Airways
Al Baker remains defiant. Last week, he announced that Qatar Airways plans to add 16 international destinations and expand service to eight other cities in response to a blockade launched this summer by several Middle Eastern countries.
Saudi Arabia, the United Arab Emirates, Bahrain and Egypt accused the country of Qatar of harboring, funding and championing Islamist terrorists. The countries cut air, sea and land links with Qatar, among other punitive measures.
During a news conference, Al Baker dismissed suggestions that the blockade will hurt his carrier.
Over the next two years, he said Qatar will add new flights to airports in Germany, London, Portugal, Estonia, Malta, Philippines, Malaysia, Vietnam, Turkey, Greece and Spain.
"We are very defiant, and Qatar Airways will keep on expanding and keep on raising the flag for my country all over the globe," Al Baker said.
By adding these routes, Al Baker's carrier is flying to some destinations already served by airlines from the blockade countries, including Etihad Airways and Emirates Airline, both based in the United Arab Emirates.