A stabbing and shooting attack in the eastern Belgian city has left two police officers and a passer-by dead. Authorities have launched a terror investigation but the terror alert level remains unchanged.
A gunman stabbed and shot dead two police officers before killing a bystander in the eastern city of Liege on Tuesday, Belgian media reported.
The country has been on alert since suicide bombers killed 32 people at Brussels airport and in the subway system in 2016.
Read more: Refugee child dies in Belgium after police chase
What we know so far
The attack happened at around 10.30 a.m. local time (08.30 UTC) near a cafe in the Boulevard d'Avroy, located in the administrative district of the city.
The attacker, who was armed with a knife, approached the two officers from behind and stabbed them several times, before seizing their weapons and shooting them dead, prosecutors said.
He then shot dead a 22-year-old man in a vehicle parked nearby.
La Libre Belgique newspaper quoted a police source as saying the gunman shouted Allahu Akbar — God is greatest in Arabic.
The shooter then fled to a nearby school where he took a woman hostage.
Broadcaster RTBF said the gunman was later shot dead by police.
At least two officers were injured in the subsequent shoot-out.
The Belga news agency reported that the children from the school were quickly moved to a safe area.
Terror probe opened
Terrorism investigators took over the case within two hours of the shooting.
"There are elements that point in the direction that this is a terrorist act," said Eric Van Der Sypt, spokesman for the Belgian federal prosecutors office.
Belgian Interior Minister Jan Jambon said on Twitter: "Our thoughts are with the victims of this horrible act. We are in the process of establishing an overview of exactly what happened."
Terror nerves: Belgium remains on edge following several years of extremist Islamist activity, most notably the March 2016 suicide bombings on Brussels airport and a metro station which killed 32 people.
Read more: Belgium charges suspect over 2016 Brussels attacks
Extremist cells, previous shooting
In January 2015, police smashed a terror cell in the town of Verviers that was planning an attack on police. The cell had links to Abdelhamid Abaaoud, the mastermind of the November 2015 Paris attacks.
Liege itself was the scene of a shooting in 2011, when a gunman killed four people and wounded more than 100 others before turning the gun on himself.
mm/rt (AFP, AP, dpa, Reuters)
http://www.dw.com/en/prosecutors-link-deadly-liege-police-shooting-to-terror/a-43971801
**********************************************
In this grab taking from video Tuesday, May 29, 2018, people run in the street after hearing gun shots, in Liege, Belgium. A gunman killed three people, including two police officers, in the Belgian city of Liege on Tuesday, a city official said. Police later killed the attacker, and other officers were wounded in the shooting. (Victor Jay via AP)
BBC News
What happened?
The shooting unfolded late morning on Tuesday near a cafe in the city centre.
Prosecutors said the man followed and attacked police with a knife, before taking a gun from them and opening fire.
He also shot dead a man who was sitting in the passenger seat of a passing car.
The gunman then fled to a nearby school and briefly took a hostage.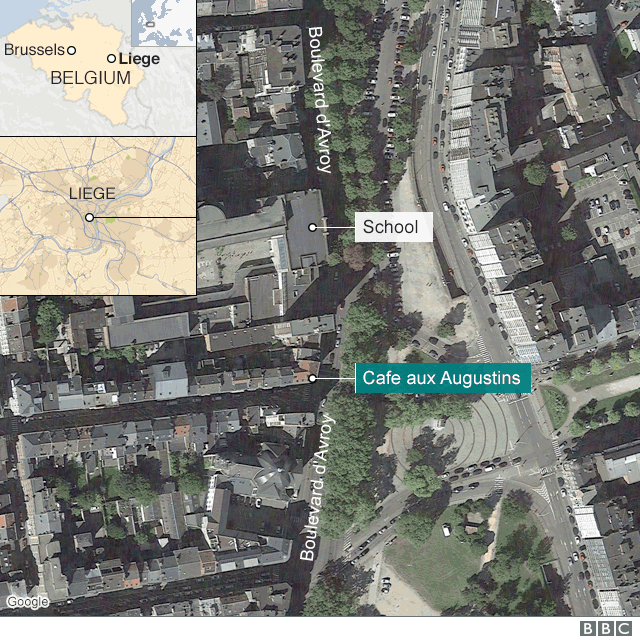 Footage on social media showed people running to safety as several gunshots rang out. Children at the school were moved to safety.
Belgium's Prime Minister Charles Michel said he was following the situation closely and expressed his support for those caught up in the shooting.
What's the wider situation?
Belgium remains on alert after a series of jihadist attacks in the country and in neighbouring France.
A Brussels-based cell was involved in the 2015 Paris attacks which left 130 people dead in several locations.
Brussels itself saw three suicide bombings in March 2016, with 32 people killed. Both the Paris and Brussels attacks were claimed by the Islamic State-group.
Later in 2016 a man attacked two police officers with machetes while shouting "Allahu Akbar" before being shot dead.
http://www.bbc.com/news/world-europe-44289404
********************************************
Reuters
Gunman kills three before being shot dead: Belgian police
LIEGE, Belgium (Reuters) – A man killed two policewomen and a woman passer-by in the Belgian city of Liege on Tuesday, public broadcaster RTBF said, before being shot dead in an exchange of fire that sent people scattering and scurrying to take cover.
The city authorities confirmed the death toll.
The national crisis center, on high alert since past attacks by Islamic State in Paris and Brussels, said it was looking into whether terrorism might have been a motive for Tuesday's attack in Belgium's third city.
RTBF named the alleged assailant as a 36-year-old Belgian who had been released on parole from a prison near Liege, close to the German and Dutch borders, on Monday.
He was serving time for drug offences and classified as "unstable", according to RTBF. It remained unclear how the incident, during which pupils at a nearby high school were moved to a place of safety, had unfolded.
"The children in the local schools are safe," Liege city authorities said on Twitter, adding that apart from the two police officers the passenger in a car had been killed.
RTBF said the man may have attacked the police officers with a box-cutter and then seized one of their weapons.
La Libre Belgique newspaper quoted a police source as saying the gunman shouted "Allahu Akbar" — God is greatest in Arabic — and RTBF said investigators were looking into whether he might have been converted to Islam and radicalized in prison.
"(Terrorism) is one of the questions on the table, but for the moment all scenarios are open," a spokesman for the crisis center told Reuters.
Federal prosecutors took over the investigation, a further indication that a terrorist motive was possible.
Prime Minister Charles Michel, expressing his condolences to the families of the victims, said it was too early to say what had caused the incident.
RTBF said the attacker had a history of minor criminal convictions but was not on a list of possible violent extremists.
Two other police officers had been injured, a spokeswoman for the Liege public prosecutors office said.
Images on social media showed people scurrying for safety on Liege's central boulevard d'Avroy with shots and sirens being heard in the background.
Liege, the biggest city in Belgium's French-speaking Wallonia region, was the scene of a mass shooting in 2011, when a gunman killed four people and wounded more than 100 others before turning the gun on himself.
Belgium has been on high alert since a Brussels-based Islamic State cell was involved in attacks on Paris in 2015 that killed 130 people and Brussels in 2016 in which 32 died.
The Brussels IS cell had links to militants in Verviers, another industrial town close to Liege, where in early 2015 police raided a safe house and killed two men who had returned from fighting with radical Islamists in Syria.
Reporting by Robert-Jan Bartunek, Alissa de Carbonnel and Philip Blenkinsop; Editing by Alastair Macdonald and Richard Balmforth