.
Vietnam's PM Nguyen Xuan Phuc (left) and U.S. President Donald Trump. Getty Images
HANOI (Reuters) – Vietnam could hardly have asked for more: a U.S. warship challenging Chinese claims in the South China Sea, a meeting at the White House and six new coastal patrol boats.
All are signs of a U.S. commitment which Vietnam had feared was waning under President Donald Trump just as the Southeast Asian country has emerged as the most forceful opponent of China's claim to one of the world's most important seaways.
But uncertain over how enduring U.S. support will be and wary of relying on any ally, Vietnam is just as carefully cultivating ties with ancient foe China.
"Vietnam doesn't want an imbalance of power in the region that could lead to war," said Tran Cong Truc, a former head of the National Boundary Commission who spent decades defending Vietnam's maritime claims.
The meeting with Trump next Wednesday is a coup for Prime Minister Nguyen Xuan Phuc, who will be the first Southeast Asian leader to visit the White House under the new administration.
It reflected calls, letters, diplomatic contacts and lower level visits that started long before Trump took office in Washington, where Vietnam retains a lobbyist at $30,000 a month.
Just as important symbolically for Vietnam this week was having a U.S. warship sail close to an artificial island being built by China in the South China Sea, where Beijing's extensive claims are disputed by Vietnam and four other countries.
Vietnamese officials and foreign envoys familiar with Hanoi's position said it had been lobbying hard for what former enemy the United States calls a "freedom of navigation" mission.
Further underlining U.S. support, the United States delivered six coastal patrol vessels to Vietnam this week.
"Vietnam's future prosperity depends upon a stable and peaceful maritime environment," U.S. Ambassador Ted Osius said.
Lonely Voice
Such words help to ease concerns in Vietnam at being a lonely voice in challenging Beijing in the South China Sea, particularly since Philippine President Rodrigo Duterte has grown closer to China.
Military ties between the United States and Vietnam were forged under the Obama administration, but even more important was the strategic Trans-Pacific Partnership (TPP) trade pact.
Vietnam was disappointed when Trump ditched that deal and focused trade policy on reducing deficits – Vietnam's $32 billion surplus with the United States was the sixth biggest last year.
Vietnamese nerves were jangled further by Trump's recent coziness with Chinese President Xi Jinping in trying to tackle North Korea's nuclear program.
"The total fixation on North Korea had Vietnam quite worried that the South China Sea would be left wide open," said Carl Thayer, a Vietnam expert at Australia's University of New South Wales.
In Washington, State Department spokeswoman Katrina Adams said "the U.S.-Vietnam partnership is a critical component of U.S. foreign policy in the Asia-Pacific region".
But a former senior U.S. official said Trump could be expected to complain to Vietnam's prime minister about the size of its trade surplus. Under Trump budget plans, Vietnam could also find U.S. military donations becoming loans instead.
In the face of the uncertainty since Trump took office, Hanoi has been paying as much attention to Beijing as to Washington.
Vietnam's Coast Guard recently took custody of U.S.-Built patrol boats
President Tran Dai Quang combined a state visit with his attendance at China's Belt and Road summit. Communist Party chief Nguyen Phu Trong, arguably the most powerful man in Vietnam, was in Beijing days before Trump's inauguration.
After both those visits, the countries emphasized their readiness to keep the peace in the South China Sea, through which some $5 trillion in trade flows each year.
Just as telling, the Vietnamese coast guard sent a vessel on a visit to China for the first time early this month.
"'Simultaneously cooperate and fight' is a very practical policy," said Truc. "Vietnam never kneels or surrenders before China's open violation of its legitimate rights, but it does not give China any excuse to use its power to create conflict."
For graphic on rival claims in the South China Sea, click: http://tmsnrt.rs/1GHW1LC
For graphic on U.S.-Vietnam trade, click: http://tmsnrt.rs/2r1vBEH
(Additional reporting by Mai Nguyen in Hanoi, Greg Torode in Hong Kong, David Brunnstrom and Mike Stone in Washington; Editing by Nick Macfie)
Note: President Donald J. Trump will welcome Prime Minister Nguyen Xuan Phuc of Vietnam to the White House on May 31.
Related:
U.S. delivers patrol boats to Vietnam — Cooperation in maritime law enforcement and humanitarian assistance between U.S. and Vietnam
Vietnam Takes Asia Lead in Figuring Out Trump Policy on South China Sea
China dismisses US account of 'dangerous intercept' in South China Sea
Chinese jets come within several hundred feet of US plane over South China Sea
Beijing denies intercepting US 'sniffer plane' over Yellow Sea
The U.S. Air Force's WC-135 Constant Phoenix sniffer plane in a file photo. (Yonhap)
Chinese fighter jets intercept US military plane over East China Sea in 'unprofessional and unsafe manner'
An SU-30 fighter jet CREDIT: EPA
Related:
South China Sea: Latest U.S. "Freedom of Navigation" Sailing Could Be Showing Support for Nations Who Wish to Pull Away From China's Massive Claims
South China Sea: U.S. Seems Unable To Slow China's Advance
China warns U.S. to remove warship from South China Sea, claims America is trespassing on its territory
Philippines: A look into Duterte's reasons for martial law in Mindanao
Challenging China, US launches first South China Sea operation under Trump
In first under Trump, U.S. warship challenges Beijing's claims in South China Sea
US warship sails near South China Sea reef claimed by Beijing
China's Xi Says Navy Should Become World Class
Xi Jinping's War Threat To The Philippines: China Shows It Will Dominate the Philippines to Get Whatever It Wants
Journalists in the Philippines Remind Us of Their Constitutionally Guaranteed Right to Hold Leaders to Account: "Consent of the governed depends on the limits placed on the government."
Philippines' Duterte mulls imposing martial law nationwide — "Martial law of Mr Marcos was very good," Duterte said — (The most lawless nation in Asia goes one step beyond…)
Philippine President Duterte Is Against Martial Law — So Why Does He Keep Bringing it Up?
Common interest of Singapore and China greater than any difference of views: DPM Teo Chee Hean
South China Sea: Vietnam and Indonesia Battle Over Fish; Both sides have "hostages" to exchange — One Vietnamese boat sunk
South China Sea: Who Gets The Ocean's Wealth? (Smart money is on China right now)
President Duterte Once called The Philippine Police "Corrupt To The Core" — When will it get better? — Maybe When China Takes Over
China's President Xi Jinping Wasn't Trying to Bully the Philippines When He Threatened War — Philippine Foreign Secretary Says — "Better Ask Vietnam" Expert Says
South China Sea: China's Real Choice to The Philippines: Ignore International Law, Or Face War — Is This How The One Belt One Road System Will Be Built? On Coercion?
Duterte: China warned the Philippines of war over South China Sea
"Marriage Built on Coercion"– Philippine President Rodrigo Duterte says Xi Jinping warned of war in the South China Sea if the Philippines tried to enforce an arbitration ruling and drilled for oil
South China Sea: Japan, New Zealand Support International Law, Arbitral Ruling, Angering China
Duterte Agitated About Hitler Comparison — "There are three million drug addicts [in the Philippines]. I'd be happy to slaughter them."
Philippine President Duterte called 'serial killer president' by European newspaper — Philippine Catholic Church leaders weigh in — China will welcome Duterte ("They Like His Style" — "He's not afraid to kill his own people")
Philippine Lawmakers Want To Drill For Oil In The South China Sea — A Move Likely To Anger China, Upset President Duterte — Some say "skirt the issue of sovereignty"
Duterte goes soft on Chinese 'harassment' of Filipino fishermen
China's Overfishing is Killing The Global Fishing Industry, Depleting our World's Oceans
South China Sea: Beijing Won't Allow Another Duterte Flip-Flop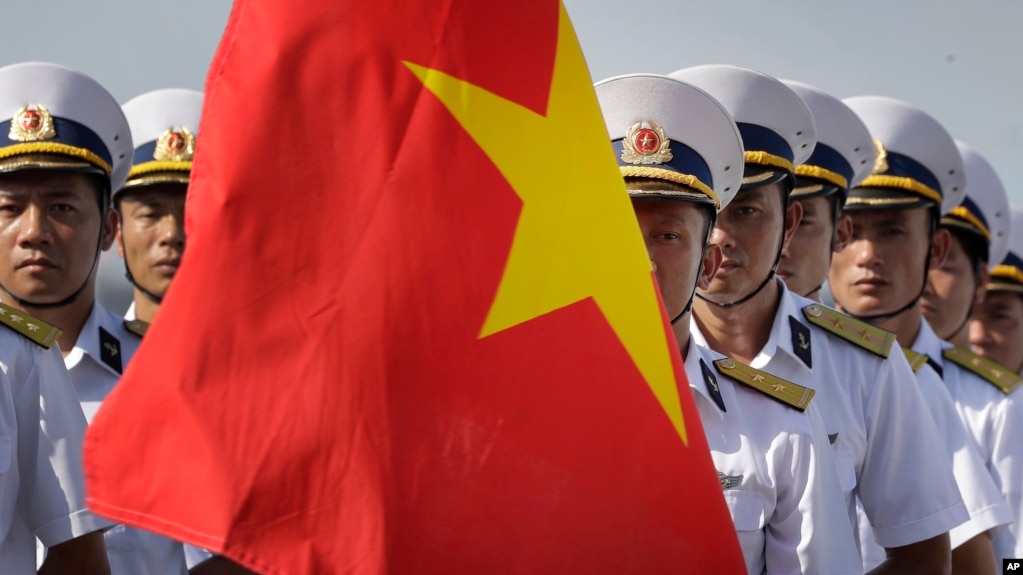 U.S. delivers patrol boats to Vietnam — Cooperation in maritime law enforcement and humanitarian assistance between U.S. and Vietnam
Vietnam Takes Asia Lead in Figuring Out Trump Policy on South China Sea
China's Threat Of War Against Philippines Is Baseless Scare Tactic — Deception, coercion, intimidation, lies and threats are to be expected. As they say in Vietnam, "This is just China." (Contains links to several earlier related stories)
China's Leader Offers Billions for New Silk Road Initiative
Vietnam, China and the New Silk Road
China's Quest for The South China Sea is About Entitlement
Philippines: We will not give up our South China Sea claims despite China "Belt and Road" participation
China's Overfishing is Killing The Global Fishing Industry, Depleting our World's Oceans
Philippine minister starts damage control after Duterte's China war remark — "Now we are on the 'One Belt, One Road,' and can't get off?"
China's Belt and Road to Nowhere — Can anyone just say no? — Cutting through China's propaganda
Philippine President Duterte Skips China's Belt and Road Forum opening ceremony
Philippine Love Affair With China — Kowtowing to China Could End in Drowning in Sorrows
China's take-over of the South China Sea is complete; One Belt One Road project within reach
For about five years China has been loudly proclaiming "indisputable sovereignty over the South China Sea." China has said, everything north of the "nine dash line" shown here, essentially, belongs to China.  On July 12, 2016, the Permanent Court of Arbitration in The Hague said this claim by China was not valid. But China chose to ignore international law.