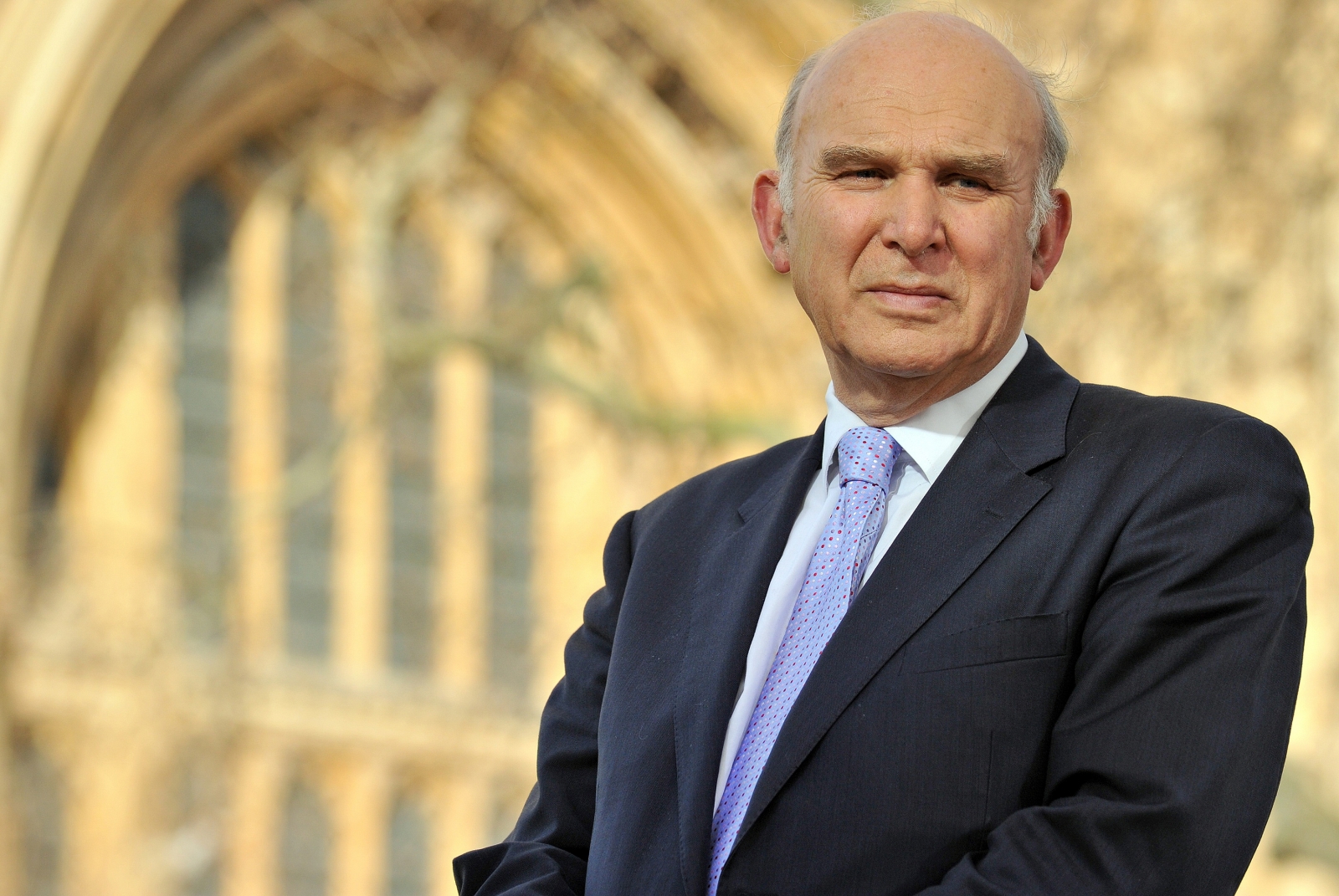 FT Weekend Festival debates life after the EU and political polarisation in a post-truth era
by: Naomi Rovnick There is a growing possibility of a second referendum on Britain leaving the EU as tensions grow within the Conservative and Labour parties about the likelihood of a beneficial Brexit deal being achieved, Liberal Democrat leader Vince Cable has said.
In a debate at the FT Weekend Festival held at Kenwood House in North London on Saturday, Mr Cable said: "I think there is more than a possibility that Brexit may never happen.
He added: "The balance of probability is still that it does, but there is a strong possibility of it being stopped because tensions within and between major parties are so large, that one or other may want to let the public decide on the facts whether this is something they want to go ahead with."
Mr Cable, who became leader of the pro-EU Lib Dems at the age of 74, promising voters an "exit from Brexit," was replying to a point made by pro-Brexit Conservative MEP Daniel Hannan who argued that Brexit would happen, but in a gradual and low-impact way.
Mr Hannan said: "The day after Brexit is going to look very much like the day before. It's going to be a process. We will still have all the same rules and regulations we've assimilated for 44 years, but that's the day the divergence can begin."
Mr Hannan added that Britain would not be damaged by losing its access to the EU single market as it could have a "Swiss-style" deal that "keeps the essence of the single market," despite not being a member. He also argued that leaving the EU would allow Britain to look towards a "more global future," and strengthen trade links with non-EU economic powers.
Mr Cable, who has a reputation for being one of the most financially literate critics of British governments since 1997, argued there was "a real risk of a train crash" because it had become apparent the UK government was "woefully unprepared" for the Brexit negotiations that started with the EU in June.
The day after Brexit is going to look very much like the day before The Lib Dem leader said that prime minister Theresa May was struggling to prove Britain could strike good trade deals with non-EU economic powers. "We've just seen in the last few weeks how absurd this is," he said.
"The PM has gone off to Japan to negotiate some special trade deal and they have said they would much rather deal with the EU. Mr Cable said that the government had asked India for a special deal on whisky and financial services, and that India had asked for more visas. "To which [Mrs May] said, 'sorry we can't, we are trying to keep people out,' and the Indians said, 'get on your bike'," Mr Cable said.
Mr Hannan countered that it was normal for people to feel pessimistic about the future and that Britain had a chance of keeping the advantages of staying in the EU single market in the way Switzerland has. "We are a country of 65m people, an existing [EU] member state, a G7 country.
I can't believe that we can't get a similar deal," he said. In an earlier session at the festival on fake news and social media,
Ms Gibson argued that Donald Trump's presidential election victory was enabled by the US news audience having split into distinct information consumption spheres. "During an election campaign when the New York Times publishes a piece with maybe 162 examples of Donald Trump being mendacious," she said, a large part of the non-NYT reading US audience would not have noticed.
"So Breitbart News jumps up and goes 'Hillary Clinton! Emails!' and that grabs the attention. That is polarisation." Mr Barber said that polarisation of information and opinion had begun with the advent of Fox News and other cable news channels in the US, which "has been exacerbated by technology because it can amplify that phenomenon and it is incredibly good at picking out select groups."
Mr Davis argued that the Facebook audience often knew to be selective about what they believed on the social platform, which has been used by some sites to spread fake news.
Ms Gibson countered: "I don't believe people are always genuinely as sophisticated as that," adding that some younger readers "do not know brands" enough to differentiate between trusted news brands and newer sites that may not be publishing truthful reports. An FT reader asked whether think tanks whose funding was not transparent were exacerbating the fake news phenomenon.
Ms Gibson said that when she was deputy editor of the Guardian, she had been taken in by a think-tank with an unknown agenda after NSA whistleblower Edward Snowdon provided the Guardian with top secret documents leading to revelations about surveillance of internet and phone communications. "On the Snowdon story, one [think-tank] said: 'We want to do a day's debate on the issues of privacy and national security.'
We took part and we worked with them for a really great seminar, and at the end I realised that the think-tank was funded entirely by [rightwing US billiona0ires] the Koch brothers," Ms Gibson said. The Kochs "were probably the Guardian's ideological worst enemies . . . We spent an entire day doing a think-tank with them," she added.
Vince Cable on Brexit, ballroom dancing and keeping his balance
Financial Times
https://www.ft.com/content/22be7b8c-8fd5-11e7-bdfa-eda243196c2c
*********************************************
David Tang in 2004. Photo by SAMANTHA SIN – AFP – Getty Images
Sir David Tang, who died this week, had been scheduled to speak at the festival. In his place Algy Cluff, a close friend and mentor, shared stories of the vivacious businessman and FT agony uncle.
Mr Cluff, a natural resources entrepreneur and former Grenadier Guardsman who Tang said he had modelled himself on, said he had only discovered by accident how well-connected Tang was.
Mr Cluff said that he hired Tang as an unpaid intern to help with a Chinese project after receiving a series of letters from him in the early 1980s. "I put him on probation for six months working with me, so he joined as my most lowly junior unpaid employee," Mr Cluff said, adding that "my secretary kept coming in saying: 'David wants you to have dinner with him'."
Mr Cluff finally relented and went to a Chinese restaurant where he asked for Mr Tang. "The waiter bowed from the waist and took me down into a private room," Mr Cluff said.
"And there David was presiding over a huge table where the guests included the Lord Chancellor and the chairman of ICI."
Mr Cluff recalled how the Lord Chancellor's wife commented: "How fortunate you are to be working for David." Mr Cluff added: "I realised I'd met my match and began paying David a salary from then on." FT House & Home editor Jane Owen also recalled dealing with Tang when his copy was late.
His excuses included "the Queen said you are working me too hard" and "Kate Moss says I need a day off," she said. Mr Cluff added that during a banquet at China's Great Hall of the People where the Chinese president and oil minister of the time were present, he told Tang: "You know, David, you've found a country that respects and welcomes foreign investment."
Tang replied: "I wouldn't be so sure" and Mr Cluff said that, sure enough, six months later he got a $50,000 bill for the banquet. Mr Cluff also remembered how, at a rehearsal for Mr Cluff's wedding in Hong Kong, "we smelt burning and it turned out David had left his cigar on the alter". Ms Owen added that Tang had still insisted on his sickbed that he was going to make a planned "goodbye" party on September 6 at the Dorchester, and that it would "only be 500 of my closest friends. I want it to be intimate". Naomi Rovnick
See also:
Sir David Tang (1954–2017)
https://www.apollo-magazine.com/sir-david-tang-1954-2017/
Related:
Hong Kong: Journalists' Group Faults China Government on Missing Booksellers and "Contempt" for any International Body
"Hong Kong's Future"– By Sir David Tang
US presidential candidate Marco Rubio accuses Beijing of tightening its grip over the Hong Kong
Xi Jinping: The power and fragility of China's leader
In China, politics continues to control law — Without "Rule of Law" Chinese lawyers seek their voice elsewhere
China's mixed global presence and reputation — beneath the surface of the many impressive statistics about China you'll discover pervasive weaknesses
Australia's Former PM Tony Abbott Says Stability Degraded By China's Activities in the South China Sea — "China does not share our values"