Adversarial relations between the US and China can become the "new normal" in a way that serves neither side's national interests, says McLarty Associates' James R Keith.
Without adept management, adversarial relations can become the "new normal" in a way that serves neither side's national interest.
DEEPLY HELD FOCUS ON TRADE DEFECITS
US President Donald Trump threatened on Monday (Jun 18) to hit US$200 billion of Chinese imports with 10 per cent tariffs if China retaliates against his previous targeting of US$50 billion in imports.
Some have asked, is the US bluffing? No, the Trump administration's policy toward China reflects one of two key themes President Donald Trump has been addressing in his public life for decades: Trade and immigration.
US President Donald Trump and Chinese President Xi Jinping. (File photo: AFP/Nicolas ASFOURI)
His focus on trade deficits is deeply held and illustrates his worldview of winners and losers in global competition.
He followed through on his self-imposed deadline of Jun 15 for announcement of tariff hikes; expect the same for the June 30 deadline on high technology investment restrictions.
Others have wondered does the US have trade goals or is this just fighting for fighting's sake?
American business wants a productive and functional trade and investment relationship with China.
Relatively few Americans want protectionism at any cost; the majority of American businessmen and women support a hard line toward China on investment and commercial issues for a purpose: To bring China's market access and rule-making to the levels of the American economy.
Most Americans want increasing levels of trade and investment with China with adequate corporate and consumer protections, not diminishing interaction.
A shipping container is offloaded from the Hong Kong based CSCL East China Sea container ship at the Port of Oakland on June 20, 2018 in Oakland, California. (Photo: AFP/Getty Images North America/Justin Sullivan)
TARIFFS ARE TACTICAL, BUT RESTRICTIONS ON TECH ARE STRATEGIC
So what is the real problem? The Chinese reaction to US sanctions imposed on Chinese telecommunications firm ZTE was telling.
Tariff hikes are hugely significant for individual companies and may potentially permanently alter supply chains that matter to American farmers and companies, but tariffs are tactical, all too easily employed and, once the havoc is wrought, relatively easy to withdraw.
Both sides could declare victory and move on, albeit having destroyed a great deal of wealth along the way and perhaps permanently damaging some iconic American and Chinese firms.
But investment and trade restrictions in the high technology area are strategic. It is already the case that the majority of Chinese citizens believe America is determined to contain China's "peaceful rise".
Prospective US high technology-related restrictions add some substance to those charges, pointing toward truly adversarial relations, from Beijing's perspective.
The logo of China's ZTE Corp is seen on the building of ZTE Beijing research and development center in Beijing, China on Jun 13, 2018. (Photo: REUTERS/Jason Lee)
WHAT DOES CHINA WANT?
So bottom line, what does the US want? To answer this question, one has to query, what does China want?
From 1992 to 2012, the answer for China was that it wanted integration into the global economy, stability on its borders to allow for steady and predictable growth in the domestic economy, and a sustained opportunity to reap benefits from the rules-based institutions overseeing the global economic order.
In short, it wanted to industrialise and lift its citizens out of poverty just as the major industrialised countries of the global economy had done in their own times of economic transformation.
The US wanted to incentivise a China that would play by global rules, disrupt minimally as it brought hundreds of millions of people into the global economy, and gradually take decisions that were more convergent with than divergent from North American and European strategic directions.
Gradually since 2007 to 2008, and more rapidly and explicitly since 2012, that proposition has changed. Under President Xi Jinping, China wants its own world vision to be reflected in global institutions that help determine policy development in the industrialised world.
In short, China and the North American and European mainstream are diverging from each other.
If the 2015 Paris Climate Change agreement featuring co-leads Obama and Xi was the epitome of US-China cooperative global leadership, the Chinese-hosted World Internet Conference that promotes a fractured global internet governed by sovereign authorities in sovereign space is a good example of US-China divergence on a core element of the 21st century economy.
Where we go from here depends on that willingness of both sides to compromise for the longer-term benefit of their citizens.
A sign of Alibaba Group is seen during the fourth World Internet Conference in Wuzhen, Zhejiang province, China on Dec 3, 2017. (File photo: REUTERS/Aly Song)
TRADE AND SECURITY ENTANGLED
As evident in North Korea, where there is an ongoing debate about the necessity of continuing international economic pressure on Pyongyang until it starts to deliver on denuclearisation, it is difficult in today's world to separate trade and security issues.
That has been the hallmark of US-China ties since the aftermath of the Great Recession at the end of 2007 and leading into President Xi's rise to power starting in 2012.
The US has made clear its concerns about President Xi's muscular use of China's soft power in ways Washington sees as directly threatening US interests, for instance, in pushing the US out of the South China Sea.
Beijing has seen the rise of an adversarial approach on Washington's part as a coordinated effort to lock in US dominance militarily in the East Asian region and politically and economically through the key economic and trade institutions created in the aftermath of the end of World War II.
The Trump administration's pursuit of new restrictions on Chinese investment in the US and prospective new export controls directed at China is seen in Beijing in this fluid context.
The world is changing, and US-China relations are changing with it. Is the point of a trade war between China and the US to prevent China from developing the advanced technologies that will power the global economy in the decades to come?
Or is it to create more reciprocal trade and investment relations so American firms can operate as freely in China as Chinese firms operate in the US?
Or is it to reduce the US merchandise trade deficit with China over the next year or two?
US and Chinese officials meet to discuss trade and industrial practices. (File photo: AFP/Andy Wong)
ROUGH PATCH OR PERMANENT REVISION TO US-CHINA RELATIONS?
Put differently, whether we are in a rough patch in US-China relations or a more permanent and thorough-going revision is open to question. Will we continue to find sufficient common ground to support a policy of engagement that balances competition and cooperation?
Or are we headed in divergent directions that require an adversarial relationship where competition is the default and cooperation is the exception?
Chinese and American citizens are not the only ones with a stake in the answer. The alternative to the global system that China wants to replace is unbounded power politics.
Image: Big boxes and trinkets flow from China to the U.S. while U.S. dollars (and jobs) flow out to China. Trump wants to change this dynamic.
If China, North America, and Europe cannot come together in their respective visions of the world order, what would a 21st century Hobbesian struggle look like?
It seems self-evident that America is better off in an interconnected world bound together by security partnerships and trade treaties; so is China, and so is the global economy.
By James R. Keith
James R Keith is managing director at McLarty Associates. During his 31-year career as a US diplomat, he became one of the US government's top experts on China, serving as Deputy Assistant Secretary of State for China, among other appointments.
Source: CNA/sl
https://www.channelnewsasia.com/news/commentary/trade-war-us-china-rough-patch-or-revision-in-relations-10462218
Read more at https://www.channelnewsasia.com/news/commentary/trade-war-us-china-rough-patch-or-revision-in-relations-10462218
Related:
China can hurt America in trade war six ways from Sunday
Made in China 2025: Beijing's manufacturing blueprint and why the world is concerned
The chip industry's fight to protect its IP from China
US manufacturers report record-high optimism after tax reform
U.S. Senate passes defense bill, battle looms with Trump over China's ZTE (Trump made a deal on ZTE at the personal reuest of Xi Jinping but the U.S. Congress may undermine or destroy the deal)
U.S. Manufacturing Jobs Reach Highest Level in 8 Years — 12,392,000
We Are Only in a "Time Out" — Why We're Headed For A Long, Cold U.S. And China Trade War
Peace and Freedom Note: Donald Trump wants a "New World Order" which includes a totally new way of looking at China, free and fair trade without tariffs or government support to businesses, strong rights of nations to decide for themselves without joining international bodies like the EU, and a new balance between liberal ideology and free and fair media reporting and government. he wants a future of jobs and manufacturing in the U.S. Trump doesn't want the U.S. to be the world's piggy bank. He in not likely to roll over and play dead.
China wants to dominate global trade, manufactring and technology; according to Made in China 2025. What China cannot create in technology it has no qualms about stealing.
Related:
US-China Trade: "We've got to stand up to Chinese economic predation."
Lockheed Martin F-35 Fighter Poised To Become One Of America's Biggest Exports
F-35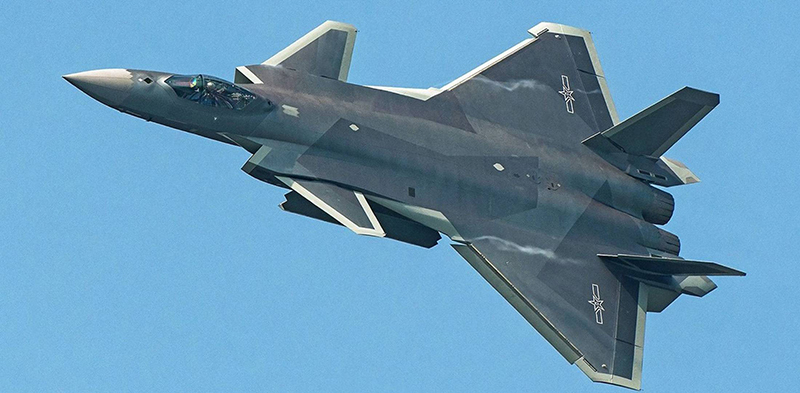 Above: China's stealth fighter
Related:
China proudly debuts its new stealth jet it built 'by hacking into US computers and stealing plans'
See also:
Understanding China's perpetual wars against its neighbours.
https://survivaltricks.wordpress.com/2017/04/01/%E2%80%8Bunderstanding-chinas-perpetual-wars-against-its-neighbours/