Prospect of increased oversight fuels declines in sector's big names and broader market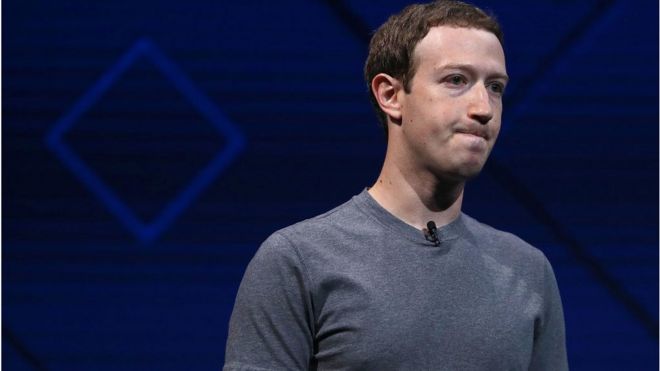 Getty Images
Technology stocks are suffering one of their worst beatings in years, as investors reassess a sector that has been considered the growth engine of the global economy but now faces the prospect of greater regulatory scrutiny.
The tech-heavy Nasdaq Composite Index fell 2.9% Tuesday. That selloff carried over to the broader market, where the S&P 500 index slumped 1.7%. The Dow Jones Industrial Average fell 1.4%, giving back some of Monday's 2.8% rebound.
U.S. Treasury yields also declined. Analysts said that reflected in part a move by some investors to reduce risk at the end of the quarter by selling stocks and putting that cash into bonds. Bond prices rise when yields fall.
But tech shares were hit the hardest, dragging down the broader market in the final hour of trading. A series of recent developments pointed to more government oversight of the industry.
Facebook Chief Executive Mark Zuckerberg is planning to testify before Congress about the social-media company's privacy and data-use standards, according to people familiar with the matter. The company's shares fell 4.9% on Tuesday and are down 15% this month over concerns about its handling of user data, on track for its worst monthly decline since 2012.
The Federal Trade Commission, in a statement Monday, signaled that it is conducting a broad probe of Facebook, while 37 state attorneys general are also demanding explanations for its practices.
Other social-media stocks also suffered, including Twitter , which fell 12% Tuesday after short-selling research firm Citron Research said that the social network was the most vulnerable to privacy regulation and that it was shorting shares of Twitter.
In a tweet, Twitter said it is "public by its nature. Tweets are viewable and searchable by anyone."
The S&P's worst performer was chip maker Nvidia Corp. , which said it would temporarily halt testing of its driverless-car technology on public roads following the fatal crash of an Uber Technologies autonomous vehicle in Arizona. Nvidia shares fell 7.8%.
Moody's Investors Service also downgraded Tesla Inc. on Tuesday, pushing the car maker's debt deeper into junk territory as it bets heavily on ramping up production on its Model 3 sedan. The National Transportation Safety Board dispatched two investigators to examine last week's fatal crash of a Tesla electric car in Northern California and determine whether the vehicle's autopilot system was engaged. Tesla shares plunged 8.2%.
After powering the market higher in 2017, tech's dominance continued into this year. Shares of Amazon Inc., Netflix Inc. and other tech heavyweights were major contributors to the S&P 500's January run-up. Tech stocks swelled to 25% of the S&P 500 stock index at the end of February, the highest percentage since the months after the dot-com bubble burst in 2000, according to data provider Morningstar Inc.
Now, mounting troubles at Facebook and Uber are clouding the industry's outlook. The entire group has come under scrutiny, especially after valuations have risen to their most expensive levels since just before the financial crisis last decade and volatility has increased. The Nasdaq's 2.9% decline on Tuesday marked the fourth straight daily move of at least 2%, the longest such stretch since October 2011.
Shares of Facebook, Amazon, Apple Inc., Netflix and Google parent Alphabet Inc.,commonly known by the acronym FAANG, have lost more than $260 billion in total market value over the past week and a half, as investors worry about the potential ramifications of new, costly regulations on those companies and others in the tech sector.
"Washington has been itching to get more intimately involved with our friends on the West Coast"—the big tech firms, said Steven Chiavarone, assistant vice president and portfolio manager at Federated Investors. If tech companies "do stupid things and invite governments to regulate them more heavily, I won't know what that company is worth, but it'll be less."
It is a sharp reversal for a corner of the market that only a couple of months ago had been a reliable generator of big returns and a key factor behind major stock indexes' strong run last year.
Despite the recent declines, many investors continue to like the FAANG stocks and the broader tech industry. The sector is one of just two—the other being consumer discretionary stocks, which includes shopper favorites like Macy's Inc. and Best Buy Co. —to eke out a small gain so far this year. Investors also continue to move massive sums of money into those stocks, lending some support. They put roughly $1.4 billion into technology exchange-traded funds so far in March, according to Morningstar.
Investor activity in the options market also indicated that some investors may be positioning for an eventual tech rebound. An options gauge that measures the cost to protect against declines in PowerShares QQQ Trust, a tech-heavy exchange-traded fund, remains at low levels, Trade Alert data show. That suggests investors may not be paying up to hedge against tech declines.
The ratio of bearish options to bullish contracts on QQQ also remained below average Tuesday, Trade Alert data show.
"We haven't eliminated any of our bets," said Darren Bagwell, director of equity research and portfolio manager at Thrivent Financial. "We continue to have significant exposure to the FAANG stocks, and we continue to feel like those are the best relative values in the market."
Still, even investors like Mr. Bagwell admit the nearer-term outlook is murkier, likely stirring anxiety among those investors who bought shares of Facebook, Alphabet and others before the recent pullbacks.
Flows into the biggest tech ETF showed signs of cracking, as investors pulled $1.2 billion from the Technology Select Sector SPDR exchange-traded fund during the February selloff, its heaviest month of outflows since October 2014, according to Morningstar.
The fund has 31% of its portfolio in shares of Apple, Facebook and Alphabet. Apple is its largest holding, at 14%. The fund has seen $288 million in outflows in the past week, according to FactSet.
"We're very nervous about what those stocks are going to do over the next six months," Mr. Bagwell said. "These have been easy trades for a long time. This makes it very difficult to trade those names."
—Asjylyn Loder contributed to this article.
Write to Michael Wursthorn at Michael.Wursthorn@wsj.com and Gunjan Banerji at Gunjan.Banerji@wsj.com
https://www.wsj.com/articles/tech-shares-tumble-again-as-regulatory-risks-rattle-investors-1522194268
See also:
Nvidia suspends self-driving car tests in wake of Uber crash
https://www.theverge.com/2018/3/27/17168606/nvidia-suspends-self-driving-test-uber