Business group ignores mainland China's warnings as Yen Teh-fa becomes first Taiwanese defence minister to receive invite to event in decade
PUBLISHED : Thursday, 06 September, 2018, 10:37am
UPDATED : Thursday, 06 September, 2018, 11:01am
Taiwan's defence minister Yen Teh-fa has been invited to take part in the US-Taiwan Defence Industry Conference this October.
The move is certain to irk Beijing, which has warned Washington and other countries against having high-level military exchanges with the self-ruled island.
Rupert Hammond-Chambers, president of the US-Taiwan Business Council, which organises the event, confirmed to the South China Morning Post that the council has invited Yen to the event.
US senators plan to punish Taiwan allies who switch to Beijing 'bullies'
If Yen accepts the invitation, he will be the first defence minister from Taiwan to take part in the event since 2008.
Taiwan's Minister of National Defence Yen Teh-fa described Beijing's continued pressure on the island as "almost useless". Photo: EPA-EFE
The US-Taiwan Defence Industry Conference 2018 will be held between October 28 and 30 in Annapolis, Maryland.
It will be the 17th edition of the annual event which, according to the council, is intended to address future US cooperation with Taiwan, the defence procurement process and Taiwan's security needs.
This year, the conference will open with a discussion on Taiwan's role in the US Indo-Pacific strategy, and look at how Taiwan can increase regional engagement on defence and national security issues, it said.
Beijing regards Taiwan as a breakaway province that must eventually be reunited with the mainland and has not ruled out the use of force to do so.
https://www.scmp.com/news/china/diplomacy/article/2162973/us-taiwan-council-risks-beijings-anger-inviting-taipei-minister
********************************************
US senators introduce legislation to punish Taiwan allies who switch sides, accusing Beijing of 'bullying'
The legislation would authorise the State Department to downgrade US relations with any government that shifts away from Taiwan, and to suspend or alter US assistance
A bipartisan group of US senators on Wednesday announced that they had introduced legislation to discourage Taiwan's few remaining allies from switching their diplomatic recognition to Beijing, after El Salvador became the third country this year to make the shift.
The legislation, titled the Taiwan Allies International Protection and Enhancement Initiative (TAIPEI) Act, was introduced on Monday by Republican Senators Cory Gardner and Marco Rubio, and Democrats Ed Markey and Bob Menendez, according to a press release published on Wednesday on Gardner's official website.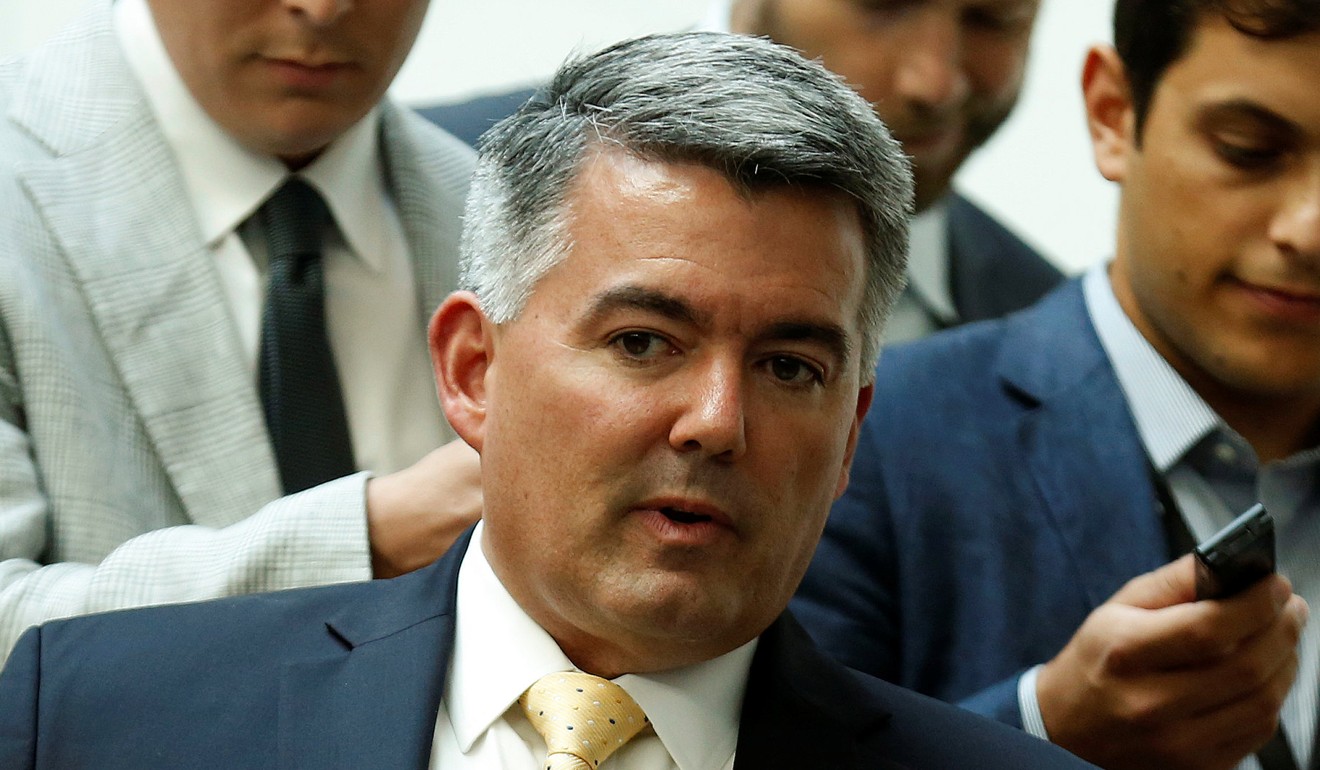 "This legislation is intended to strengthen Taiwan's standing around the world and comes in response to several nations breaking official diplomatic ties with Taiwan, due to Chinese pressure and bullying tactics," the press release said.
Ex-president says let Taiwan decide if it wants to be part of China
The latest legislation effort by US lawmakers came as Central American country El Salvador cut its formal diplomatic ties with Taiwan last month, leaving it with only 17 remaining diplomatic allies. China regards Taiwan as a wayward province to be brought to its rule by force if necessary. The US maintains unofficial relations with the island and considers it a staunch ally, although Washington switched its formal diplomatic recognition to Beijing in 1979.
[The legislation would] allow the US government to downgrade the diplomatic relationships we have with nations that choose to follow the bullying of China
The State Department had said the United States was "deeply disappointed" by El Salvador's decision and was reviewing its relationship with San Salvador, without elaborating further.
The Taipei Act authorises the US State Department to downgrade US relations with any government that takes adverse actions with regard to Taiwan. It also authorises the State Department to suspend or alter US foreign assistance, including foreign military financing, in such circumstances, the press release continued.
A US strategy is required to engage with governments around the world to support Taiwan's diplomatic recognition or strengthen unofficial ties with Taiwan, it added.
Gardner, who is also the chairman of the US Senate Foreign Relations Committee's Asia subcommittee, told reporters on Wednesday on the sidelines of a Senate hearing that the legislation will "force" the US to develop such a strategy to help Taiwan.
.
The bill would also "allow the US government to downgrade the diplomatic relationships we have with nations that choose to follow the bullying of China", Gardner said, and would require reports on the status of affairs in China and around the world relating to Taiwan.
"When it comes to Taiwan, [and] the relationships around the globe with Taiwan, this would require a comprehensive strategy for the United States," the Republican senator added.,
Several members of Congress, who see Beijing as a threat to US security and international influence, have expressed frustration with what they see as US President Donald Trump's failure to adopt a strategy for Taiwan.
Additional reporting by Reuters
https://www.scmp.com/news/china/article/2162961/us-senators-introduce-legislation-discourage-taiwan-allies-switching