Republicans who want to reopen the government now have a realistic path.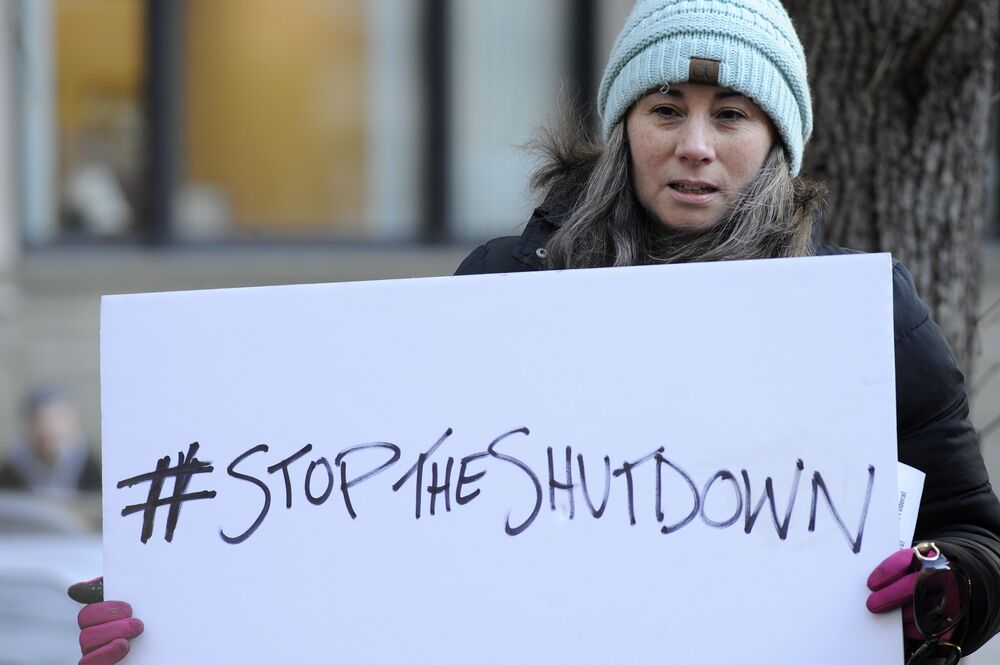 After weeks of offering nothing new, President Donald Trump on Saturday proposed a bargain on immigration. To be sure: It's not a very promising offer. Trump starts by reiterating his demand for $5.7 billion to build his border wall. Then, for Democrats, he adds temporary protections for immigrants who fall under Deferred Action for Childhood Arrivals and an extension for those under Temporary Protected Status. But then he adds something more for the anti-immigration side: new restrictions on asylum. That isn't a trade-off Democrats would ever likely accept, even leaving the border wall aside. It's an offer intended to give the impression of flexibility without actually moving in the Democrats' direction.
Nonetheless, Senate Majority Leader Mitch McConnell has promised a vote on the proposal. And that's where the opportunity to end the shutdown comes in.
In the very unlikely event that Republicans are united and seven Democratic senators defect to join them, this measure would pass the Senate and put real pressure on House Democrats to negotiate a deal. If both parties stay united, on the other hand, Trump would have a majority but fall far short of defeating a filibuster. That would demonstrate that his deal doesn't have the votes in either chamber, but also that the president retained the full support of his party. That result likely prolongs the standoff.
If, however, some of the Republicans who have claimed to be unhappy with Trump's shutdown are willing to vote against the bill, then Trump's position would be especially weak. It'd be clear that majorities of both chambers support ending the shutdown if only Trump would agree. Several Republicans have already said that they want to pass short-term funding bills to reopen the government while negotiations continue. They wouldn't be taking on much added risk if they voted in line with their statements.
For those who want to support the president, it'd be easy enough to say that voting for this deal would be a vote to reopen the government, even though realistically there's no chance it would get through the House. (McConnell has repeatedly said he won't waste the Senate's time by voting for something the president wouldn't sign; he evidently has no similar hesitation about voting on something the Democratic House won't pass.) But for any Republicans who want this shutdown to end, opposing Trump's plan would be the quickest way to make that happen.
1. Matthew Green at Mischiefs of Faction is exactly correct on Trump, the House Freedom Caucus and the shutdown.
2. Josh Huder at the Monkey Cage on the House committee to reform the House.
3. Julie Novkov at A House Divided on deporting veterans, now and historically.
4. Bob Bauer at Lawfare asks a sadly relevant question: What if the House impeaches and the Senate just ignores it?
5. Glenn Kessler, Salvador Rizzo and Meg Kelly have their latest count on Trump's false or misleading statements. Yes, there are judgement calls involved, and some of these are no doubt trivial. I'm also not sure that Trump's worst falsehoods measure up to the worst of previous presidents. But no president has ever shown such a blatant disregard for the truth on a routine basis. It's not close.
6. And back at the Monkey Cage, Bethany Lacina on public opinion about football players.
Get Early Returns every morning in your inbox. Click here to subscribe. Also subscribe to Bloomberg All Access and get much, much more. You'll receive our unmatched global news coverage and two in-depth daily newsletters, the Bloomberg Open and the Bloomberg Close.