"On balance, Trump's Tweets do more damage than good."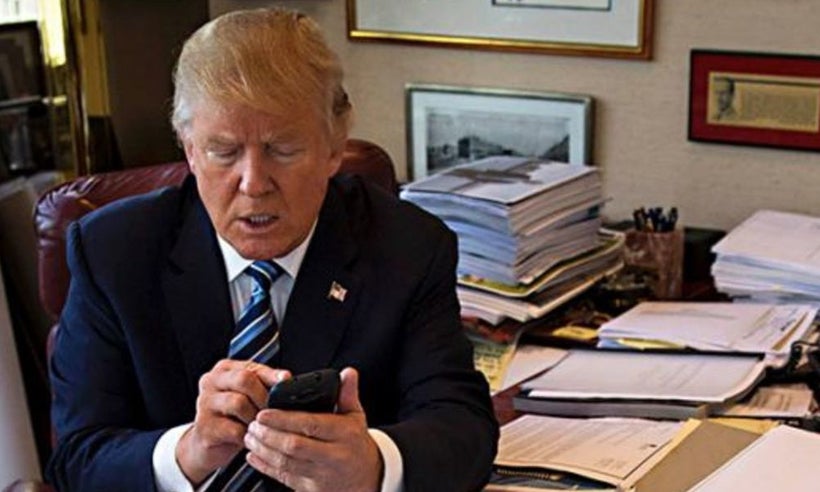 If a tree falls in a noisy circus, does it make a sound? If the Trump administration announces its largest deregulatory effort to date while the president is in the throes of a Twitter rampage, will anybody pay attention?
No, and thereon may hang the balance of Republican congressional control. It's never clear where Donald Trump gets political advice, if he does at all. What is clear is that this White House is doing an able job of whiffing one of the best political messages in decades, a reality that is demoralizing administration insiders and GOP candidates alike.
The following are just a few pieces of news out of Washington, all of which hold enormous promise for Americans. The Environmental Protection Agency and Transportation Department released a plan—announced on the website of these pages—to ax the Obama administration's car-emissions standards, saving consumers $500 billion. Dollarwise, it may be the biggest deregulation ever.
The Treasury has recommended rescinding the "payday lending" rule, which threatened to cut off the poorest Americans from viable credit. The Interior Department proposed the first real reforms to the Endangered Species Act in decades, offering hope to tens of thousands of landowners. The National Labor Relations Board is revisiting a 2014 decision that allowed unions to poach employer email systems, part of the board's plan to review any case that overruled precedent in the name of Obama union backers. The Internal Revenue Service lifted a political threat to nonprofits by allowing them to shield the names of their donors.
The Department of Health and Human Services finalized its rule allowing more non-ObamaCare insurance options to millions of Americans. The Senate sent a $717 billion defense authorization bill to the White House, increasing active-duty strength and providing troops their largest pay raise in nine years. The Senate also confirmed the 24th Trump circuit-court judge.
The Labor Department released new numbers showing worker compensation increased 2.8% year over year, the fastest pace in a decade. Average home values are rising at twice that pace. Unemployment hit record lows. Second-quarter economic growth came in at 4.1%.
If all this sounds wonderful, it is, though many Americans have heard little about it. The headlines? Mr. Trump publicly lecturing his attorney general. Mr. Trump hashing Charles Koch. More about Russian collusion, provoked by the president's call for the firing of special counsel Robert Mueller. China tariffs. Border strife. Michael Cohen. Paul Manafort.
Yes, the mainstream media relentlessly drives anti-Trump stories. But what's new? Republicans have long known they don't get a fair hearing from the press, which is why they shifted to talk radio and other alternative media. Mr. Trump understands that better than most—thus his heavy use of Twitter, live rallies and press conferences.
It's the content that is mystifying. To hold the House and increase their Senate majority, Republicans must do two things: get out their base and bring along the center. The president, with an unrivaled bully pulpit, has instituted policies that provide him a near-perfect message for those tasks. He can rally supporters by banging home his promises kept and warning that only their vote this fall will allow him to continue his mission. And he can court the undecided with constant reminders of their new prosperity and freedom, and a vow that this is only the beginning.
The president is certainly focused on his base, though with an eye to whipping them up with rallies focused primarily on the polarizing issues of trade and immigration. His tweets revolve around the same issues—those and Mr. Mueller—and are often defensive or whiny.
This House midterm will hinge on marginal districts—suburban or exurban areas where Hillary Clinton outpolled Mr. Trump or came close. Those races in turn will hinge on centrist voters. If Mr. Trump makes those centrists believe this election is about family separation, Republicans lose. If he refocuses it on voters' newly thriving prospects, Republicans have a shot.
That aforementioned list of accomplishments is only from the past few weeks. One remarkable aspect of the Trump administration is its productivity. The cabinet set a pace of reform in its openings weeks that has never lagged. If Mr. Trump isn't going to spend every day embracing, elevating and making this product of his own presidency the dominant discussion, then no one will. The press isn't going to do it. Democrats sure aren't. And no other Republican has that megaphone.
Some will doubt whether Mr. Trump's unconventional style even allows him to deliver such a message. But meditating in his farewell address on his nickname, the Great Communicator, Ronald Reagan said: "I never thought it was my style or the words I used that made a difference: It was the content."
The content—the results—of this administration is right there, waiting for the president to communicate.
Write to kim@wsj.com.
https://www.wsj.com/articles/failure-to-communicate-1533251094?mod=hp_opin_pos2
The quote at the top "On balance, Trump's Tweets do more damage than good," was not a part of the Wall Street Journal article but was contributed by a Peace and Freedom reader…
Related: