Summary
China is facing a multitude of economic and financial stability issues.
The yuan will once again be under speculative pressure.
Avoid the commodity sector for the near term as China is a major demand center for commodities.
A China financial shock will lead to risk aversion in global markets.
A restructuring of China's corporate sector and economy is necessary and inevitable. China will emerge stronger after this reset and economic rebalancing.
The narrative in the market currently is a stable Chinese (NYSEARCA:FXI) economy and financial system. In reality, the truth is closer to the opposite. Improvement in Chinese economic data and corporate earnings over the course of 2016 seems to suggest everything is okay, but it is unsustainable.
The issues facing China are numerous and include slowing GDP growth, overcapacity, extremely high corporate debt, capital outflows associated with a speculative run on their currency, non-performing loans, a recent stock market rout and an overheated property market. The investment demand growth model has run out of steam for China and any further intent to pursue credit growth through investment will only lead to diminishing GDP returns and more overcapacity.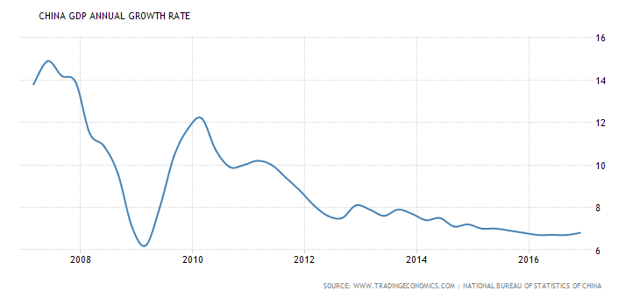 Investment demand accounts for 42.3% of GDP in China. Exports and government expenditures account for 20.5% and 14.2% respectively. Consumption is approximately 38%. In the United States, consumption is near 70% of GDP with investment at 16%. Exports account for 12% in the U.S. and government spending is at around 18%. This shows China's over-reliance on investment to fuel GDP growth. While investment led demand models for economic growth can be effective short term, there are long-term risks to running such policies.
The fact is that continued investment leads to overcapacity. There are also diminishing returns to such a growth model. For example, China has numerous ghost cities that were built, yet remain unpopulated. While it is feasible for the rural population to move into these cities over the next ten to fifteen years, investment in infrastructure in China is overdone in the near term and should not be counted on to further increase growth.
There is also major overcapacity in the corporate industrial, and particularly commodity production sectors. This is decreasing corporate profitability. There are diminishing returns to investing simply to increase GDP rather than to earn a sufficient rate of return on investment.
Buoyant property markets in China and higher commodity (Vale (NYSE:VALE) Rio Tinto (NYSE:RIO) Cheniere Energy (NYSEMKT:LNG)) prices have recently improved China's corporate earnings. The Fed deciding not to raise interest rates over most of 2016 also contributed to improved commodity prices. This is changing, as the Fed has signaled its intent to increase the Federal Funds Rate again in the near term, potentially March (NYSEARCA:USDU) (NYSEARCA:UUP) (NYSEARCA:TTT) (NYSEARCA:TBT) (NYSEARCA:TLT) (NYSEARCA:TMV).
Also, authorities in China have introduced restrictions to cool the property market and housing prices. If there is a downturn in commodity prices, as the Fed moves, the U.S. dollar appreciates and China's economic concerns heighten, it will undoubtedly affect corporate earnings in China negatively. Chinese corporate debt is at approximately 170% of GDP compared to around 40% in the United States.
For China to maintain any semblance of corporate debt stability, there must not be a downturn in corporate earnings growth. As one can see in the chart below, China's industrial profits are correlated with producer prices (commodity prices). Corporate debt denominated in the USD, which is expected to appreciate, will also increase the real burden of Chinese corporate debt.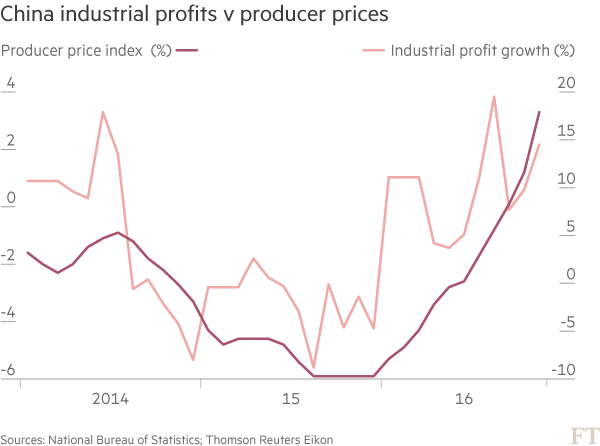 The Chinese yuan is also likely to depreciate. There is a high speculative interest in shorting the yuan. China's foreign exchange reserves, used to defend the currency, have fallen from around 4 trillion to 3 trillion since early 2014 as shown in the chart below (NYSEARCA:CNY). This is likely to continue and there is substantial doubt in markets whether China will have enough reserves to prevent a decline in their currency.
While a moderate depreciation wouldn't be discouraged because it boosts export competitiveness (an economic positive), too much of a depreciation will increase capital outflows from China, an economic negative. The PBOC and Chinese authorities largely want a stable currency. As economic slowing and financial unraveling in China begins and picks up pace, the People's Bank of China (PBOC) will likely move into a more dovish policy stance and lower interest rates.
Lower rates put downward pressure on a currency. There is also approximately 1 trillion of USD denominated debt owed by Chinese corporations. If the yuan depreciates versus the U.S. dollar, this debt becomes more difficult to service, so the PBOC will have to keep this in mind while trying to engineer an orderly depreciation of the yuan.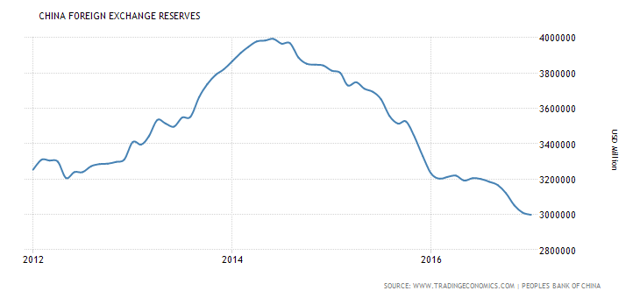 China's housing and property markets are of major importance to the Chinese economy. Housing speculation is rampant in China and this has pushed up prices. It seems the Chinese economy is simply moving from one bubble to another, whether it be stocks in early 2015, copper/commodities in 2011 or home prices currently. Chinese home prices in Tier 1 cities have appreciated 80% since 2010 and an average of 40% for all cities.
The Chinese government is placing restrictions on home ownership to cool off prices. These include limiting the number of properties a person can own and increasing minimum down payments. The property market in China is overheated and these policies, along with speculatively inflated home prices, could end up leading to a potential bust in the Chinese housing market.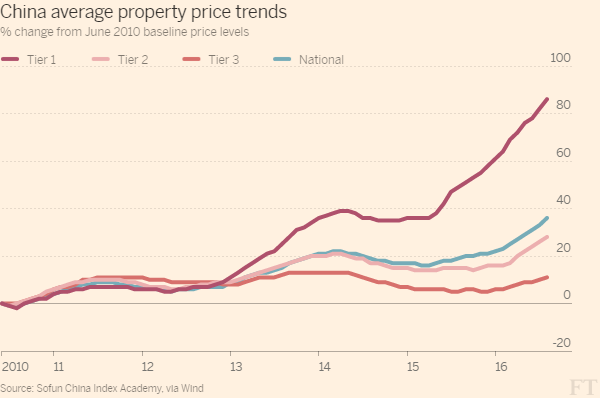 Commodity, oil ((NYSEARCA:USO), Resolute Energy (NYSE:REN), Marathon Oil (NYSE:MRO), BP (NYSE:BP), Chesapeake (NYSE:CHK), Shell (NYSE:RDS.A) (NYSE:RDS.B), Halliburton (NYSE:HAL)) and metal prices (NYSEARCA:SLV) (NYSEARCA:GLD) (NYSEARCA:GDX) (NYSEARCA:GDXJ) are likely to decline (NYSEARCA:DUST) (NYSEARCA:JDST) in the near term. While I hold a long-term optimistic view on oil prices and the commodity sector, I believe China's slowing growth, heightened Chinese economic and financial concerns, and a cooling property market will weigh on commodity prices.
Also, the Fed raising rates and subsequent dollar appreciation will affect commodity prices. Most commodities are oversupplied. Oil inventories are elevated and keep showing a persistent build with U.S. rig counts climbing. Iron ore producers are ramping up production with a volume over-pricing mentality. Forecasters are factoring in strong Chinese demand for commodities, so any negative developments in China will sharply affect prices.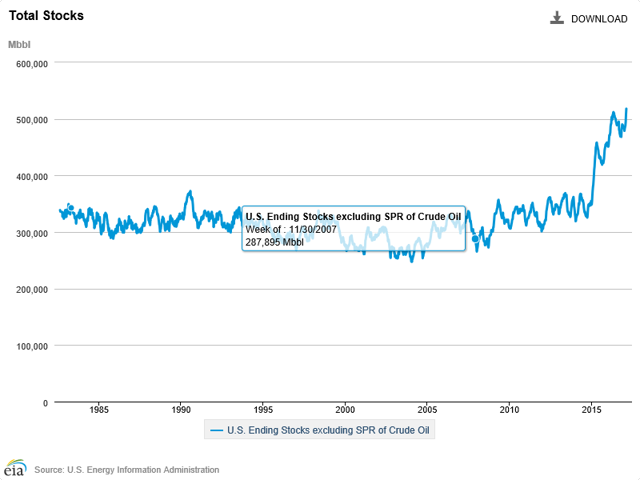 An economic and financial shock in China will likely lead to a risk-off sentiment in global markets (NYSEARCA:SPY) (NASDAQ:QQQ). I could see a flattening or correction in U.S. stocks as a result. I believe conditions in China will deteriorate rapidly. The Fed raising the rate potentially in March is a catalyst for this China shock as it would lead to the U.S. dollar appreciating and the Chinese yuan likely coming under speculative pressure once again.
Long term, I think China will emerge stronger, but it will be rough in the interim. China must rebalance their economy towards more consumer-based demand rather than investment. China has a low level of household debt, so this would support a long term rebalancing towards consumption-led GDP growth.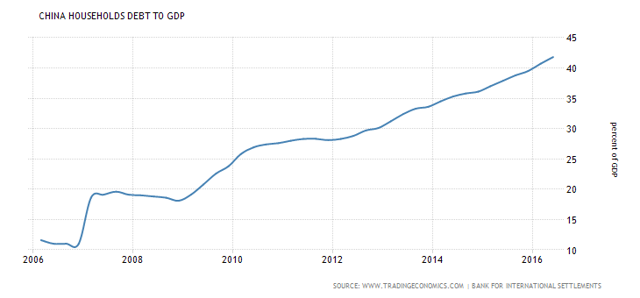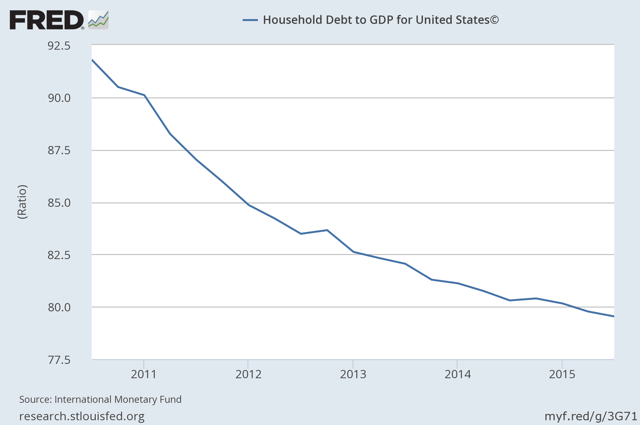 A depreciating yuan will provide a boost to exports as well. This can be seen in the chart below. As the real effective exchange rate for the yuan has appreciated, export growth has declined. A lower yuan will allow China to regain export competitiveness. The authorities in China must come up with a comprehensive plan to deal with the incoming conditions especially high corporate debt and non-performing loans.
A state-backed, banking system recapitalization should be on the table if there is a downturn. Only after this economic reset, will I be more optimistic on China. I think this will all resemble the 1997 Asian Financial Crisis rather than a global 2008 type crisis.