The government joins a backlash against Beijing-financed infrastructure projects
The Maldives may join Malaysia, others in re-thinking China's growing influence and financial leverage
By Simon Mundy in Male and Kathrin Hille in Taipei
Crowned with a soaring blue archway, the four-lane China-Maldives Friendship Bridge loops over 2km of the Indian Ocean to connect the Maldivian capital with its international airport and the fast-growing artificial island of Hulhumale.
Opened last year, the bridge was the flagship project in a surge of Chinese investment into the Maldives under former president Abdulla Yameen, who left office in November after a shock election defeat brought to an end his five-year rule.
But while China has portrayed its Maldivian projects as an example of how its Belt and Road Initiative can drive development in smaller countries, the new government in Male is taking a darker view. It claims that Mr Yameen's administration saddled the country with vast debts — owed principally to China — through inflated investment contracts that involved personal gain for corrupt Maldivian officials.
The Maldives-China Friendship Bridge, linking the capital Malé to the island of Hulhulé, where an international airport is located
Over the past two months, the Maldives has been struggling to establish the full scale of its exposure to Chinese debt, most of which is in the form of sovereign guarantees on Chinese loans to companies.
Finance ministry data show that these guarantees amount to $935m, on top of the $600m directly owed to Beijing by the government. Mohamed Nasheed, a key adviser to new president Ibrahim Mohamed Solih and himself a former president, believes that hitherto unreported guarantees could bring the total exposure as high as $3bn — an unaffordable sum, he tells the Financial Times, in a country of 400,000 people where gross domestic product in 2017 was $4.9bn. Ibrahim Ameer, finance minister, says the new government will ask China to reduce the sums owed, as well as amending the interest rates and repayment schedules for them.
Maldives' President Abdulla Yameen and China's President Xi Jinping
Its argument is blunt: that the stated project costs, and the loans that funded them, were substantially inflated, with much of the surplus flowing to the pockets of Yameen administration officials. "Everything was engineered by government officials so as to ensure the most enrichment for them," Mr Ameer says. "It was done that way by design."
The Chinese investment boom in the Maldives got under way in 2014, when Xi Jinping made the first ever visit by a Chinese head of state to the archipelago. Beijing's growing interest in the Maldives, despite the country's tiny population, reflects its strategic location. With 1,200 islands stretching over a latitudinal distance of 850km, the Maldives claims an exclusive economic zone of 859,000 square kilometres — well over triple the land area of the UK — in a section of the Indian Ocean that touches the main shipping route between China, the oil suppliers of the Middle East, and Europe.
The year before Mr Xi's visit to Male, he had announced a grand new centrepiece to his foreign policy: the Belt and Road Initiative. The hazily defined strategy brought a new push by Chinese state companies to finance and build large-scale infrastructure projects across Asia and beyond.
Mr Yameen's ambitious plans for Greater Male made it a promising target for BRI projects. His government argued that it was unfeasible to provide decent public services to all the country's 200 inhabited islands, and that it was more logical to concentrate the population on Male and Hulhumale, an artificial island created in stages since 1997 by filling in a nearby coral lagoon.
Hulhumale had been the creation of Mr Yameen's half-brother Maumoon Abdul Gayoom, who ruled the Maldives as a dictator for 30 years.
After taking power in 2013, Mr Yameen pushed through plans to triple the size of the new island to accommodate 240,000 inhabitants — more than half the entire country's current population. Chinese funding was central to these projects. Maldivian finance ministry data show that well over $1bn in loans were agreed in the four years after Mr Xi's visit, all either borrowed directly or guaranteed by the Maldivian government. Chinese state companies lent $547.9m to fund the construction of 11,000 apartments in high-rise blocks that would be built in the second phase of Hulhumale.
Hulhumale
They lent a further $180.9m for work to extend the electricity grid to the new island, and $421m to expand the airport serving Male and Hulhumale. The most celebrated project was the $210m Friendship Bridge, funded mostly by a $126m Chinese government grant and a $68m loan from Export Import Bank of China.
Malaysian prime minister Mahathir Mohamad told media that the country would be "impoverished" if it proceeded with a $20bn Chinese rail project agreed by his predecessor, Najib Razak © AP "The project is of great political significance," China Central Television said in a report on the bridge, soon after its construction was completed last year.
"The Chinese helpers and builders are using their intelligence and their sweat to give glory to the Belt and Road Initiative!" But just two weeks after the first cars and scooters rolled over the bridge last September, Mr Yameen was swept from power in a shock election outcome that suddenly increased the scrutiny of Chinese lending in the island nation.
The controversy around recent Chinese investment in the Maldives is part of a worrying recent pattern for Beijing, in which newly elected governments have sought to cancel or amend supposedly unfavourable deals with China agreed by their predecessors. Last month, Malaysian prime minister Mahathir Mohamad told media that the country would be "impoverished" if it proceeded with a $20bn Chinese rail project agreed by his predecessor, Najib Razak.
On a state visit to Beijing soon after his return to power last year, Mr Mohamad had pointedly warned about the risk of "a new version of colonialism". Similar criticisms have been made in Pakistan, Sri Lanka and Myanmar. "We should not sell our debt for equity," says Mr Nasheed, warning against an outcome that would give China effective control of Maldivian territory.
PIX
Madives' president Ibrahim Mohamed Solih © AFP
Mr Nasheed, who served as the Maldives' first democratically elected president from 2008 to 2012 and remains the leader of Mr Solih's Maldivian Democratic party, has been the most prominent critic of the former government's relationship with China. China has hit back against allegations that the BRI is pushing some countries into a "debt trap", saying that the programme is allowing developing nations to benefit from its capital and expertise.
"The BRI has been warmly welcomed to an extent that has far exceeded our expectations," vice-minister for foreign affairs Le Yucheng told the FT last year, calling it "an effort to build a more fair and equitable international order".
Maldives fears China Belt and Road debt trap In late January 2016 Wang Fukang, then China's ambassador to the Maldives, travelled 36km south to the tiny island of Olhuveli to witness the signing of the biggest resort development deal in Maldivian history. As Mr Wang looked on, a representative of state-owned China Communications Construction Company signed a contract with Ahmed Siyam Mohamed, the leader of one of the parties in Mr Yameen's ruling coalition and one of the biggest tycoons in the country's lucrative tourism sector.
An online update from the Chinese embassy said the companies had agreed to build the Maldives' biggest resort, with 509 rooms, and its first to be built by a Chinese company. The embassy release did not reveal the terms of the deal, which remained secret until the new government took power.
According to finance ministry data, Mr Siyam's company funded the project with debt from the Export Import Bank of China — with the loans guaranteed by the Maldivian government up to an amount of $127.5m.
Officials in Male's new government say such arrangements were typical of the opacity accompanying the huge debt increase under the previous administration. "There's no information on many of these contracts centrally available — we're collecting it now," one senior official says. Sun Siyam, the resort operator, did not respond to a request for comment.
The new government's biggest concerns relate to the $646m of sovereign-guaranteed Chinese loans to Housing Development Corporation, the Maldivian state company responsible for developing Hulhumale.
Of this, 85 per cent went to fund the construction of 11,000 apartments in the island's second phase. Work on these residential projects, including the construction of 16 25-storey tower blocks by China State Construction Engineering, is continuing.
But the economic logic for such large-scale development has been weakened after the new government dropped Mr Yameen's policy drive to concentrate the population in greater Male, instead promising more support for communities in the many smaller islands. The complaints from Male will add fresh ammunition to critics who warn of the BRI's insufficient transparency and attention to debt sustainability.
Such claims were made by the proponents of a law that passed the US Congress in October, authorising the creation of an international development finance company. The new agency will compete with the BRI by extending loans in Asia and Africa, although its exposure cap of $60bn is far smaller than the lending already extended under the Chinese initiative.
A spokesperson for China's foreign ministry says it had "provided concessional loans to some development projects in accordance with the wishes and development needs of the Maldives", adding that both countries had "fully considered factors such as debt sustainability".
Maldivian police said last week they had asked the prosecutor-general to press charges against Mr Yameen, for providing false information during a probe into alleged financial irregularities surrounding the leasing of islands for resort development. The police had in December announced the freezing of bank accounts belonging to Mr Yameen containing $6.5m.
"Allegations of corruption were widespread in President Yameen's time, and whenever people questioned it, the response was that you don't need to know," says Mariyam Shiuna, executive director of Transparency Maldives. Corruption had become "normalised", she says. Mr Yameen did not respond to a request for comment, but a spokesman last week issued a statement denying any wrongdoing, and political associates defend him against allegations of having acted against the national interest.
Recommended Belt and Road Initiative Maldives seeks to renegotiate with China over Belt and Road debt
"We have never betrayed our sovereignty," says Ahmed Nihan, a senior figure in Mr Yameen's Progressive Party of Maldives, arguing that the Chinese loans would produce a strong return on investment. "Which other country came with an offer to put a bridge here?" he adds.
"Can any of these people talking about transparency come with the answer to my question? Our big brother India, did they come? No." India, whose coast lies less than 500km from the Maldives' northernmost atoll, has historically been the island state's most important diplomatic partner. But the relationship deteriorated severely under Mr Yameen, as New Delhi became increasingly alarmed by the Maldives' growing closeness to Beijing.
India reacted angrily in August 2017, when three Chinese submarines docked at a Maldivian port. Indian prime minister Narendra Modi's administration has seized the opportunity of the change of government in Male to rebuild close ties with the Maldives. In December, Mr Solih paid a state visit to India and accepted $1.4bn in financial assistance. The renewed ties with its huge neighbour, which is jostling with China for regional influence, will give Male's new administration additional leverage as it lobbies Beijing for debt forgiveness.
And while officials say they still see China as an important partner, they insist that future deals will be arranged with far greater care than in recent years. "We think it is wrong that China is taking us . . . to where we would find it difficult to pay back the money that they have given us," Mr Nasheed says. "We do not want to be consumed by China."
The Chinese way: four countries in 'Belt and Road' debt
Pakistan
The $62bn China-Pakistan Economic Corridor plan is the single largest piece of the BRI, but it has come under pressure since last year's election of Imran Khan as Pakistan's prime minister.
Abdul Razak Dawood, a senior minister under Mr Khan, told the FT that the previous government "did a bad job negotiating with China on CPEC", striking deals that favoured Beijing. In January, Karachi's Dawn newspaper reported that the government had decided to scrap plans for a $1.6bn Chinese-built power plant.
Myanmar
Naypyidaw renegotiated a massive Chinese port project in 2018 at its western town of Kyaukpyu, two years after awarding contracts to subsidiaries of CITIC Group. The new deal dramatically reduced the financial scale of the project to $1.3bn, from the $9bn originally planned. Myanmar is also resisting pressure from Beijing to allow work to resume on a Chinese-backed hydropower dam in its north.
Sri Lanka
Former president Mahinda Rajapaksa struck a deal with China to build a $1.3bn port named after him at Hambantota on the country's south coast (pictured), before being voted out of power in 2015. Colombo's new government was saddled with heavy losses from the little-used port, and in 2017 handed it over to a Chinese state company on a 99-year lease, sparking domestic controversy.
Malaysia
Since returning as Malaysia's prime minister last May, 93-year-old Mahathir Mohamad has taken a bold stance on the Chinese investments agreed by his predecessor Najib Razak. In July, the government suspended four Chinese projects worth about $23bn. It followed this in September by cancelling three China-backed oil and gas pipelines worth more than $3bn.
Malaysia says it will continue talks with Beijing over the biggest BRI project in the country, a 688km rail project on its east coast.
Related:
China's land grabbing in the Maldives causes U.S. to state again need for rules-based order, "free and open" India-Pacific
Concern over Chinese landgrab as Maldives allows foreigners to buy land for the first time
China's 'belt and road' projects in Southeast Asia plunge as resistance grows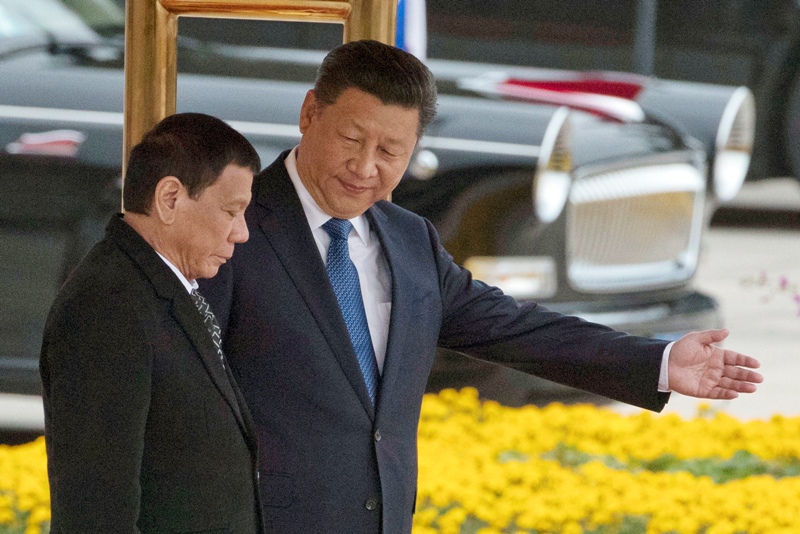 China's The Belt and Road Initiative Is a Corruption Bonanza
Soft power: Australia uses hard game to tackle China in Pacific
Malaysian prime minister ties to soothe China's ego over rail link: "We Just Can't Pay"
Malaysia's Mahathir Mohamad warns against 'new colonialism' during China visit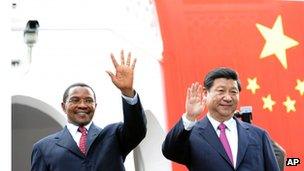 Xi Jinping (R) is discussing ways to improve bilateral ties with Tanzanian President Jakaya
President Xi Jinping met in Xiamen with President Jacob Zuma of South Africa
George Soros launches attack on China's president Xi Jinping
China's Davos: Gloomy, Fearful and the "We Wreck Ourselves" Theme — But plenty of money for a great party!
George Soros
Though not at Davos, China's Xi Jinping and Huawei's Ren Zhengfei were much talked about
U.S. Believes It Doesn't Need to Show 'Proof' Huawei Is a Spy Threat
Want To See Your Dystopian Future? Look at China — Creeping China-style surveillance state in the U.S. and Europe
China says pace of Xinjiang 'education' will slow, but defends camps
China's 'Belt and Road' Plan in Pakistan Takes a Military Turn
Australia questions China over missing dissident author — Is China a "Rogue State"?
Analyst: China has to be put in the category of a 'rogue state'
China Offered to Bail Out Troubled Malaysian Fund in Return for Deals — How China Influences The World
China's African debt-trap: Beijing prepares to seize Kenya's port of Mombasa
Kenya: Is China's Railroad A "Debt Trap"? — Kenya is expected to repay — Will All "Belt and Road" Participants Find Themselves Saddled with Debt Owed to China?
Microsoft says Bing search engine blocked in China (Plus Some of the Stories The Chinese People Are Unable To See Due to Government Censorship)
Chinese dissident's daughter 'detained and bullied' by China airport security staff as she traveled to Canada