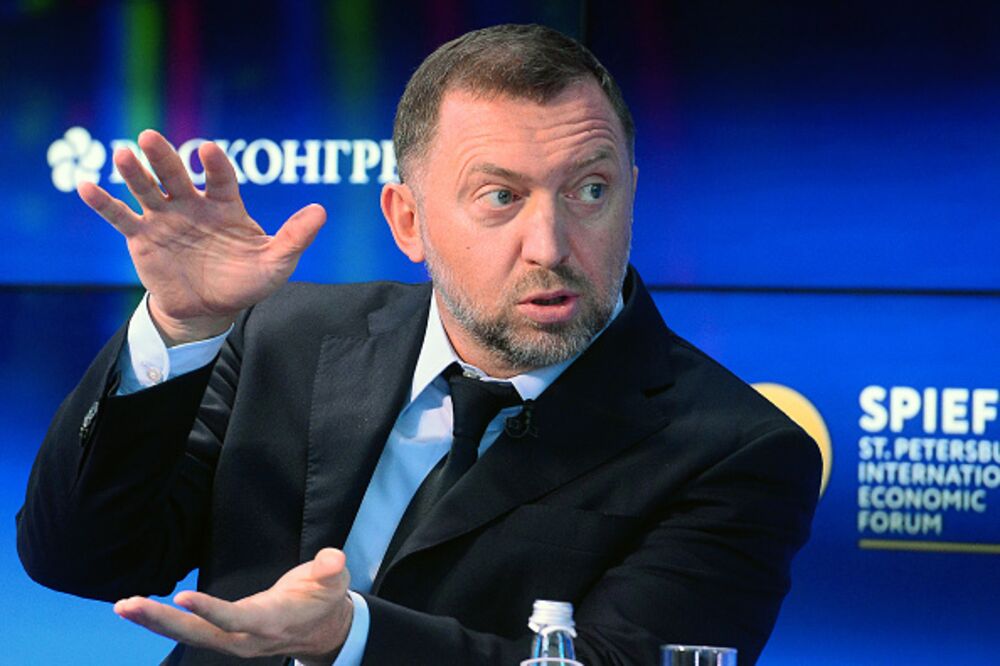 This spring, a British lord with deep ties to the governing Conservative Party and a reputation as a do-gooder environmentalist arrived in Washington on an unlikely mission: to save the business empire of Oleg Deripaska, one of Russia's most infamous oligarchs.
Russian oligarch Oleg V. Deripaska.  Credit Andrey Rudakov/Bloomberg
Mr. Deripaska was in deep trouble. In April, the Trump administration had announced sanctions on oligarchs close to President Vladimir V. Putin, and on their companies, as punishment for Russian interference in the 2016 presidential election and for other hostile acts. A billionaire who controls the world's second-largest aluminum company, Mr. Deripaska faced possible ruin.
Portrayed as little more than a thug by his critics and suspected by United States officials of having ties to Russian organized crime, Mr. Deripaska, 50, has spent two decades trying to buy respect in the West. London welcomed him; Washington still mostly has not. Successive administrations have limited his ability to travel to the United States.
Even Mr. Putin was unable to resolve the situation when he interceded personally with Presidents George W. Bush and Barack Obama on Mr. Deripaska's behalf.
By  Andrew Higgins and Kenneth P. Vogel
The New York Times
But with so much on the line this time, Mr. Deripaska's allies are now fighting back aggressively, mobilizing a vast influence machine on both sides of the Atlantic in an all-out effort to undo the sanctions against his companies before they take full effect.
The campaign to help Mr. Deripaska is playing out against an especially sensitive political backdrop. Any step by the administration that is seen as favorable to a powerful Russian is sure to draw scrutiny at a time when the special counsel, Robert S. Mueller III, is continuing his investigation into Russian interference in the 2016 election.
Moreover, Mr. Deripaska has been a subsidiary character in that inquiry, not as a target but because he at one point employed Paul Manafort, Mr. Trump's former campaign chairman, as an adviser. Mr. Manafort was convicted on one set of fraud charges and pleaded guilty to other charges in cases brought by Mr. Mueller, and is now cooperating with the prosecution.
But the current lobbying effort on behalf of Mr. Deripaska's companies still appears to have made substantial headway. In recent months, Mr. Deripaska's firms have notched initial victories by winning multiple postponements from the Treasury Department of the sanctions on the oligarch's holding company, EN+, and the giant aluminum company it controls, Rusal.
Now, with the administration closing in on its latest self-imposed deadline to make a final decision by Dec. 12, there are signs that Mr. Deripaska's companies could escape the sanctions entirely.
Oleg Deripaska in London in 2011. He is one of Russia's most prominent, and by some accounts notorious, oligarchs. Credit Chris Ratcliffe/Bloomberg, via Getty Images
Steven Mnuchin, the Treasury secretary, has signaled that he is open to a plan under which Mr. Deripaska would reduce his stake in his companies in return for the sanctions being lifted.
But sidestepping the business sanctions is not Mr. Deripaska's only goal. His team is preparing an audacious and previously unreported campaign to remove the personal sanctions on him, too. Removing the personal sanctions would eliminate substantial barriers to his doing business in the United States and around the world, and could be a requirement for him to get his hands on the money — potentially billions of dollars — resulting from any sale of part of his stake in the companies.
"Oleg Deripaska understands better than most Russian oligarchs how money buys influence in Washington," said Michael R. Carpenter, a former National Security Council official during the Obama administration who is now senior director of the Penn Biden Center for Diplomacy and Global Engagement. "It seems like he's now using that knowledge to try to save his skin."
The elaborate influence operation highlights one of the fastest-growing elements of the lobbying business: helping deep-pocketed foreign interests massage the sanctions, tariffs and other tools deployed by Mr. Trump against foreign governments, individuals and industries.
Read the rest:
NYT:https://www.nytimes.com/2018/11/04/world/europe/oleg-deripaska-russia-oligarch-sanctions.html?action=click&module=Top%20Stories&pgtype=Homepage
Related:
US delays imposition of sanctions on Deripaska's Rusal
Agents Tried to Flip Russian Oligarchs. The Fallout Spread to Trump.
Russian Olagarch Oleg Deripaska — Pursued one of the few things he couldn't buy: American acceptance — Now faces financial meltdown
Russian Oligarch And Putin Pal Admits To Collusion, Secret Meetings, with Obama Administration
See also:
Russia Blocks Critic's Site, Warns Google About Billionaire Yacht Videos
https://www.bloomberg.com/news/articles/2018-02-15/russia-blocks-putin-critic-s-site-warns-google-on-tycoon-report