Mr Barnier has said he sees it as his job to 'educate the British'
By Tom Peck
The Independent — Indy Politics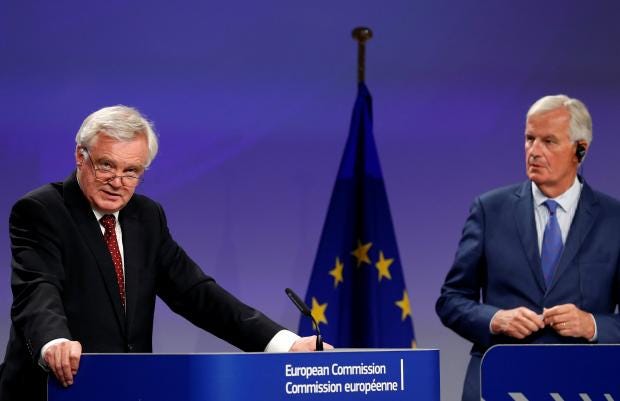 Barnier made the remarks at a press conference, while Davis retorted on 'The Andrew Marr Show' 
The EU's chief Brexit negotiator Michel Barnier has Brexit will be used to "teach the British people and others what leaving the EU means".
In highly inflammatory comments made to a conference in Italy on Saturday, Mr Barnier said it was his job to "educate" the UK about the price of leaving the EU "club".
Mr Barnier also said Brexit would be "an educational process" for the UK.
"I have a state of mind – not aggressive … but I'm not naïve," he told the Ambrosetti forum.
"There are extremely serious consequences of leaving the single market, and they haven't been explained to the British people. We intend to teach people … what leaving the single market means."
The war of words between the EU and UK sides of the negotiation has ratcheted up again this weekend, after Wednesday's extraordinary press conference between Michel Barnier and David Davis.
Mr Davis told the BBC's Andrew Marr Show that Mr Barnier had looked "a bit silly" during the press conference, and was trying to play "money against time" in the negotiations.
He said the EU was "frightened", and the UK would not be bounced into agreeing a settlement figure in order to proceed to the trading relationship stage of the talks.
Mr Davis said: "What he's concerned about of course is he's not getting the answer on money … They've set this up to try and create pressure on us on money … They're trying to play time against money.
"We're going through [the bill] line by line, and they're finding it difficult because we've got good lawyers … He wants to put pressure on us, which is why the stance this week in the press conference. Bluntly, I think it looked a bit silly, because plainly there were things that we've achieved."
http://www.independent.co.uk/news/uk/politics/michel-barnier-david-davis-brexit-educational-teach-uk-leaving-single-market-negotiations-a7927336.html
*******************************************
See also:
Michel Barnier claims Britain needs to be 'educated' over Brexit as war of words with David Davis escalates
http://www.telegraph.co.uk/news/2017/09/03/david-davis-offers-brexit-olive-branch-tory-remain-mps-bid-avoid/
CREDIT: FRANCOIS LENOIR/REUTERS
Related:
UK will not be pressured by EU timetable: Davis
UK PM May Says EU Repeal Bill Best Way to Avoid Brexit 'Cliff Edge' — Theresa May might not survive too much longer as PM
UK Minister: EU Commission Criticism of Brexit Talks Was 'Silly' — David Davis still optimistic over EU trade deal
UK Opposition to Push for Soft Brexit Changes to EU Repeal Bill: The Times
Vince Cable raises doubts about Brexit ever happening — Plus a final salute to Sir David Tang
European Parliament Member Guy Verhofstadt Says Britain Not Ready To Move Ahead on Brexit — Lord Hague says UK could pay "a bigger price for leaving" under current circumstances
Britain Says It Cannot Be Blackmailed by EU Over Exit Bill
EU's Barnier says Brexit talks far from shifting to future ties
Despite Derision, Britain's PM May Might Well Be Able to Carry On… For Now
Brexit Talks Make 'Concrete Progress', UK's Davis Says — "In the spirit of UK's continuing partnership with the EU."
Britain Urges EU to Show Flexibility Over Brexit — EU Unhappy with Slowness of UK — Discussions have become more acrimonious
Brexit: Britain and EU "Butt Heads" After "this young man from Whitehall was saying that the EU's preparation on the financial settlement was 'inadequate'. It did not go down well."