PM makes urgent plea to leaders over dinner
By Jon Stone Brussels
The Independent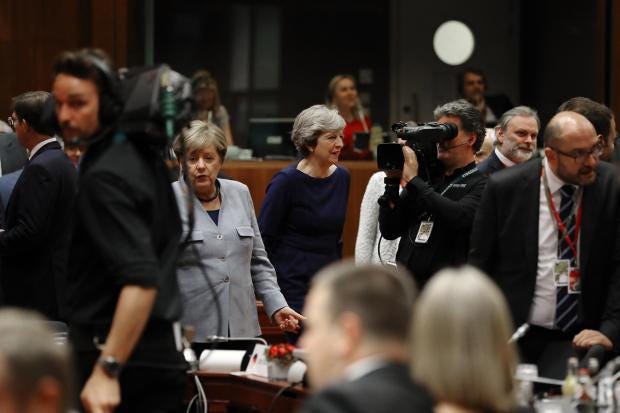 Theresa May has admitted for the first time that Brexit negotiations have hit "difficulty" as she beseeched European leaders to give her a deal she can sell to the British people.
The Prime Minister explicitly conceded last night that talks were in trouble ahead of her key intervention in Florence two weeks ago, prompting her to try and get negotiations back on track.
She told Angela Merkel, Emmanuel Macron and other EU leaders that there is now the "urgent" need for progress with the threat of the UK crashing out of the EU without a deal looming.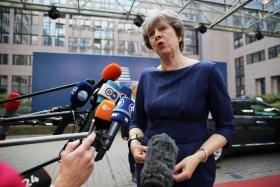 Theresa May plays down hopes of Brexit breakthrough at council summit
Speaking on Thursday evening at a working dinner with other heads of government in Brussels, Ms May said that at the end of the summer she "recognised the difficulty the process was in".
"I took stock, listened to what the people in the UK were saying, and what my friends and partners in Europe were saying, and I made a step forward," she said.
"There is increasingly a sense that we must work together to get to an outcome we can stand behind and defend to our people," she said, adding that when the 27 remaining member states convene tomorrow to discuss Brexit in private "the clear and urgent imperative must be that the dynamic you create enables us to move forward together".
The PM and world leaders dined on gnocchi and pheasant supreme at the dinner, followed by fresh pineapple.
European Commission chief negotiator Michel Barnier has repeatedly said he is "worried" about "deadlock" in negotiations, but the line from the UK government has always been significantly more optimistic, stressing "concrete progress".
The PM's intervention comes as the European Council appears set to refuse to allow the UK to move to trade and future relationship talks – which it has said can only start once "sufficient progress" has been made on settling the divorce bill, Northern Ireland border, and EU citizens' rights.
The 27 remaining EU leaders will meet tomorrow to discuss Brexit without Ms May, whose address to dinner was not followed by any discussion or debate.
They are expected to tell Britain to come back in December once more progress has been made for another assessment of whether it is ready for trade talks.
Senior UK government officials also admitted that the prime minister was "working against a difficult political backdrop" at home – an apparent reference to Tory MPs who were pushing her for a no deal.
Arriving at the summit on Thursday Angela Merkel said she believed there were "encouraging" signs that sufficient progress could be made in December. Ms May said the summit was a time to take stock of the progress that had been made in talks so far.
Dutch prime minister Mark Rutte however told reporters in Brussels that Ms May had to "come up with more clarity on what she means by 'other commitments' in her Florence speech".
"I phoned her last week, and tried to encourage her to do that and so far she hasn't," he said.
The Prime Minister's spokesperson told journalists in Brussels: "The Florence speech intended to create momentum and we achieved that. In all our talks with EU leaders they have been responsive and we hope that will continue."
Other issues such as forest fires and migration have dominated the first day of European Council discussions, with Britain's departure not even getting a mention in the first press conference between Jean-Claude Juncker and Donald Tusk after hours of talks.
http://www.independent.co.uk/news/uk/politics/brexit-theresa-may-negotiations-difficulties-eu-council-juncker-merkel-macron-a8009971.html
See also:
Theresa May calls for new dynamic for Brexit deal – but Angela Merkel says it's 'still not enough'
http://www.telegraph.co.uk/news/2017/10/19/angela-merkel-points-december-brexit-breakthrough-eu-leaders/
 **********************************************
.
The Prime Minister has played down hopes of a breakthrough in Brexit negotiations as she arrives at this week's European Council summit.
On her way into the Justus Lipsius building in Brussels on Thursday the Prime Minister said the summit was an opportunity to "take stock" of progress in talks.
The Independent confirmed yesterday that the PM would have no opportunity for a direct dialogue with EU leaders about leaving the EU at the summit – sticking to the strict framework of negotiations.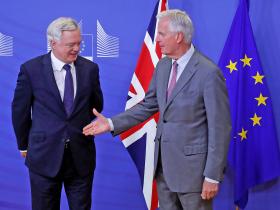 The PM said she would be setting out "ambitious plans" for further negotiations in the weeks ahead, and said she wanted to inject a new "urgency" into discussions on the post-Brexit rights of EU citizens living in the UK and Britons on the continent.
It had previously been hoped that the UK would be judged to have made "sufficient progress" in Brexit talks at the summit, so that negotiations could move to trade and transition. The latest indications are that this next phase has been delayed until at least December, however.
The two-day European Council summit comes as Ms May spoke directly to the estimated three million European Union citizens living in Britain, to tell them that she wants them to be able to stay after Brexit and that a deal on their rights are "in touching distance"
Britain's hopes of getting the green light for trade talks at the European Council meeting in Brussels were dash after a series of top EU figures came out against them. Chief negotiator Michel Barnier, Council President Donald Tusk, European Parliament Brexit Chief Guy Verhofstadt, and European Parliament president Antonio Tajani also said talks had not reached a mature enough stage.
But Ms May is hoping to persuade the leaders of the 27 remaining EU states to at least agree to begin discussions among themselves on the transition to Brexit and the future trade relationship. She will address them in an after-dinner speech on Thursday evening but there will be no discussion or reply from the leaders, a spokesperson for the European Council presidency confirmed.
The other 27 EU leaders will then discuss Brexit in full without Ms May on Friday – sticking to the strict protocol of only conducting negotiations within the framework agreed by the Council.
Arriving in Brussels, Ms May said: "This Council is about taking stock. It is also about looking ahead to how we can tackle the challenges that we all share across Europe.
http://www.independent.co.uk/news/uk/politics/brexit-theresa-may-european-council-summit-a8009191.html