Berlin turns against Chinese telecoms supplier over security concerns
By Guy Chazan in Berlin
Germany is looking at how to stop the use of Huawei products in the build of its 5G network, making it the latest western country to clamp down on the company over mounting security concerns.
The German government is considering introducing security requirements for 5G, the next generation of mobile communications, that would be harder for Huawei to meet. The initiative was first reported by the German daily Handelsblatt. A statement from the economics ministry said the security of the future 5G network and the safety of products offered by different telecommunications suppliers was "highly relevant" for the German government, and it would be "guided" by such concerns in its buildout of the network. But it also stressed that no decision had yet been taken on concrete measures.
The German move came at a time when the US has been actively lobbying countries to ban Huawei from developing 5G mobile phone networks on national security grounds, arguing that its technology can be used by the Chinese government for spying or cyber attacks. The tough new position is a shift from Berlin's previous view of the company.
In October, Günter Krings, deputy interior minister, wrote to the Green MP Katharina Dröge that there was "no concrete legal basis" for excluding any particular equipment supplier from the 5G buildout in Germany "and none is being planned". He said the German law on telecommunications was contained provisions that were "sufficient . . . to address possible security concerns".
But as the deadline for Germany's 5G buildout approaches, the government's position has hardened. The 5G spectrum licences are to be auctioned this spring, and telecoms companies need clarity by then as to which suppliers they can work with.
Last month Deutsche Telekom said it would reassess its system for procuring network equipment. A spokesman told Handelsblatt that the company "takes the global discussion about the security of network elements made by Chinese producers very seriously". Opposition MPs said they were pleased that the German government was finally taking security concerns over Huawei seriously.
"For too long, the government underestimated the explosive nature of this issue," said Katharina Dröge. She called on ministers "to finally say publicly what they think of Huawei being involved in the 5G buildout." The EU is also increasingly concerned about Huawei.
Andrus Ansip, the senior Brussels official on tech policy, recently warned that Chinese groups could be ordered by Beijing's intelligence services to build "back doors" into their systems. Australia and New Zealand, which are members of the "Five Eyes" intelligence sharing network with Canada, the US and the UK, have already blocked Huawei from forming partnerships with local telecoms carriers.
The UK and Japan have also publicly distanced themselves from Huawei's plans to supply 5G telecoms, a breakthrough technology that will allow objects such as fridges, cars and smartphones to "talk" to each other. This week Huawei's founder and president Ren Zhengfei broke his silence over the allegations against the company, saying it had "never received any request from any government to provide improper information".
The 74-year-old former Chinese army engineer also denied that China's new national security law obliged Huawei to build back doors into its telecoms equipment in order to gather electronic intelligence. Huawei has also been thrown into crisis by the arrest of Meng Wanzhou, its chief financial officer and Ren Zhengfei's daughter, on charges of breaking US sanctions against Iran as she tried to change planes in Canada.
https://www.ft.com/content/8f08f824-1a5f-11e9-b93e-f4351a53f1c3
Related:
Huawei Is Target of U.S. Criminal Probe for Trade Secrets Theft
China slams Huawei 'hysteria' — But if Huawei is "Clean," why China's ugly reaction?
Huawei solar panels could threaten US grid, lawmakers warn
Chinese dissident's daughter 'detained and bullied' by China airport security staff as she traveled to Canada
Ti-Anna Wang
U.S. Calls Canadian's Death Sentence in China 'Politically Motivated'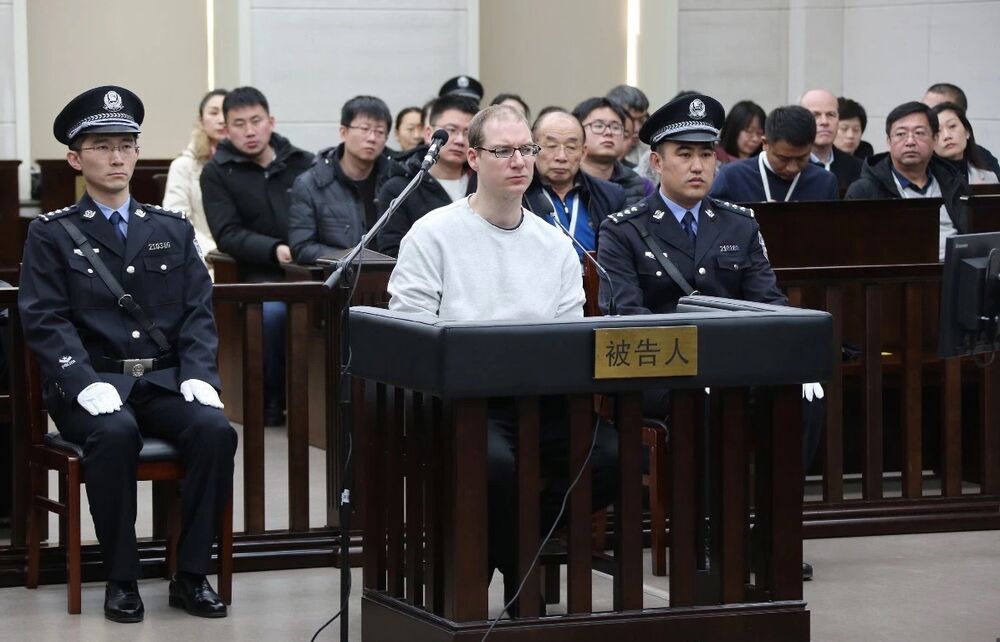 Robert Lloyd Schellenberg is seen at the Dalian Intermediate People's Court in Dalian, China, in this photograph made available on Jan. 14, 2019.Source: Dalian Intermediate People's Court
U.S., Canada express solidarity amid China's death sentence for Canadian