39 human rights advocates were killed in the Philippines last year — At least 60 human rights advocates were killed in the Philippines in 2017
The working environment in the country has been especially challenging for defenders of land, indigenous peoples' and environmental rights, a report by  Dublin-based human rights organization Front Line Defenders said.
At least 39 rights advocates were killed in the Philippines last year, Front Line Defenders, which focuses on human rights workers at risk, said in its Global Analysis 2018, which was released earlier this month.
"Although there were fewer HRDs killed in 2018 compared with the previous year in the Philippines, the country remains an extremely dangerous working environment for defenders of land, indigenous peoples and environmental rights," the organization said.
At least 60 human rights advocates were killed in the Philippines in 2017, according to an earlier report of Front Line Defenders.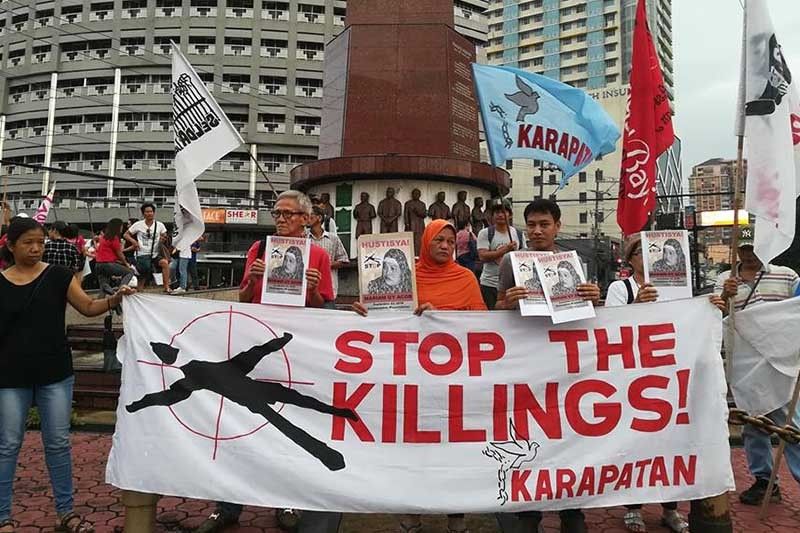 In this September 25, 2018 photo, members of local rights group Karapatan condemn the killing of human rights defender Mariam Uy Acob.
Facebook/Karapatan, released
In December, responding to a call by a UN special rapporteur for the government to end attacks on rights defenders, presidential spokesman Salvador Panelo claimed that "organizations presenting themselves as so-called human rights defenders never had it so good under the Duterte administration."
RELATED: Philippines has highest number of killed environmental defenders in Asia
It noted that most of the killings were linked to struggles against mining and other extractive industries.
"Defenders working on land and environmental issues across Asia continued to be one of the most at-risk groups of HRDs and targeted by multiple actors, including states, companies, local vested interest groups and paid thugs. HRDs have been killed, evicted, hit with trumped-up charges and intimidated and harassed in different ways," Front Line Defenders said.
'Terror' tag
Front Line Defenders, moreover, stressed that branding of human rights defenders a terrorists was one of the tactics used to silence rights workers, citing the government petition to label more than 600 people accused as members of the Communist Party of the Philippines as terrorists under the Human Security Act of 2007
At least 80 recognized human rights defenders, indigenous peoples' representatives and representatives of community-based organizations were on the list, UN said.
The Department of Justice has since, in an amended petition, drastically cut down the number of supposed communist terrorists on its list. It filed an amended petition after a Manila judge cleared four people of involvement in the communist movement.
RELATED: From 649 to 8: DOJ cuts communist terror list
"This type of labelling is especially dangerous in the Philippines where the killing of activists alleged to be involved with the New People's Army has increased under President Duterte and is generally met with impunity," the Dublin-based rights organization said.
Last week, Duterte claimed that rights defenders see the government as the enemy and want to undermine it.
But Amnesty International Philippines section director Butch Olano said that human rights both at home and abroad "have not stopped working" even as leaders such as Duterte continue to hurl threats against them.
Detained Sen. Leila De Lima, a former chair of the Commission on Human Rights, also said that Duterte's accusation puts human rights defenders at risk.
"Combine this label with his previous threats and this will most likely make human rights advocates targets for harm, harassment or even liquidation," she said.
The Philippines was included in the United Nations' list of countries that it said has carried out the "shameful practice" of harsh reprisals and intimidation against human rights defenders and activists.
In a world report released in December, UN special rapporteur on the situation of human rights defenders Michel Forst called on the Philippine government to end all forms of violations against human rights defenders.
In response, the Palace said it is "fed up with this practice of using the UN as a platform to parrot baseless criticism of local interest groups who are supported by politicians belonging to the opposition."
RELATED: Duterte Year 2: 'Without rights, a return to rule by tyrants'
Read more at https://www.philstar.com/headlines/2019/01/14/1885031/philippines-extremely-dangerous-rights-workers-report#st3RI6CEAuAZlR7O.99