Suicide bombers suspected to be from an Islamic State-inspired group killed at least 11 people and wounded 40 in attacks on Christians attending Sunday morning services at three churches in Indonesia's second-largest city of Surabaya, officials said.
Police are seen outside the Immaculate Santa Maria Catholic Church following a blast, in Surabaya, East Java, Indonesia May 13, 2018 in this photo taken by Antara Foto.
Reuters
Indonesia, the world's largest Muslim-majority country, has seen a recent resurgence in homegrown militancy inspired in part by Islamic State.
East Java police spokesman Frans Barung Mangera said explosions took place in three churches and at least 11 had died and 40 had been taken to hospital. He called on people to remain calm.
"All places where the public can gather, security has been tightened in those places," he told a news conference.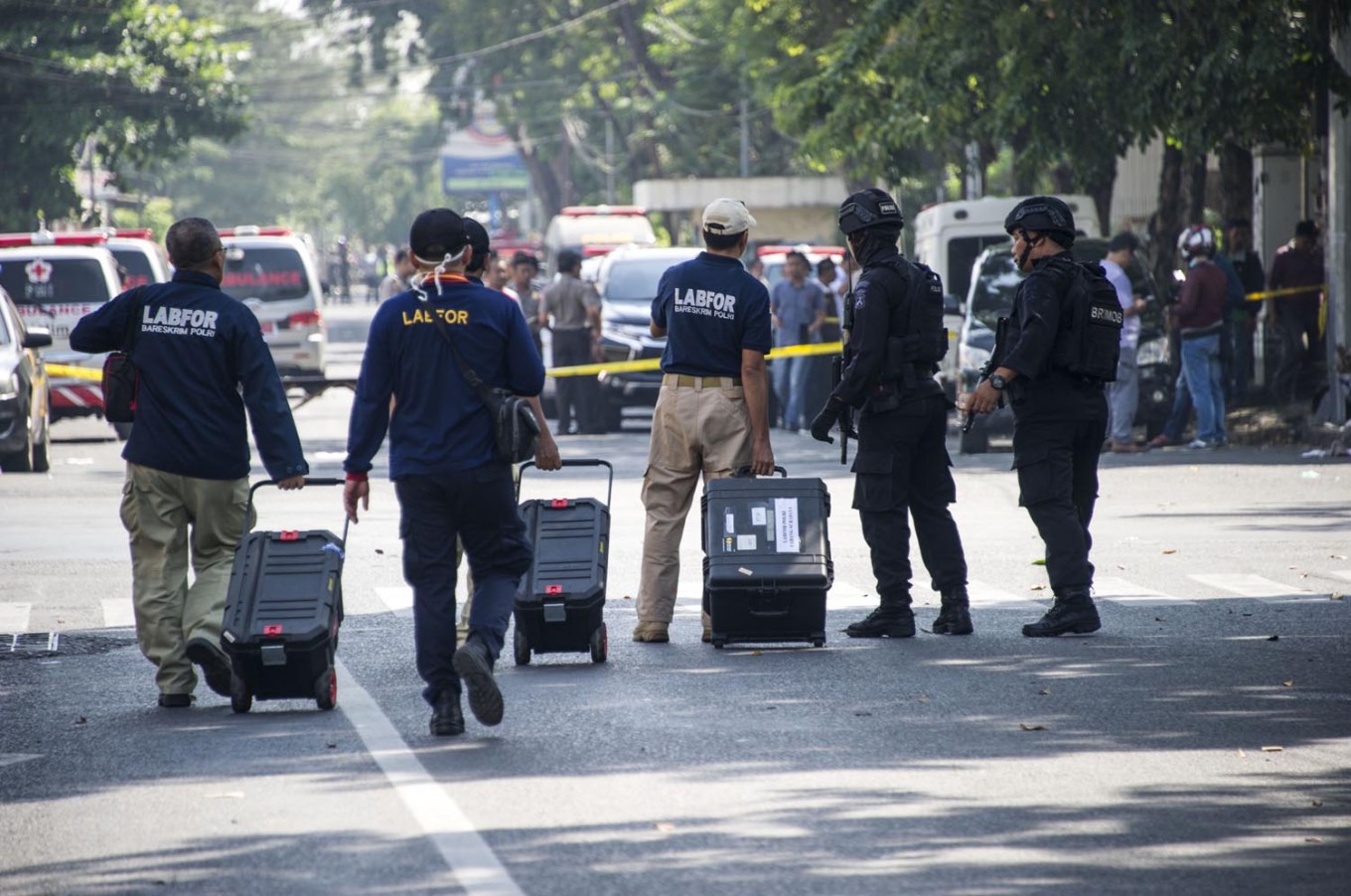 Police officers carry evidence from a crime scene following an alleged suicide bomb attack outside a church in Surabaya, East Java, on Sunday. (AFP/Juni Kriswanto)
Earlier, he told Reuters that an unexploded device at one location had been "secured".
Television footage showed one church where the yard in front appeared engulfed in fire, with thick, black smoke billowing up. A large blast was heard hours after the attacks, which Mangera said was a bomb disposal squad dealing with a device.
There was no immediate claim of responsibility for the attacks.
Wawan Purwanto, communication director at Indonesia's intelligence agency said Islamic State-inspired group Jemaah Ansharut Daulah (JAD) was believed to be behind the bombings.
JAD is an umbrella organization on a U.S. State Department "terrorist" list that is estimated to have drawn hundreds of Islamic State sympathizers in Indonesia. For a graphic on bomb attacks in Indonesia, click tmsnrt.rs/2rBtid8
The attacks come days after militant Islamist prisoners killed five members of an elite counter-terrorism force during a 36-hour standoff at a high security jail on the outskirts of the capital, Jakarta.
A person injured from a blast at the Indonesian Christian Church is evacuated to a waiting ambulance in Surabaya, East Java, Indonesia May 13, 2018 in this photo taken by Antara Foto. Antara Foto/Didik Suhartono/ via REUTERS
The church attacks were likely linked to the prison hostage standoff, Purwanto said.
"The main target is still security authorities, but we can say that there are alternative (targets) if the main targets are blocked," he said.
SUICIDE ATTACK USED MOTORBIKE
At St Mary's catholic church, the first place of worship to be attacked, the bombing happened after an earlier mass was over and when the church was getting ready to hold another service.
Inspector general Machfud Arifin told CNN Indonesia the suicide attack at St Mary's was carried out using a motorbike.
A witness interviewed by CNN Indonesia said shortly before the explosion he saw a person on a motorbike drive in carrying a cardboard box.
Separately, an internal police report reviewed by Reuters said a suspected bomb exploded in a car in the parking lot of a Pentacostal church, setting alight dozens of motorbikes.
In the third location, the Indonesian Christian Church, two veiled women entered the church's yard where they were stopped by a security guard before an explosion occurred at the same spot, according to the police report.
Television images showed toppled and burnt motorcycles and debris scattered around the entrance of one church and police cordoning off areas as crowds gathered.
President Joko Widodo was due to visit the wounded in Surabaya on Sunday, police said, while Indonesia's Foreign Minister Retno Masudi condemned the attacks.
"We will not back down in the fight against terrorism," Marsudi said in a message sent on Twitter.
A spokesman for Indonesia's church association (PGI) called on the government for more help on security at churches.
"PGI is concerned because this had happened many times and often taken place around the time of Sunday services," said Jeirry Sumampow, a spokesman for the Indonesia's Communion of Churches.
Nearly 90 percent of Indonesians are Muslim, but the country is also home to sizeable communities of Hindus, Christians, Buddhists, and people who adhere to traditional beliefs.
Indonesia has had some major successes tackling militancy inspired by al Qaeda's attacks on the United States in 2001. But there has been a resurgence of Islamist activity in recent years, some of it linked to the rise of Islamic State.
The most serious incident was in January 2016 when four suicide bombers and gunmen attacked a shopping area in central Jakarta.
Churches have also been targeted previously, including near-simultaneous attacks on churches there at Christmas in 2000 that killed about 20 people.
Additional reporting by Fransiska Nangoy, Agustinus Beo Da Costa and Gayatri Suroyo; Writing by Ed Davies; Editing by Simon Cameron-Moore and Lincoln Feast.
Peace and Freedom comment:
This is a page out of the book of Egypt's Christian church bombers
Related:
At least 155 people killed in attack on mosque in Egypt's north Sinai — "They were shooting at the ambulances too."
Islamic State claims bombings on 2 Egypt Coptic churches that killed 36, wounded dozens — "There was blood all over the floor and body parts scattered" — "Civilized people don't act this way." — "Coptic Christians face regular attacks by Muslim neighbours"
Egypt: Alexandria Christian church bombing death toll rises to 11 — Coptic Pope Tawadros II had been attending a Palm Sunday Mass
Palm Sunday in Egypt: 27 killed in blasts in, near Coptic churches
In a World Consumed By Terror Killings, Christians Are Called to Be Steadfast In Their Beliefs — There Is The Sanctity of God in Every Human Being and "Your life does not belong to you."
Roadside bomb kills 6, including army colonel, in Egypt's Sinai
Egypt hangs 15 over attacks on security forces in Sinai Peninsula
A Daring Assassination Attempt Shows ISIS in Sinai Has the Ultimate Weapon: Intel
Russian military working on deal to use Egypt air bases (Just as Iran tried to work a deal for bases in Syria)
Israeli Diplomats: Constantly Learning About Friends, Allies and Changing Loyalties — "We are used to being the pariah — even for no reason"
Muslim demonstrators attack Coptic Church in Egypt
Deadly suicide attack on Christian church in southwest Pakistan
German churches warn of increasing oppression of Christians worldwide
.
.
.