In all of us there is an inner consciousness that tells of God, an inner voice that speaks to our hearts. It is a voice that speaks to us intimately, personally, in a time of quiet meditation. It is like a lamp unto our feet and a light unto our path. We can reach out into the darkness and figuratively touch the hand of God. As the Big Book put it: "Deep down in every man, woman, and child is the fundamental idea of God. We can find the Great Reality deep down within us. And when we find it, it changes our whole attitude toward life."
Prayer for the Day
I pray that I may follow the leading of the inner voice. I pray that I may not turn a deaf ear to the urging of my conscience.
*******************************************
Many of us have experienced a "kind of creepy feeling," especially on halloween.
But what can help our lives, perhaps more than  anything else, is an inner compass that sends us a creepy feeling whenever we are thinking of doing something bad or wrong.
Psychologists say many people also have an inner compass that helps them choose the right and the good path.
Catholic scholars say a well developed inner compass becomes a kind of "Indwelling of the Holy Spirit." Fr. Edward leen is one who explains this concept in his book, "Holy Spirit."
But we don't have to be deeply involved in religion to develop a better inner compass.
******************************************
The great thing about a compass is it can tell you if you're heading in the right direction. It can also be extremely useful when you're lost and unsure of where you're traveling on your journey.
This is true in life.
If you feel that you keep encountering the same struggles time and time again and acquiring an array of tactics and strategies to get to a specific result or goal but find that you always fall short. Chances are, your inner-compass is way off the mark.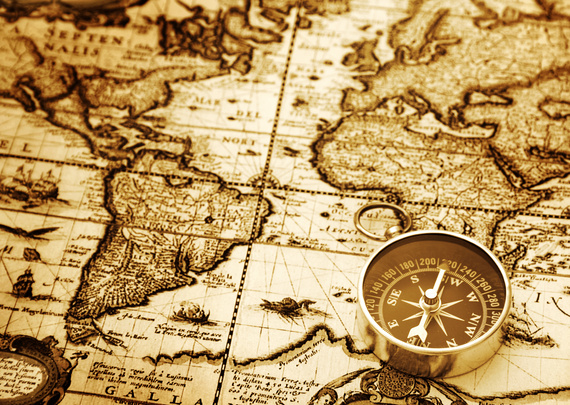 I also get it. It's frustrating when the results aren't happening for you as quick as you would like them to. But what's more damaging isn't the results or lack of. It's the bad relationship that is being formed between you and yourself in the pursuit of them.
The negative self-chatter that has you kicking your own ass because you're not where you currently want to be. You also have to contend with your constant comparisonitis that goes on within your Facebook feed and Instagram account. Looking at the successful can be just another painful reminder that things aren't going your way.
This breeds frustration, resentment, anger and a misalignment with who you be. You could say, it's a vicious circle and if you're currently experiencing this then it will certainly feel like one.
I've worked with many people who have came to me facing these challenges. Looking for the magic bullet, the next "how to" tactic or "secret" strategy to achieve success inside their health, business, finances and relationships.
And here's where the problem lies. No amount of "how to" tactics, "secret" strategies or "magic bullets" can help you if the relationship between you and yourself is out of alignment.
Results will always come up short with a lot of head scratching and confusion as to why. Let me prove it to you right now with a simple question.
How many mentors, programs, plans, self help books, "secret" strategies and "how to" tactics have you already tried with whatever it is that you're trying to succeed with?
Probably a lot, right? And how much of that is currently working for you? Take a look at your results and be truthful with yourself. Are you happy?
This was something that I struggled with for a long time in business and my personal life. Never being able to figure out what the issue was and where I was going wrong. I invested a lot of money trying to figure this out too.
Then one day the answer hit me. The more knowledge I was consuming, the more things became unclear (by the way, I'm not saying knowledge isn't great, on the contrary) but what I am saying is: You can lose your sense of self when you are trying what works for everyone else and your authenticity disappears in all the noise.
Recalibration of your inner-compass to align with you and your own path is vital. Drown out the noise for a while by getting out of your own environment. Take a walk in the park or on the beach. Go somewhere that you can think deeply and ask yourself if you are being authentic in all aspects of your life. This will be a big indicator to what's true for you.
What's the definition of authenticity?
When you are being the you that you feel you should be.
If you're not, then the calibration of your inner-compass is simple. Get back to who you be. The true you. The authentic you. When you come from this place, you'll see amazing things happen for you and to you.
Much Love,
Robert Westerburg
https://www.huffingtonpost.com/robert-westerburg-/your-internal-compass_b_9563766.html
*****************************************
Of course, "Help is all Around" as we like to say at Peace and Freedom.  Prayer and meditation help us to find ourselves and maybe even a Higher Power or the still strong voice of God. Religious people, people in recovery programs, psychologists and all kinds of helpers are here to assist us in our journey….
Related:
Prayer and Meditation for Sunday, December 31, 2017 — "Put on, as God's chosen ones, holy and beloved, heartfelt compassion, kindness, humility, gentleness, and patience…"
Henri Nouwen: Seeking a Spiritual Life on Earth
Memoir of depression and prayer (Henri Nouwen told this writer to meditate at the Trappist monastery.)
Prayer and Meditation Aid Mental Health — Afternoon Prayer for Tuesday, September 18, 2018
Morning Prayer for Tuesday, October 23, 2018 — Technology Cannot Replace Our God, Our Humanity
Mitch Albom and Morrie taught me about acceptance, communication, love, values, openness, and happiness.