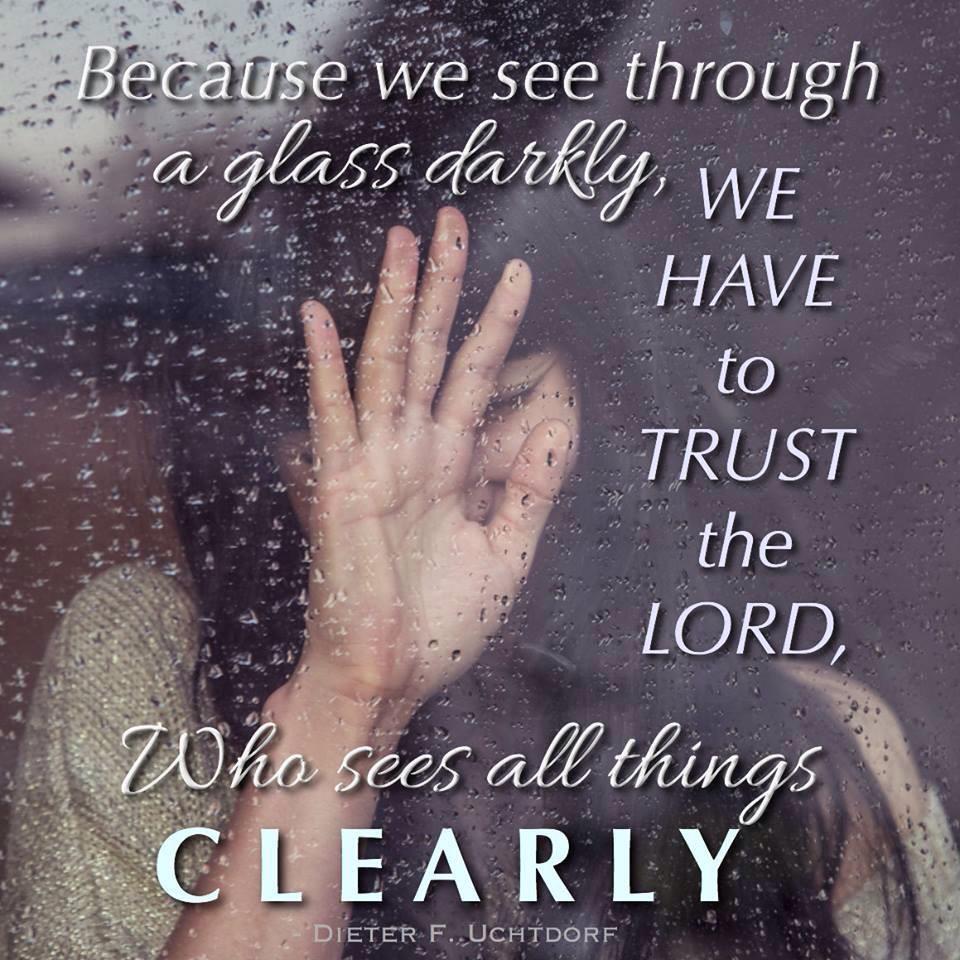 Fret not your mind with puzzles that you cannot solve. The solutions may never be shown to you until you have left this life.
The loss of dear ones, you may not know the inequality of life, the deformed and the maimed, and many other puzzling things until you reach the life beyond. "I have yet many things to say unto you, but ye cannot bear them now." Only step by step, stage by stage, can you proceed in your journey into greater knowledge and understanding.
Prayer for the Day
I pray that I may be content that things, which I now see darkly, will some day be made clear. I pray that I may have faith that someday I will see face to face.
Related:
Prayer and Meditation for Monday, December 3, 2018 — Saint Francis Xavier
Morning Prayer for Sunday, November 11, 2018 — I am not so important after all
"Christianity established a a rule and order and the chief aim of that order was to give room for good things to run wild."
— G. K. Chesterton (In his book "Orthodoxy")
Morning Prayer for Sunday, October 21, 2018 — For God is not a God of disorder but of peace
Has the world gone mad? Mental health disorders on the rise globally
Excessive playing of video games is now considered a disorder needing medical treatment, World Health Organization (WHO) says
51 percent of opioid prescriptions go to people with depression and other mood disorders — "These two things collide" — Journal of the American Board of Family Medicine
Chinese thought police in constant surveillance of Xinjiang's minority Muslim Uighurs — Then detention, Mandarin, law, ethnic unity, de-radicalization, patriotism
Britain's National Health Service (NHS) Braces For Riotous New Years Eve Bing Drinking in UK (Britain has one of the worst records for binge drinking with drug taking and sexually transmitted diseases adding to medical problems)
Getting God's Help: First Surrender Yourself, Then Ask God's Power to Come In
Prayer and Meditation for Friday, August 5, 2016 — Blessed are they who are persecuted for the sake of righteousness — "Whoever wishes to come after me must deny himself, take up his cross, and follow me."
Prayer and Meditation for Thursday, January 21, 2016 — Jesus teaches us to be wary of governments and self-proclaimed prophets — "In God I trust; I shall not fear"
Prayer and Meditation for Wednesday, May 4, 2016 — "The Spirit of truth will guide you…" — Every Person Seeking To Recover Peace, Sound Sleep and A Spiritual Life Needs Humility and Self-Abandonment
Prayer and Meditation for Sunday, July 17, 2016 — Jesus said, "There is need of only one thing." — God comes as stranger, God comes as Guest, God comes in suffering
St. Francis of Assisi and The Human Skull He Carried — Suffering and Death Are Part of Our Journey
Prayers from the Big Book of Alcoholics Anonymous
"Your Life Does Not Belong to You."
"Self-Abandonment to Divine Providence" by de Caussade — the goal is total dependence upon God. To get a new self; most human beings need to get rid of the old self.