US tech company must pay a €4.3bn penalty but also overhaul its Android model
.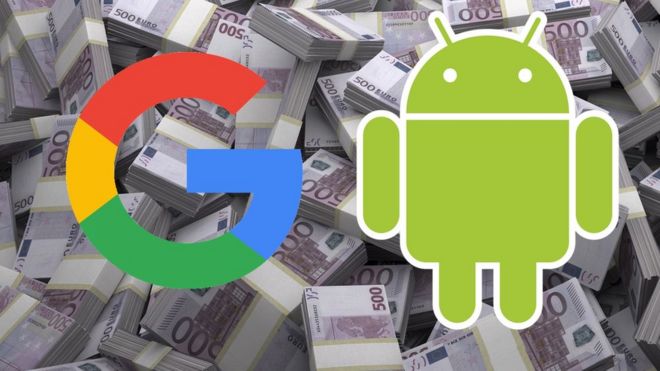 By Rochelle Toplensky in Brussels
The EU has fined Google a record €4.3bn for imposing anti-competitive terms on companies using the Android mobile operating system, the second time Brussels has penalised the US tech company for abusing its market dominance.
Beyond the financial cost, the European Commission's antitrust decision has significant implications for Google's business operations as the company must now overhaul one of the most important computing platforms of the smartphone era.
Antitrust decisions come in two parts. First, EU officials must prove the company is dominant in relevant markets — which they did for Google in general search, licensed mobile operating systems and app stores. (Apple, which does not license its iOS operating system and App Store to rivals, was not considered a competitor to Android.)
Then it must be established that the company unlawfully exploited its strength to stymie competition. The commission found that restrictive terms required makers of Android phones to install Google products as a condition of using Play, the Android app store. Other conditions prevented manufacturers from selling phones that use other operating systems, and paid phonemakers to exclusively pre-install Google search. Google denies wrongdoing.
Why is the case important to Google?
Since its launch in 2007, Android has helped Google preserve its pre-eminence as consumers moved from desktop computers to mobile devices. More than half of worldwide internet traffic is now on mobile devices, 80 per cent of which run on Android, providing a showcase for Google services and mobile apps.
Google gives away Android and keeps it updated for free, covering its costs with the revenues made from people using its services. Licences for the official version of Android are conditional on devicemakers following certain rules.
As a result of the EU decision, Google will be expected to revise the terms of service that made this model viable, notably the guaranteed distribution of Google products. Such changes would leave Google with less control, potentially opening up opportunities for rivals.
How has Google responded?
Google rejects the commission's case on three main grounds. It argues that the refusal of EU investigators to accept that Android competes with Apple's iOS system misconstrues the market.
The company also says the commission fails to acknowledge how easy it is for users to switch. Even if apps are pre-installed, Google argues that consumers can easily "swipe away" the Google products and download something else.
And it thinks the commission is underestimating the importance of rules for developers and users. App developers rely on a degree of consistency to distribute products. Making Android more open, in other words, could degrade the user experience.
What triggered the investigation?
.
Microsoft, Oracle and Nokia were among 14 companies that complained to the EU in April 2013, claiming Google unfairly supported Android and its mobile services by offering cut-price licensing and exclusivity deals. The commission began an investigation, sending formal charges to Google in 2016.
Brussels launched two other investigations into the tech company. The first, concluded last summer, resulted in a €2.4bn fine for illegally favouring its shopping service over rivals. Google has appealed against the decision. The remaining probe relates to how the company prevented websites that use its search bar and ads from also showing competing ads.
What happens next?
Google will pay the fine and has 90 days to decide how to change its Android contracts to remove illegal provisions. The commission will ultimately review whether the company's solution complies with its ruling.
If the changes fall short, Google's parent company Alphabet could be liable for further fines of up to 5 per cent of daily revenues, which would be roughly $12m a day. Google is expected to appeal against the decision in court.
It is too early to tell how Android will change in Europe, or beyond. Google might start to charge a licence fee to cover its software costs and device suppliers might be given more freedom to develop their own version of Android. Google could even mimic Apple and keep Android for use only in its own Pixel phones. Any changes are unlikely to be noticed by users for many months.
https://www.ft.com/content/60502464-8a57-11e8-bf9e-8771d5404543
Related:
Google to Be Fined Record $5 Billion by EU Over Android