Trump administration seeks to isolate Kim regime following a new missile test by Pyongyang that experts say can reach Washington D.C.
United States ambassador to the United Nations (UN) Nikki Haley speaks on the sidelines of the Security Council on November 29, 2017
United Nations—The U.S. called Wednesday on all countries to suspend diplomatic ties with North Korea and asked that China stop crude oil trade with Pyongyang as diplomats met at an emergency United Nations Security Council meeting.
The council convened for the 13th time this year to debate how the international community should confront North Korea's rapidly accelerating ballistic missile capability.
Pyongyang on Wednesday fired an intercontinental ballistic missile into the Sea of Japan, displaying range that experts said could reach Washington, D.C., placing the entire continental U.S. under potential military and nuclear threat.
The test marked North Korea's third ICBM and 20th ballistic missile launch in 2017, U.N. officials said.
U.S. Ambassador Nikki Haley said the regime's action "brings the world closer to war, not further from it." She said that Washington didn't seek war, but added: "If war comes, make no mistake, the North Korean regime will be utterly destroyed."
Diplomats debated for close to two hours over tools for exerting further political and economic pressure against the regime of North Korean leader Kim Jong Un.
Ms. Haley said the council had options: to revoke North Korea's U.N. privileges and voting rights; call on all member states to suspend diplomatic, scholarly and trade relations; demand countries expel North Korean workers and sanction the country's crude oil imports.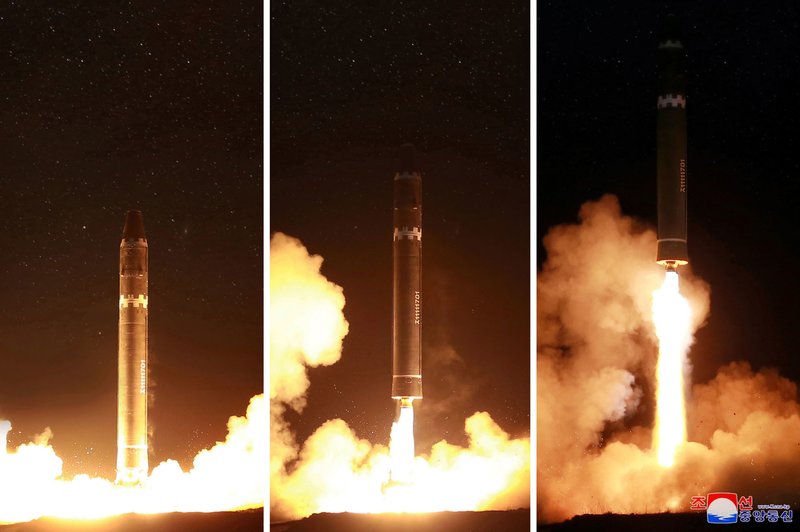 Twenty countries have already cut diplomatic ties with North Korea, Ms. Haley said. But many others, including some U.S. allies like the U.K., still have embassies and diplomats in the country.
No action was taken Wednesday, but Washington's list of demands could be a hard sell to the council and many member states.
China and Russia are opposed to measures such as blocking oil trade because of the potential impact on North Korea's economy and consumers, particularly in winter months.
On Wednesday, China and Russia both called for restraint in rhetoric and condemned Pyongyang's missile launch. Both ambassadors said the only solution to the conflict was political but also expressed concern that hopes for a diplomatic solution were diminishing.
"Prospects for normalizing the situation on Korean Peninsula continue to be very distant," said Russia's Ambassador Vassily Nebenzia.
Some diplomats, including U.N. Undersecretary for Political Affairs Jeffrey Feltman, told the council that civilians were suffering from food insecurity and that sanctions had impeded the ability of aid agencies to conduct humanitarian relief work in North Korea.
Some diplomats, including several Security Council members, have said their capitals still see value in maintaining diplomatic relations and having a presence on the ground in Pyongyang. They said they believe a total diplomatic blackout would diminish the prospects for a resolution to the crisis.
Expelling North Korea from the U.N. or revoking its privileges also wouldn't be an easy feat. Membership to the U.N. is decided by a vote in the General Assembly at the recommendation of the Security Council. An expulsion of a country also would need a majority vote of the 193-member assembly, and has no precedent.
Diplomats said discussions would continue on the council's next steps and actions and it remained unclear whether or not a new sanctions resolution would materialize.
Italy's Ambassador Sebastiano Cardi, the rotating president of the council this month and the chair of the North Korea sanctions committee, briefed the council on status of implementation of current sanctions. Mr.Cardi said that more member states reported implementing the latest resolution than previous times.
Write to Farnaz Fassihi at farnaz.fassihi@wsj.com
https://www.wsj.com/articles/u-s-urges-world-to-cut-ties-with-north-korea-1512010772