OFFICIALS in Hong Kong say they want to cover up the royal insignia on the cast-iron letterboxes from the territory's colonial era. A small thing, you might think, and let's not get mawkish about British rule. But it would be a telling move. Anson Chan, the city's most respected figure, calls the boxes "part of our collective memory". And many young people to whom Banyan has spoken since recently moving to Hong Kong echo what Mrs Chan calls an "insidious chipping away at our values and our lifestyle" by China's rulers and those who do their bidding. The issue is a central one in elections for the Legislative Council (Legco) that will be held on September 4th.
Its prominence was guaranteed after the electoral commission insisted that all candidates "confirm" that Hong Kong is an "inalienable" part of China. Some refused, or the commission did not believe their declaration. They are part of a growing "localist" movement seeking to preserve Hong Kong's autonomy and a culture distinct from China's. On August 5th over 2,000 people gathered in support of the disqualified candidates. It was, in effect, Hong Kong's first ever pro-independence rally.
A profound change of mood has overtaken the territory in the past couple of years. The guarantees made when an open society passed to a Communist dictatorship in 1997 are no longer so widely believed. Hong Kong's mini-constitution, the Basic Law, held that the city's way of life was to remain unchanged until at least 2047. The champion of "one country, two systems", Deng Xiaoping, who died just months before the handover, had said there was no reason why it should not hold for a century. As head of the civil service before and (for nearly four years) after the handover, Mrs Chan was an embodiment of the guarantees.
Hong Kong. Photograph by Jonas Gratzer, LightRocket via Getty Images
But under "C.Y." Leung Chun-ying, a property man with strong ties to the mainland who has led Hong Kong since 2012, it is no longer clear what is being done in the territory's best interests. True, Mr Leung has taken steps to see that elderly people are better provided for; they have long been shamefully neglected, as those who can often be seen eking a bent-backed living collecting scrap cardboard can attest. But Mr Leung's mission is essentially a political one: to help China keep Hong Kong's sense of the territory's distinctiveness in check. From the moment when he made his inaugural speech in Mandarin rather than Cantonese, the local language, the direction of travel under a man assumed to be a closet member of the Communist Party has been clear.
This has created increasingly stark choices for Hong Kong, as was evident during the "Occupy" or "Umbrella" movement two years ago. It grew in response to China's legislature handing down long-awaited rules for the election in 2017 of Hong Kong's next leader. Universal suffrage had been promised in the Basic Law. But China insisted on being able to vet the candidates through an "election committee" dominated by the party's sympathisers in Hong Kong, who could be counted on to exclude popular democrats (such as Mrs Chan). A semi-democratic Legco rejected the package. Student-led protests erupted, blocking streets in busy commercial areas for over two months.
Mr Leung faced down the protesters. Since then a hard line has crept into Hong Kong's affairs, undermining the old guarantees. Last year the University of Hong Kong's recommendation of a legal scholar, Johannes Chan, as its deputy vice-chancellor was vetoed by a governing council packed with outside members appointed by Mr Leung. It looked like punishment for Mr Chan's support for pro-democracy movements. Since then, academics say a chill of self-censorship has descended on campuses.
Perceptions of other much-admired institutions are also changing for the worse. One such body is the Independent Commission Against Corruption. It is accountable only to the chief executive, which is why the sudden transfer and resignation in July of a highly regarded official running an investigation into Mr Leung's business dealings has led to turmoil and dismay within the commission. Across the civil service, morale is ebbing.
Dogmatism is creeping in, too. The education department recently issued a ban on independence even being discussed in schools. The most notorious incident occurred late last year with the disappearance of five men involved with a Hong Kong bookshop specialising in salacious material about China's leaders. One of the men seems to have been bundled out of Hong Kong by Chinese state-security goons. Even Britain, which under David Cameron was fixated on commercial gain in China and downplayed anxieties in Hong Kong, was moved to protest. It took a while longer for Mr Leung to go through the motions.
Mainland officials harrumph that in Hong Kong there has been way too little "decolonisation" and too much "desinification". A hard line and "patriotic" education are their remedy for a spoiled and ungrateful populace. But can't they see? That is why people are talking about independence in the first place.
For some young people, 2047, when all bets are off, seems not such a long way away. "Prepare for the worst, hope for the best," says Joshua Wong Chi-fung, a 19-year-old who was one of the Occupy leaders and wants self-determination. Two years ago he was seen as radical. Now a small but growing share of the young sees peaceful disobedience as quaint.
So, yes, the letterboxes are small stuff. But small things these days can blow up. Take the riot that was sparked when officials tried to close down unlicensed hawkers selling snacks during the Chinese new-year holiday in February. The "fishball revolution" was condemned by China as the work of splittists and black hands. Meanwhile on Lugard Road on the Peak, a famous sightseeing route named after a British governor, they have not yet started dismantling the wonderful old lamp-posts. But someone has written on every one: C.Y. (Leung), step down.
http://www.economist.com/news/china/21705857-how-hong-kong-sees-itself-has-changed-profoundly-just-couple-years-spot-localist
******************************************
'Liberate Hong Kong': pre-election calls for independence from China grow
Although dismissed by many as impossible, suport for a break away from Beijing appears to have grown especially among the young
 Edward Leung of the group Hong Kong Indigenous speaks at a pre-election campaign event. Photograph: Anthony Wallace/AFP/Getty Images
When Edward Leung closes his eyes and dreams of Hong Kong's future he pictures a utopian metropolis of skyscrapers and social justice, "where people can do whatever they want as long as it isn't harmful to others".
"It's an international place. A cosmopolitan state," says the fashionable 25-year-old politics and philosophy graduate.
Is it part of China? "No," Leung replies emphatically. "Not any more."
Leung is one of the leaders of a small but increasingly visible independence movement in the former British colony that is setting the agenda before key elections for Hong Kong's Legislative Council parliament on 4 September.
The movement was catapulted into the headlines in early August when the semi-autonomous city – which returned to Chinese rule almost two decades ago, in 1997 – saw the first pro-independence rally in its history.
Several thousand protesters took to the streets after six pro-independence candidates, foremost amongst them Leung, were barred from the upcoming election in what critics condemned as an act of political censorship designed to snuff out opposition to Beijing's authoritarian rule.
"They try every means to oppress us," complained Leung, one of the leaders of Hong Kong Indigenous, a so-called "localist" political group founded in the wake of 2014's umbrella movement protests to combat what its members see as China's erosion of the city's way of life.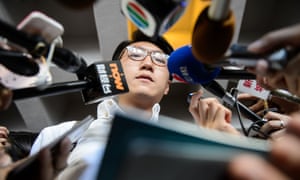 Beijing considers advocating independence subversion and its Communist party-controlled media has given "extremists" such as Leung short shrift.
In a recent editorial the editor of the nationalist tabloid the Global Times lampooned "the Hong Kong independence farce" as a radical fringe that would not be tolerated.
The former colony's Beijing-backed government has claimed such ideas are a blatant violation of the territory's mini-constitution, the Basic Law, which describes Hong Kong as an "inalienable part" of the People's Republic of China.
Yet experts and activists say there has been a recent groundswell of support for independence among Hong Kong's disillusioned youth who fear the "one country, two systems" formula – introduced after handover to safeguard its much-cherished freedoms – is no longer working.
A Chinese University of Hong Kong study, published in July, showed 17% of citizens backed splitting from China with that figure reaching nearly 40% among 15 to 24-year-olds.
"Compare it to a cancer if you like. It has spread from loony talk to universities, and now to secondary schools," a columnist for the South China Morning Post admitted this week, arguing that interest in independence was here to stay.
Chan Ho-tin, the 25-year-old founder of the Hong Kong national party, one of several recently formed pro-independence groups, said he had been surprised how many people attended August's historic rally, which he organised.
"Two years ago Hong Kong independence was a taboo. You couldn't say that. If you said that … everybody condemned you: you're nuts, you're crazy," said Chan, who was among the six candidates barred from running in next month's election.
There's more:
Read the rest:
https://www.theguardian.com/world/2016/aug/26/liberate-hong-kong-calls-independence-china-elections-loom
Related:
China Needs To Make Real Progress In Human Rights: United Nations Expert
A New Measure for China's Economy: The 'Repression Index' — "Warning signs are flashing" — Private investment collapsing (Has links to many related articles)
Xi Jinping "Furious" with China's Internet Media Bosses After Embarrassing Mistakes Go Global on the Internet — Expect Harsher Censorship in China
Hong Kong Free Press Vows To Sue Government For Bill of Rights Violations Including Discrimination, Failure to Comply With Equal Access For Media Laws
"Free press is an indispensable part of Hong Kong" Leader CY Leung says — But what does Beijing think?
Abductions of Hong Kong Booksellers: Hong Kong Chief Executive writes a letter to Beijing — "The people do not agree to be governed in this way."