The central government seeks additional ways to scrutinise the city's affairs, including instructing the chief executive and assessing legislation
By Stuart Lau
South China Morning Post
Saturday, May 27, 2017, 11:28pm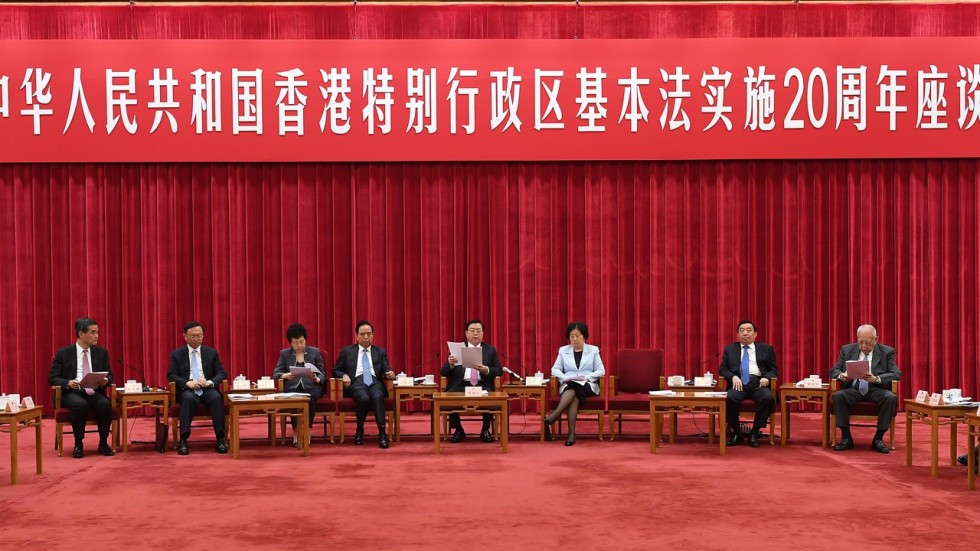 Beijing has made the unprecedented move to declare its power to "supervise" Hong Kong officials based on their allegiance to the country's sovereignty, prompting pan-democrats and civil servants to question such a standard.
Zhang Dejiang, one of the seven members of the Politburo Standing Committee, said at the Great Hall of the People on Saturday that Beijing would invoke a number of "implicit powers" – which have so far not been paid close attention to during the first 20 years of the city's handover.
"It should be stressed that [Hong Kong's] governing teams… must be made up of patriots who respect the Chinese people, sincerely support [China's] resumption of sovereignty and pose no threat to [Hong Kong's] prosperity and stability," he said, referencing late leader Deng Xiaoping.
Chinese state leader Zhang Dejiang announces Beijing's plans to tighten grip on Hong Kong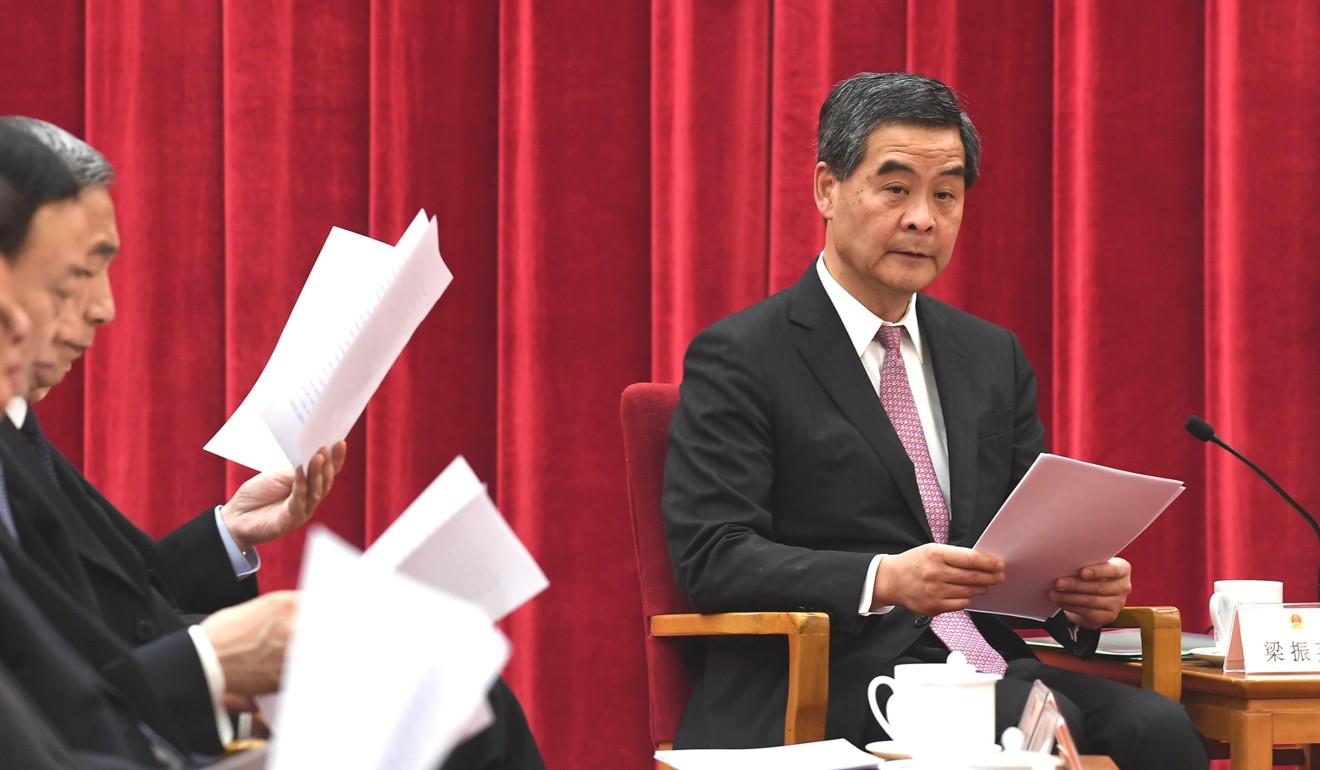 "The central government is responsible for supervising whether [Hong Kong's] public officers uphold the Basic Law, and whether they pledge allegiance to the country and [Hong Kong]."
His 50-minute speech came just weeks ahead of the 20th anniversary of the city's handover.
Chief Executive Leung Chun-ying declined to say whether Zhang's new order compromised the political neutrality of the city's civil servants.
"Hong Kong's civil servants being politically neutral has been our practice," said veteran China commentator Johnny Lau Yui-siu. "Now, Beijing demands them to be loyal to the regime."
Leung Chau-ting, head of the Federation of Civil Service Unions, said he was concerned about Zhang's suggestion that understanding of the Basic Law could carry weight when civil servants' jobs are assessed.
Beijing's Basic Law adviser gives speech for top leaders (and ditches parts about Hong Kong's freedoms)
"The focus should always be professionalism and the willingness to serve the public," he said.
"It is not our daily work to explain the Basic Law to fellow Hongkongers."
Zhang also called for a closer look at other powers that the central government could use to scrutinise the city's affairs, including that of instructing the chief executive and assessing legislation reported by the Legislative Council.
The power to assess legislation has so far been considered a ceremonial power as the National People's Congress has never objected to any reported laws.
Zhang also urged academics to devote time to study the Basic Law and instil the "correct" national views in Hong Kong teens.
Pro-Beijing group given priority for July 1 march venue at Victoria Park over annual event organiser
Veteran democrat Martin Lee Chu-ming, who helped draft the Basic Law in the late 1980s, said Zhang's remarks regarding the "supervisory" role over Hong Kong officials, were not in the Basic Law and they could even deter talent from important roles.
"It is a completely different picture to what was depicted by Deng Xiaoping… also the Sino–British Joint Declaration and Basic Law," he said.
"Good lawyers would not dare to be judges then…You have to become a puppet [of Beijing] and probably face against the public of Hong Kong," he said.
This article appeared in the South China Morning Post print edition as:
Beijing's latest move 'threatens HK civil servants' neutrality'
.
*****************************************************
Chinese state leader Zhang Dejiang announces Beijing's plans to tighten grip on Hong Kong
.
By Stuart Lau
South China Morning Post
.
NPC chief calls on city to enact controversial national security legislation
.
Saturday, May 27, 2017, 11:30pm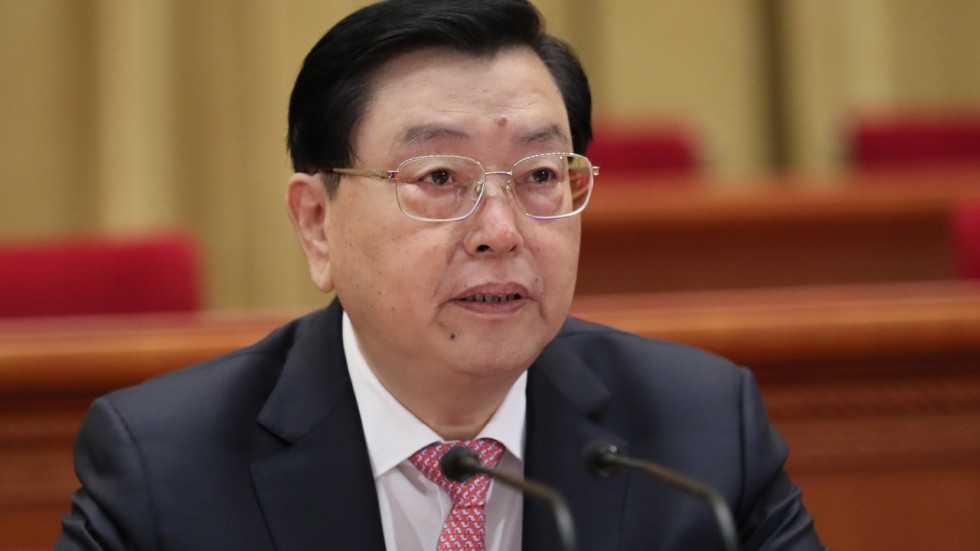 China's No 3 state leader on Saturday warned Hong Kong not to confront the central government over the "high degree of autonomy" it was promised and that it must enact its own national security laws, as he laid down Beijing's sternest and most detailed strategy for the city in recent years.
Zhang Dejiang announced that Beijing would "go into further details" about consolidating its sovereignty over Hong Kong in several areas, such as the pace of political reform, its power over the chief executive, and its authority to appoint and dismiss key officials.
The head of the National People's Congress also rejected the notion of separation of powers in Hong Kong.
Bar Association chief warns against making Basic Law interpretations by Beijing 'standard practice'
Speaking in the Great Hall of the People on the coming anniversary of Hong Kong's handover from Britain to China, Zhang defined the chief executive's role in the city as the "core" of an executive-led political system.
"Hong Kong's political structure is neither separation of powers nor led by the legislature or judiciary. It is an executive-led one, with the chief executive as the core," he said.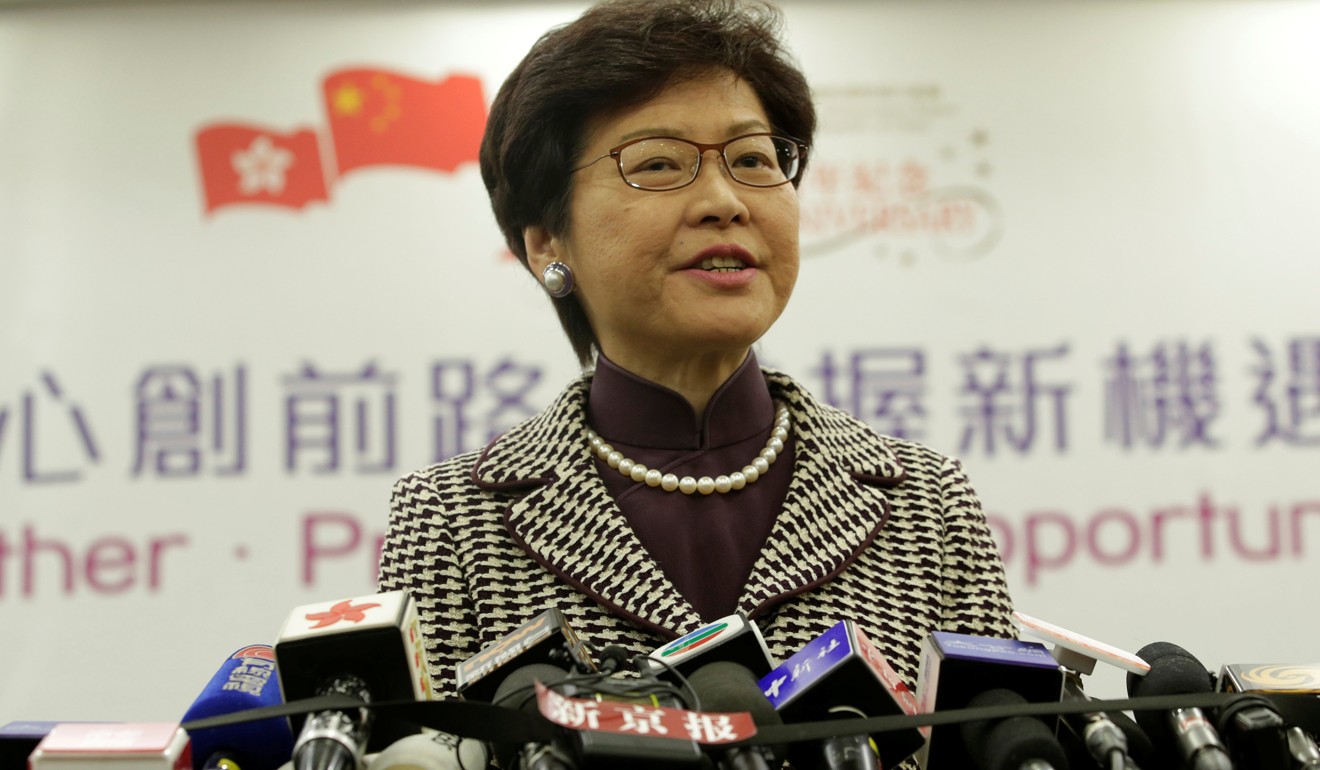 Under Article 23 of the city's mini-constitution, China enjoys "comprehensive" sovereignty over the city, said Zhang, who is chairman of the National People's Congress and the Communist Party's working group on Hong Kong.
He added that calls for self-determination or Hong Kong independence were attempts to shun that sovereignty.
"In recent years there were … attempts to turn Hong Kong into an independent or semi-independent political entity, breaking it away from the country," Zhang said.
"One cannot turn a blind eye to such acts, and the [Hong Kong] special administrative region should steadfastly implement the constitutional obligation of national security under the Basic Law."
Chief executive-elect Carrie Lam Cheng Yuet-ngor on Saturday reiterated her election manifesto stance that while legislating Article 23 was a constitutional obligation, "past experience tells us that the subject is highly controversial and could easily cause social disturbance".
The last attempt to enact the contentious legislation, in 2003, brought half a million Hongkongers out on the streets in protest.
All Hong Kong underground spaces 'belong to China', Basic Law expert says
Speaking months after Hong Kong's second and third highest-ranking officials clashed in the chief executive race, Zhang said it was necessary for the city's governing team to be made up of "patriots who sincerely support [China's] sovereignty".
The Basic Law also promises the city a "high degree of autonomy."
During his 50-minute speech on Saturday, Zhang addressed that autonomy directly, saying: "The relationship between the central government and Hong Kong is that of delegation of power, not power-sharing.
"Under no circumstances should the central government's powers be confronted in the name of a high degree of autonomy."
Observers were divided on the effect Zhang's comments would have on future policy.
Professor Lau Siu-kai, vice-chair of a leading Beijing-based think tank on Hong Kong, said Zhang's overall remarks were not new, while his call for national security laws was more like "saying it as a matter of principle".
But Johnny Lau Yui-siu, a veteran China commentator, voiced concern over Zhang's suggestion that Beijing would assess the ability of Hong Kong officials to support the Basic Law and to pledge allegiance to the nation and the city.
This article appeared in the South China Morning Post print edition as:
Beijing signals tighter grip
.