Like most American consumers of news, we've become accustomed to watching the Beltway commentariat run around like so many headless chickens with every non-story emanating from the Trump administration. We've learned to wait for verification, to double-check, and go back to original sources before believing alarming claims. For as often as not the five-alarm stories of the day turn out to be misleading or false.
But on Thursday, NBC News reported a story that was truly disturbing, and well-sourced enough to get our attention.
Here's the context: Last month, Turkish President Recep Tayyip Erdogan, an increasingly unreliable ally to the U.S., caught the Saudis red-handed murdering a dissident journalist on his country's soil. Although no respecter of human rights himself, Erdogan rightly sees that this outrage gives him some leverage, especially because President Trump has aligned himself with the Saudis against Iran and in favor of achieving a peace deal in Israel.
Editorial
Washington Examiner
Erdogan has therefore been relentless in publicly denouncing the Saudis. And officials from the Trump administration, watching the Saudi monarchy's current self-destruction, understandably want to salvage what chances there are for such a peace. So how to get Erdogan to back off of the Saudis? The Trump administration may be considering a human sacrifice.
One thing Erdogan has wanted consistently from the U.S. since 2016 is the head of Turkish cleric Fethullah Gulen on a platter. Erdogan has long blamed Gulen, without presenting any credible evidence, for masterminding the 2016 military coup against his regime.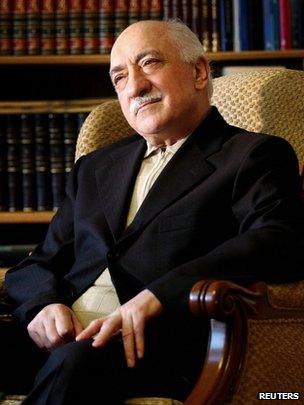 Fethullah Gulen
Gulen, the head of an international movement promoting a peaceful and tolerant vision of the Islamic religion in contrast to other movements, is a legal resident in the United States. If he really were responsible for the coup in Turkey, a NATO ally, the U.S. would extradite him. But until now, both the Obama and Trump administrations have resisted Turkish demands for his extradition. Even when Erdogan was holding pastor Andrew Brunson as a hostage on ludicrous, trumped-up charges, demanding Gulen in exchange, the Trump administration refused, citing the lack of evidence for Gulen's involvement in the coup, to say nothing of the zero-percent chance that Gulen would get a fair trial in Erdogan's Turkey.
Unfortunately, however, this might be changing. And this is where the worrying news story comes in.
NBC reported exclusively this week that White House officials made inquiries of the Justice Department about possibly removing Gulen from the United States in order to placate Erdogan. Officials specifically asked about two possibilities — extraditing the cleric to Turkey, where he would certainly be killed, or making him live in a third country such as South Africa, where he would merely be less safe.
We sincerely hope that such inquiries — especially the ones about extradition — are not an expression of actual Trump administration policy. It would be bad enough to sacrifice an innocent man's life or well-being in order to placate an unsavory dictator like Erdogan. It would be even worse to do it with the long-term goal of protecting a Saudi monarchy that has become a moral stain upon the earth.
Perhaps the U.S. has good long-term reasons to stand by the Saudis. But if so, it will have to justify the relationship on its merits, such as they are.
Human sacrifice has been out of fashion in America for the last 500 years. We sincerely hope there is nothing to these reports of the Trump administration's willingness to bring it back.
https://www.washingtonexaminer.com/opinion/editorials/dont-make-human-sacrifice-a-part-of-us-foreign-policy