AFP
BEIJING (AFP) – 
China announced on Thursday it would impose temporary anti-dumping measures on synthetic rubber imported from the United States, the European Union and Singapore.The case could stoke the simmering tit-for-tat trade tiff between Beijing and Washington, with each side having made threats of more duties on billions of dollars worth of goods.
China's commerce ministry repeated that the two sides were not negotiating on the issue — appearing to contradict US President Donald Trump's claim last week that the two sides were having "great discussions" on trade.
"The two sides have not conducted any bilateral negotiations on the US's section 301 investigation or the US's proposed list of Chinese products to tax," ministry spokesman Gao Feng told a regular press briefing.
The US section 301 investigation focuses on what Washington describes as Beijing's intellectual property breaches, including a failure to respect foreign patent holders.
When asked if China had underestimated the Trump administration's resolve on trade, Gao shot back: "We hope the US will not underestimate China's resolve."
He warned that Beijing would fight back against any "erroneous scheme" by the US that would attempt to "contain China's development and force China to yield".
"On the surface the US's actions are targeting China, but actually it is harming itself," Gao said.
The anti-dumping measures on rubber come after an initial investigation by China's commerce ministry found evidence the countries were dumping the halo-isobutene-isoprene rubber.
Importers were directed to place deposits with China's customs department ranging in amount from 26 percent to 66.5 percent of the goods' cost — to be applied against the imposed tariffs if the ministry finds dumping in its final ruling.
The dumping did "substantial damage" to China's domestic industry, the commerce ministry said in a statement.
The US and Singapore are China's main foreign sources of the synthetic rubber, with imports from the two countries respectively totalling $153 million and $115 million last year.
It follows a similar case from Tuesday when China decided to slap provisional anti-dumping duties on imports of US sorghum.
*******************************************
BBC News
China imposes anti-dumping deposits on US sorghum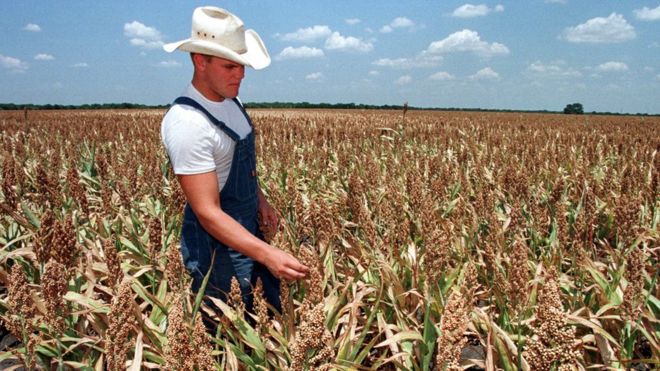 China has announced a hefty anti-dumping move against US sorghum imports, as a multi-billion dollar tit-for-tat trade spat between the two nations continues.
China said US importers would have to pay a temporary 178.6% deposit on the value of their imports from Wednesday.
China initiated its investigation into US sorghum imports in February.
US growers were "deeply disappointed" with the findings and are considering legal action in response.
Sorghum is a grain used primarily to feed livestock, but it is also used to create ethanol, or drinking alcohol.
The US is the world's leading producer of sorghum, and is the largest supplier of sorghum to China. China uses its sorghum imports to feed its farm animals, and in its spirits industry.
Analysts said the temporary anti-dumping deposit imposed by China, which comes ahead of a possible anti-dumping tariff on the product, was quite high and that some US shipments in the future could be cancelled as a result.
China's announcement follows months of trade tariffs – and threats of tariffs – imposed by the US and China on each other.
The US claims that China has unfair intellectual property practices, such as those that have allegedly pressurised US companies into sharing technology with Chinese firms when doing business in the country.
US President Donald Trump is primarily using big trade threats aimed at China as a way to make it stop what he calls "illicit trade practices".
In a move that was expected to appease the US, China said this week it would allow full foreign ownership of car firms by 2022, changing the rules that require global carmakers to work through state-owned partners.
Beijing meanwhile continues to claim that the US is dumping products at cheaper-than-market prices into China, which is hurting Chinese farmers and manufacturers. It also says the US it is unfairly punishing it with tariffs, and has continued to say it is not afraid of a trade war.
Separately, as tensions continue to rage between the two trading giants, the US said this week it was imposing a seven-year ban on US firms selling parts to China's big phone maker, ZTE.
The United States Trade Representative has said it will review China's move on US sorghum and will consider taking it to the World Trade Organization.
Behind the sorghum development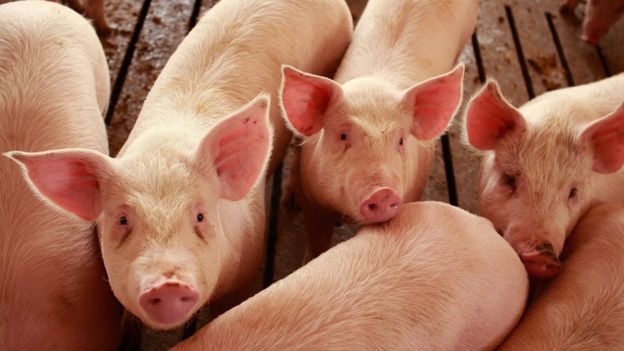 China's investigation into its sorghum industry, launched in February, has found that US firms have been selling sorghum into China at below market prices, which is a practice known as dumping.
China has said that the market share of American sorghum jumped from 8% in 2013 to 61% in 2016 and that the price of imported sorghum from the US had edged down from $289.61 per tonne in 2013 to $214.78 per tonne in 2016.
"Due to the flood of cheap imports, Chinese industry has been damaged in terms of production and financial condition," China's Ministry of Commerce told reporters in February.
But industry groups in the US said American sorghum was not being dumped in China, and that their sorghum producers and exporters had not caused any injury to China's sorghum industry.
"[This] decision in China reflects a broader trade fight in which US sorghum farmers are the victim, not the cause," the US industry group National Sorghum Producers said.
"And US sorghum farmers should not be paying the price for this larger fight."
Few winners in a trade war
Some analysts have said China's latest move was in response to controversial tariffs on imported washing machines and solar panels.
Others have said the timing of the investigation was a coincidence and that the new deposit tax was not officially related to any specific measure, but simply about sorghum being dumped into the Chinese market.
"China does seem to have sufficient cause to launch an investigation given [its figures on sorghum imports from the US]," Deborah Elms from the Asian Trade Centre told the BBC.
But she also warned that both sides could be hurt by China's latest move.
"US farmers will be hurt in the short term, as my understanding is that these crops are largely planted for export to China," Ms Elms said.
"In the longer run, Chinese farmers may suffer as they rely on these imported products as feedstock for their animals. They can shift to other sources, but this will take time and presumably cost more," she continued.
"In a trade war, there are often few winners. The winners, in this case, are likely to be producers of alternative feedstock in other countries like Canada or Vietnam."