CEOs' relationship with the president had some tense moments, but most corporate chiefs welcomed the big corporate tax cut and push to ease regulations
WASHINGTON—The tax overhaul that President Donald Trump signed into law last month capped a year in which his initiatives on taxes, regulation—and many of his public pronouncements on the economy—have been broadly welcomed by business.
It hasn't all been smooth sailing for the president most closely aligned with business interests in decades: he was roundly criticized for his remarks about a deadly white supremacists' rally in Charlottesville, Va., last August. After that, several CEOs resigned in protest from his business advisory councils, although administration officials say they had largely fizzled out by then.
In pure policy terms, however, business groups and executives say the $1.5 trillion of corporate-focused tax changes and the bevy of completed and proposed rule changes aimed at cutting regulatory burdens on business have made 2017 a net success for business.
"If Hillary [Clinton] had been elected, we would have had more regulation and higher taxes," said Byron Wien, an executive at Blackstone Group L.P . , on a recent investor call. "Trump was elected; we have less regulation and lower taxes."
TRUMP'S FIRST YEAR
Stock Market Roared During Donald Trump's First Year, Boosted by Earnings and Tax Cut
Heading into his second year, the president faces some significant decisions that could create tension with business on issues executives care about, such as trade, immigration and health care.
Some of this was captured by Chamber of Commerce President Tom Donohue last week in his annual address on the state of business. He urged the president not to pull out of the North American Free Trade Agreement, to preserve temporary residency for some 200,000 workers the administration wants to deport and to avoid a confrontation with North Korea. Mr. Donohue also offered support to embattled tech firms who have come under new scrutiny in the past year.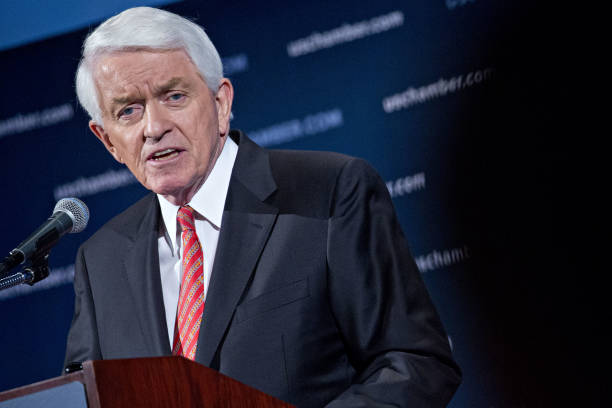 Chamber of Commerce President Tom Donohue
Trade presents some particularly difficult decisions. Nafta, and the president's threat to pull the U.S. out of it, remains a concern both for U.S. companies that have grown up around the free trade it brought to the continent, and farmers who have taken advantage of markets in Mexico and Canada that the pact has opened for their exports.
China brings its own set of challenges. Many multinational companies and ardent free-traders have grown frustrated, along with Mr. Trump, with what they see as Beijing's backsliding on market-opening promises in recent years. Even many officials from the previous Obama administration now say they should have steered a harder line on Chinese trade practices, while many business groups share Mr. Trump's criticisms of China.
Still, the companies are nervous about how his administration will ramp up pressure on Beijing. While American executives generally still favor intensified negotiations over trade sanctions, they worry that Trump aides will deploy tariffs, quotas and investment limits that could prompt swift retaliation, triggering a costly trade war.
In October, the U.S. Trade Representative's office held a public hearing seeking business input for a continuing probe into widespread complaints about China forcing U.S. companies to turn over intellectual property. While many witnesses confirmed the problems and said they supported the Trump administration probe, they warned against overreach.
Erin Ennis, a top official at the U.S.-China Business Council, cautioned against "simply seeking to impose penalties or to restrict trade which could have the effect of inhibiting commercial cooperation that benefits U.S. companies and U.S. citizens."
China's new air liner — C919
Business leaders are also eager for the Trump administration to make good on a push to refurbish the nation's infrastructure, which has raised expectations for companies across the economy, especially in heavy machinery and construction services. But an almost certain fight looms over how to pay for it, conspiring with election-year pressures to make it that much more difficult.
Other promises from the administration and allies in Congress—like an effort to rein in entitlement programs—are viewed with even more skepticism as the time before midterm congressional elections dwindles.
"Mark my words, there is no way in hell that they are that dumb to take up Medicare or Social Security in the election year," said Tommy Thompson, the former Republican governor of Wisconsin and a board member of Centene Corp. , which administers some health programs, at a presentation for investors. "It would be tantamount to saying, 'We don't want to govern anymore.'"
Mr. Thompson said a bipartisan infrastructure bill could have a chance of passage, and an attempt to dig into more divisive issues, such as Social Security and Medicare, could come in 2019.
While executives have praised Mr. Trump's efforts to slash rules—especially those put in place by his predecessor, Barack Obama —many of them could end up in court, to be fought all over again. That includes the Federal Communications Commission's December action dismantling Obama-era "net neutrality" rules that required internet-service providers to treat all traffic on their networks the same. Another is Mr. Trump's reversal of his predecessor's "clean power plan," along with a number of other energy and environment rules.
For some executives, life under Mr. Trump has sometimes meant reassuring investors that their companies aren't his targets—a reference to both his policies and his actions during the presidential campaign, when he singled out companies such as United Technologies Corp. and Lockheed Martin Inc. for criticism.
On an investor call earlier this month, the chief executive of Lakeland Industries Inc., a New York-based maker of protective clothing and work gear, sought to reassure analysts that the Trump administration's efforts to curb trade deals were aimed at changes in the automotive industry, and wouldn't hurt Lakeland's business.
"The apparel business," CEO Christopher Ryan said, "is not what Mr. Trump is trying to change."
Business advocates are hoping to channel the administration's energies in the coming year, as Mr. Trump hopes to pivot to infrastructure and entitlement changes.
"Business is determined to be a voice of reason and a bridge between sides," Mr. Donohue said. "We're determined to help, and when necessary, correct our government as it does the nation's business."
—Jacob M. Schlesinger contributed to this article.
Write to Ted Mann at ted.mann@wsj.com