AFP
© AFP/File | Turkish President Recep Tayyip Erdogan has been criticised by the EU for mass arrests in the country following the failed 2016 coup
BRUSSELS (AFP) – 
An EU 2018 budget deal was announced Saturday that cuts funds destined to Turkey, citing doubts about Ankara's commitment to democracy and human rights.German Chancellor Angela Merkel had led calls for a cut to the funds, which are linked to Turkey's stalled bid to join the bloc, following mass-scale arrests in the country since the failed July 2016 coup.
MEPs and member states have agreed to reduce the "pre-ascension funds" by 105 million euros ($124 million) and froze an additional 70 million euros of previously announced spending.
In a statement, lawmakers said "they consider the deteriorating situation in relation to democracy, rule of law and human rights worrying".
Turkey has dismissed more than 140,000 officials since the coup attempt, and arrested another 50,000, including opposition politicians, academics, journalists, activists and EU citizens.
The German government has warned its citizens against travelling to Turkey as they risk "arbitrary" arrest.
"We have sent a clear message that the money that the EU provides cannot come without strings attached," said Romanian MEP Siegfried Muresan, the lead rapporteur for the budget.
Europe had pledged 4.45 billion euros in pre-accession spending for Turkey from 2014 to 2020, but only 360 million euros has been allocated so far.
Ankara's application to join the EU is effectively frozen, as several European leaders have criticised the hardline response to the thwarted bid to overthrow President Recep Tayyip Erdogan last year.
Overall, the 2018 budget calls for 160 billion euros of committed spending for ongoing programmes and 145 billion in payments expected for the year, increases of 1.3 percent and 7.8 percent from 2017.
The agreement still needs to be formally adopted by the EU Council, representing member states, and the European Parliament.
*********************************************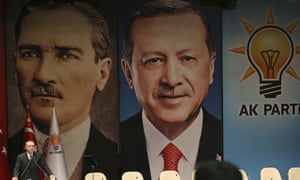 Nato's secretary general has apologised to Turkey over military exercises in Norway during which Turkey's founding leader, Mustafa Kemal Ataturk, and its president, Recep Tayyip Erdoğan, were reportedly depicted as "enemies".
Erdoğan said Turkey withdrew 40 soldiers participating in the drills at Nato's joint warfare centre in Stavanger, Norway, in protest at the incident and criticised the alliance. "There can be no such unity, no such alliance," he said in an address to his ruling party's provincial leaders.
Details of the incident were sketchy. Erdoğan said Ataturk's picture and his own name were featured on an "enemy chart" during the drills.
The individual who posted the material was described as a Norwegian civil contractor seconded by Norway, and not a Nato employee.
Nato secretary general Jens Stoltenberg issued a statement saying: "I apologise for the offence caused." He said the incident was the result of an "individual's actions" and did not reflect the views of the alliance.
He added that the individual was removed from the exercise and an investigation was underway. "It will be for the Norwegian authorities to decide on any disciplinary action," Stoltenberg added. "Turkey is a valued Nato ally, which makes important contributions to allied security."
Stoltenberg apologised again at the Halifax international security forum in Canada. He said he had already spoken to Turkey's defence chief and that it "won't create any lasting problems, and I think it's already behind us".
Norway's defence minister, Frank Bakke-Jensen, also expressed his concerns about the incident. "The message does not reflect Norway's views or policies and I apologise for the content of the message," Bakke-Jensen said.
The joint warfare centre is a multinational Nato unit based in Stavanger, 300km south-west of Oslo. According to its website, it has a staff of 250 made up of civilians from 11 Nato member states, including Turkey.
In March, the Norwegian government caused fury in Turkey by granting political asylum to five Turkish officers based in Norway who had refused to return home after the failed July 2016 coup attempt in Turkey. The five officers said that they feared being arrested and tortured.