Mr Kushner holds separate talks with Israeli Prime Minister Benjamin Netanyahu and Palestinian President Mahmoud Abbas
By Alexandra Wilts Washington DC
The Independent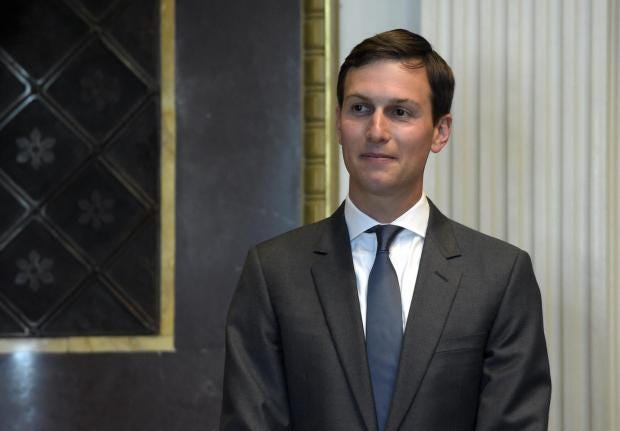 White House senior adviser Jared Kushner AP
Jared Kushner, Donald Trump's son-in-law and top White House adviser, has met Israeli and Palestinian leaders with the aim of helping revive a US effort for a peace deal.
A former real estate developer with little experience in international diplomacy, Mr Kushner met the Israeli Prime Minister Benjamin Netanyahu before travelling to Ramallah, located in the Israeli-occupied West Bank, for a late-night meeting with the Palestinian President Mahmoud Abbas.
Jared Kushner with Mahmoud Abbas (Photo: Getty Images)
Mr Netanyahu warmly greeted Mr Kushner with a smile and hug. "This is an opportunity to pursue our common goals of security, prosperity and peace," Mr Netanyahu said. "The President sends his best regards and it's an honour to be here with you," Mr Kushner replied.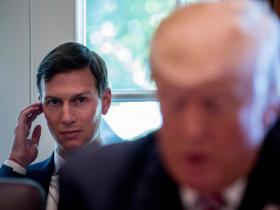 Mr Kushner's trip follows the President's visit to the region last month, when Mr Trump also had discussions with the Israeli and Palestinian leaders. Appearing at a press conference with Mr Netanyahu in Jerusalem, Mr Trump declared that the Palestinians are "ready to reach for peace".
Mr Kushner played a key part in planning Mr Trump's stops in Israel, Saudi Arabia and Rome during the President's tour abroad. The 36-year-old also appears to be taking on a more public role in his father-in-law's administration, giving his first public remarks as a White House adviser this week.
The President has tasked Mr Kushner with the ambitious goal of laying the groundwork for what he calls the "ultimate deal," but significant obstacles remain
This month marked the 50th anniversary of the 1967 Mideast war — a seminal event in which Israel captured the West Bank, east Jerusalem and the Gaza Strip.
The Palestinians claim these territories for their future independent state. Mr Netanyahu opposes a return to the 1967 lines and also rejects any division of Jerusalem. The eastern part of the city, which the Palestinians claim as their capital, is home to sensitive Jewish, Muslim and Christian holy sites.
The White House appeared to play down expectations for a breakthrough ahead of the visit, saying that "forging a historic peace agreement will take time" and that Mr Kushner and envoy envoy Jason Greenblatt will likely make "many visits" to the region.
For now, the United States is expected to pressure each side to make goodwill gestures in hopes of improving the overall climate.
Mr Greenblatt landed in Israel on Monday for preliminary talks in both Jerusalem and Ramallah, and will also remain for follow-up discussions after Mr Kushner has left.
"Part of it is to figure out how to make incremental change that results in a lasting peace," Sean Spicer, the White House press secretary, said on Monday. "Part of this is really to utilise the trust that has been built up, and not have these negotiations out in public. But I think that they had a very successful visit when the President was over there, and they're going to continue to build on that."
For more than 20 years, the US has pushed for a "two-state solution", meaning an independent Palestinian state living side-by-side and at peace with Israel.
But during a February meeting with Mr Netanyahu in Washington DC, Mr Trump declared that he was not fixed on two states saying, "I'm looking at two-state and one-state, and I like the one that both parties like".
Discussions over a peace deal will mean putting pressure on Israel to restrain its construction of settlements on occupied lands sought by the Palestinians. It also could mean working with Israel to take new steps to help improve the struggling Palestinian economy, such as easing restrictions to allow more development of West Bank lands.
However, hours before Mr Kushner's arrival in Israel for his 20-hour vist, Mr Netanyahu announced the beginning of construction on a new Jewish settlement in the West Bank, despite the White House's position that "further unrestrained settlement activity does not help advance peace". In the past, the Palestinians have called for a stop to settlement building before any peace negotiations can occur.
"This is the way Mr Netanyahu is meeting Trump's envoys," said Mustafa Barghouti, a Palestinian official told Reuters. "The real question here is will the administration of Trump tell Israel that it is enough and they have to stop immediately all settlement activities, or they will accept this Israeli provocation?"
Mr Netanyahu had vowed to compensate the residents of Amona with a new settlement, after their previous illegally built outpost was dismantled in February under orders from the Supreme Court.
As for the Palestinians, they are under pressure to halt what Israel sees as incitement to violence in their official media, speeches and social media.
Israel has also demanded that the Palestinians stop making welfare payments to families of militants who are either imprisoned or were killed while committing attacks on Israelis. Israel says the so-called "Martyrs' Fund" provides an incentive for Palestinian violence.
After arriving early on Wednesday Mr Kushner paid a condolence visit to the grieving family of a young female Israeli police officer who was killed by Palestinian attackers last weekend in Jerusalem. Mr Kushner said Mr Trump asked him to personally convey the condolences of the American people.
http://www.independent.co.uk/news/world/americas/us-politics/jared-kushner-israel-middle-east-peace-deal-visit-jerusalem-donald-trump-a7801431.html
Reuters contributed to this report