By lowering journalistic standards, the American press has waged an unrelenting media war against Donald Trump. Often it's been unfair. But never mind; it sells! And we get lots of "clicks" on social media…. Everybody gets a good laugh….
The Free Press is supposed to govern itself responsibly….
**************************************
Imagine that a scientist wanted to conduct an experiment to see if it's true that blind hatred of President Trump has led Democrats and their media handmaidens to go 'round the bend and off the cliff.
Such a scientist would inject a damning — and false — media report about Trump into the political bloodstream, then observe the reactions. It wouldn't take long.
The Gotcha! glee, the declarations of Trump's certain impeachment for suborning perjury, reckless references to Richard Nixon, the breathless anticipation of resignation and disgrace, perhaps prison — these and other overheated reactions quickly clogged the airwaves and Internet, growing ever more bold as the day wore on and no compelling rebuttal appeared.
Then, suddenly, the scientist pulled the plug on the experiment. He had seen enough to prove the thesis: Much of America, many of its leaders and some of its most prominent institutions are indeed gripped with madness.
By Michael Goodwin
Commentary
Hatred for the president has corrupted their judgments and blinded them to duty and decency. Having succumbed to prejudice and rage, they have proven themselves unworthy of public trust.
Case closed.
Sometimes, life is stranger than fiction. Friday was such a day in America. It was a shameful spectacle.
The BuzzFeed News report that special counsel Robert Mueller had corroborating evidence that Trump had instructed his former lawyer, Michael Cohen, to lie to Congress about a Moscow commercial project set the anti-Trump mob on fire. It was the bombshell development Dems and 90 percent of the media have dreamed of — and finally it was here. Oh, Happy Days!
Except it wasn't true. Mueller said so in an unprecedented debunking that slammed the brakes on the celebration.
Mueller's statement, though brief, was specific and thorough enough to rip out the guts of the report. It said: "BuzzFeed's description of specific statements to the Special Counsel's Office, and characterization of documents and testimony obtained by this ­office, regarding Michael Cohen's Congressional testimony are not accurate."
The site's editor and others called the statement inadequate, but that was wishful thinking. The party was over because prosecutors denied the sensational central claim of the story, that they had gathered evidence beyond doubt that Trump had committed a crime.
While BuzzFeed alone created the false report, which was based, naturally, on anonymous sources, it was not alone in revealing its desire to be rid of Trump. Much of the political class embraced the story without doubts because they wanted it to be true. Dems in Congress instantly pledged investigations.
Then there are the so-called journalists who swallowed the ­report without trying to confirm it themselves. Many touted it as the Holy Grail while inserting the ridiculous phrase, "if it's true."
Not so long ago, no respected journalist or news organization would go public with something unless they had enough evidence to reach the conclusion it was true. The bigger the story, the higher the threshold of necessary evidence.
Not Friday. Then the biggest possible story was presented with the least possible evidence. "If it's true" is an admission of malpractice.
To use it as a shield while reporting an accusation of massive significance violates every conceivable standard. Real journalists do not report something, then caution that it may not be true.
You certainly don't accuse the president, or anyone else, of a crime unless you are persuaded by evidence it is true.
I have my doubts the media will do the necessary soul searching. As I have argued repeatedly since 2016, too many outlets are too invested in getting the scoop that brings down the president they love to hate. They have trashed their standards, and Friday was the inevitable result.
But there is another possible silver lining emerging from the dark day, and I have more hope this one will make a difference. It is it a recognition that the endless Mueller probe has become a problem of its own making.
It is not healthy that a prosecutor has become like a divine oracle, with the nation's mood hanging on first his silence, then his statement. The Wizard of Mueller has no place in our democracy.
Such power is too easily abused, and Mueller, whatever his personal and professional virtues, has gotten too big for America's good.
Fortunately, he will soon have a real and worthy boss. William Barr is almost certain to be the new attorney general, ending a reign of error that began with the hapless Jeff Sessions and continued with his deputy, Rod Rosenstein.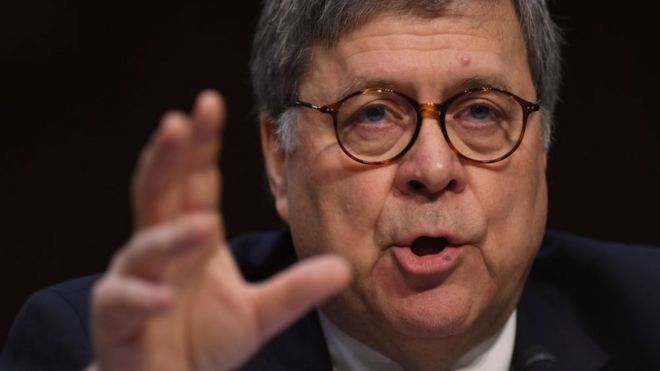 William Barr
Sessions' recusal from the Russia probe because he was a prominent Trump campaign supporter is the bane of the Trump presidency. Rosenstein, for reasons known only to himself and perhaps Mueller, panicked when Trump fired James Comey, the corrupt FBI boss, and decided to appoint a special counsel.
Yet Rosenstein wrote a memo justifying the Comey firing and participated in conversations about it, facts that gave him more conflicts than Sessions ever had. Equally troubling, Rosenstein, a career mid-level prosecutor, proved incapable of properly supervising Mueller, whose reputation and gravitas far exceeded that of his putative boss.
As a result, Mueller has operated without restraint or guidance, with abuses and conflicts of interest on his team swept aside in what too often looks like a determination to knock off a duly elected president.
Barr, I believe, will be the antidote to this destructive situation. He is, as I wrote last week, "a respected adult" who can tame the waters in the Justice Department and get to the bottom of the anti-Trump cabal that has robbed the FBI of its reputation for fair play.
And he will not be a pushover for anyone. Barr, who was AG under the first President Bush, has a first-rate legal mind and a mature self-confidence born of experience, both of which he demonstrated at his confirmation hearings.
"I have a very good life, I love it," he said in response to a question about his independence, "but I also want to help in this circumstance. I will not be bullied into doing anything I think is wrong by anybody, whether it be editorial boards, the Congress or the president. I'm going to do what I think is right."
The comments were widely interpreted as a warning to the president, and they were in some sense. But they were also a warning to anyone in Washington who would abuse power and corrupt key institutions for political purposes, whether in the media, Congress or the FBI.
Robert Mueller
That includes the special counsel. Mueller is not exempt from the laws of common sense and fairness. When it comes to Trump, he must fish or cut bait.
After nearly two years of investigating, on top of a 10-month FBI probe he inherited, Mueller needs to show his cards. The country cannot continue to thrash about with uncertainty over events that took place three years ago. The void is being filled with partisan trash and dangerous discord.
As Friday proved, America needs clarity and finality, and it needs them now.
https://nypost.com/2019/01/19/the-medias-gotcha-hysteria-is-shameful/
********************************************
Democracy depends on a free press — But the Free Press is supposed to govern itself responsibly
In the summer of 1787, the nation's most influential lawyers, generals and politicians gathered in Philadelphia with a single purpose: To create a government that was ruled by the people instead of one that ruled them.
The first words of the Constitution underscored this principle: "We, the people, of the United States of America . . ."
To protect the people's power, our Founding Fathers carefully divided the government into three branches. With this system, no one person or governmental branch could ever rule with absolute authority.
The checks and balances provide a framework for the government. However, the cornerstone of our democracy is the unique privilege and responsibility of every citizen to be engaged through voting, public offices, representation in Congress and myriad other ways.
For a society to be responsible and powerful, it must be informed. Our free press, protected by the first constitutional amendment, plays a critical role in ensuring that every American has constant access to important and trustworthy news.
Thomas Jefferson said, "Were it left to me to decide whether we should have a government without newspapers, or newspapers without a government, I should not hesitate a moment to prefer the latter. But I should mean that every man should receive those papers and be capable of reading them."
As he emphasized, this free flow of information to the public is essential to preserving our American democracy. In addition to educating and reporting, the press serves as the public's independent watchdog, charged with keeping governments, businesses and other organizations in check.
What other institution has the power to talk to key leaders, inspire social change and uncover corruption, while analyzing and providing context for major global events? Thanks to diligent reporting, citizens are empowered to take a stance on critical issues, enact change and demand the best from their leaders.
Recent headlines have demonstrated that we can't take the power of the press for granted. After it was revealed this summer that the government secretly obtained AP phone records and the email content of Fox News reporter James Rosen, while also ruling that New York Times reporter James Risen must disclose his confidential sources, it became clear that confidential sources and the integrity of the newsgathering process must also be specifically protected.
Without a free press that can defend its sources, American democracy will suffer. The Newspaper Association of America applauded the vote last week by the Senate Judiciary Committee to approve the Free Flow of Information Act for vote in the Senate. This bill represents a critical step in preserving the public's right to know while still ensuring effective law enforcement.
While we celebrate this, we know that news organizations and the government itself comprise only a piece of the equation. To have a strong democracy and educated citizenry, it is up to you to take advantage of your opportunities to be engaged. It is up to you to stay informed by reading newspapers, visiting their websites or accessing their news apps, and up to you to show up at the polls on Nov. 5.
The Constitution was ratified on Sept. 17, a day that we continue to commemorate every year as the birth of our uniquely American government. There is no better way to honor our Constitution and our founding fathers than by exercising our individual right to be informed.
https://www.miamiherald.com/opinion/op-ed/speak-up/article1955056.html
*****************************************
Free Speech in American Democracy
Speech is not entirely free in Europe. There are certain views you are prohibited from publicly expressing there, and they seem to have well-functioning democracies.
Why must we hold to such an absolutist view on free speech? Are we not giving aid and comfort to the opponents of the republic by allowing them to utter such vile words? Is it not wiser to leaven the First Amendment with a prudent disregard for the fringes?
If we understand free speech in purely liberal terms — i.e. as a self-evident right — then these questions seem to have merit. After all, we restrict other rights for the sake of the public welfare. Most of them can be taken away, so long as it is done so with "due process." And the process that is due, in many respects, is conditioned by the political, social, and economic climate of the day. Why not speech?
But the First Amendment is not merely an expression of liberal freedom, but of republican freedom as well. The liberal conception of liberty defines it as absence of government interference from your life — or, in its 20th-century evolution, liberty means that the government provides for a certain standard of living. But the republican notion of liberty is different. A free republic is one in which people are governed by laws that they themselves have a hand in making. From this perspective, freedom of speech needs to remain nearly absolute.
To appreciate this, consider the efforts of the man most responsible for the Bill of Rights, James Madison.
Madison was not so much the author of the Bill of Rights, but its editor. He was initially opposed to the project; the structure of the Constitution offered sufficient protection for civil liberty, he thought, and he feared that an enumeration of rights would imply a limitation to them. But the ratifying conventions in many states had approved the Constitution, with suggested revisions. Madison, who viewed these conventions as tribunes of the popular will, took their recommendations seriously. As George Washington's de facto prime minister during the first session of the First Congress, he refined the wide array of proposals into what ultimately became the Bill of Rights.
In The Federalist Papers, Madison can come across as deeply suspicious of popular government. In Federalist No. 10 he bemoaned the "violence of faction" and sought to design a government that can corral the inherently selfish passions of humanity. In Federalist No. 51, he added checks and balances as "auxiliary precautions" to further thwart misrule.
Yet this is only one side of the Madisonian coin. Admittedly, he wanted to slow the tempo of government down to a crawl, to prevent fractious majorities from railroading minority rights and undermining the public welfare. But he also hoped to promote a robust intercourse of sentiments, so that — in due course — public opinion would cohere around principles of justice and the general welfare. Government had to move slowly and cautiously, but public discourse should be vigorous and unfettered.
"Public opinion," he wrote in the National Gazette, in December 1791, "sets bounds to every government, and is the real sovereign in every free one." But in a large republic such as the United States, it is "less easy to be ascertained, and . . . less difficult to be counterfeited." It was thus key, he argued, to facilitate "a general intercourse of sentiments," which included roads and commerce, as well as "a free press, and particularly a circulation of newspapers through the entire body of the people."
In Madison's view, a free republic depends ultimately upon public opinion. A Constitution could divide power this way and that, but in the end it is the people, and only the people, who rule. And for the people to rule wisely, they have to be able to communicate with one another — freely, without fear of reprisal. Thus, freedom of speech and press were not, for Madison, merely God-given rights. They were preconditions for self-government.
Conversely, Madison believed that those who sought to restrict speech revealed themselves to be opponents of republicanism. They wished to prevent public opinion from cohering, thus making it easier to counterfeit. This is why Madison and Thomas Jefferson — Jefferson himself was a staunch republican — reacted so strongly to the Alien and Sedition Acts of 1798, which restricted immigration and made it a crime to print "libelous" comments about government officers. Madison and Jefferson's Virginia and Kentucky Resolutions called for state intervention to correct the abuses of the government (for Madison this implied "interposition," but for Jefferson it could include "nullification"). Decades later, their resolves would be repurposed for the cause of secession, but they were actually an effort to prevent the Federalist party under John Adams from undermining the very basis of the national republic itself.
Our First Amendment freedoms give us the right to think what we like and say what we please. And if we the people are to govern ourselves, we must have these rights, even if they are misused by a minority.
Madison's tenure as president — 1809 to 1817 — has come in for a good bit of criticism over the years. It was, in many respects, an unspectacular administration, in no small part because of the disappointments of the War of 1812. But it is easy to overlook that although Madison was managing a relatively unpopular and difficult conflict, he did not sanction the abridgement of civil liberties. On the other hand, Abraham Lincoln, Woodrow Wilson, and Franklin Roosevelt — all of whom tend to score higher in historical rankings — did not show such restraint. This speaks well of Madison's commitment to the importance of free speech.
None of this means that we should excuse the boorish and ignorant among us, those who seek to incite popular unrest for the sake of their small-minded prejudices. Instead, Madison's commitment to free speech should serve as a reminder that, while people say things that we might find personally offensive, we should never wish the state to squash their right to do so. Our First Amendment freedoms combined — freedom of religion, of assembly and petition, of press and speech — give us the right to think what we like and say what we please. And if we the people are to govern ourselves, we must have these rights, even if they are misused by a minority.
As we confront those who use their right to free speech to abuse the norms of decency and civility, we should calmly recall Jefferson's admonition from his first inaugural address. "If there be any among us who would wish to dissolve this Union or to change its republican form, let them stand undisturbed as monuments of the safety with which error of opinion may be tolerated where reason is left free to combat it."
https://www.nationalreview.com/2017/09/james-madison-free-speech-rights-must-be-absolute-nearly/