A news bulletin shows the distance between North Korea and Guam at a railway station in Seoul. Photograph: Jung Yeon-Je/AFP/Getty Images
North Korea has defied threats of "fire and fury" from Donald Trump, deriding his warning as a "load of nonsense" and announcing a detailed plan to launch missiles aimed at the waters off the coast of the US Pacific territory of Guam.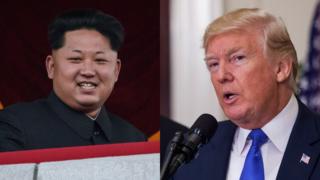 A statement attributed to General Kim Rak Gyom, the head of the country's strategic forces, declared: "Sound dialogue is not possible with such a guy bereft of reason and only absolute force can work on him". The general outlined a plan to carry out a demonstration launch of four intermediate-range missiles that would fly over Japan and then land in the sea around Guam, "enveloping" the island.
General Kim Rak Gyom
"The Hwasong-12 rockets to be launched by the KPA [Korean People's Army] will cross the sky above Shimani, Hiroshima and Koichi prefectures of Japan," the statement said. "They will fly for 3,356.7 km for 1,065 seconds and hit the waters 30 to 40km away from Guam."
The statement said the plan for this show of force would be ready by the middle of this month and then await orders from the commander-in-chief, Kim Jong-un.
The statement was clearly designed as a show of bravado, calling the Trump administration's bluff after the president's threat and a statement from the defence secretary, James Mattis, both stressing the overwhelming power of the US military. "North Korea best not make any more threats to the United States. They will be met by fire and fury like the world has never seen," Trump said on Wednesday.
The response from Pyongyang was its most public and detailed threat to date, and evidently meant to goad the US president. Trump had "let out a load of nonsense about 'fire and fury' failing to grasp the ongoing grave situation. This is extremely getting on the nerves of the infuriated Hwasong artillerymen of the KPA."
The US has a naval base in Guam and the island is home to Andersen air base, which has six B-1B heavy bombers. According to NBC news the non-nuclear bombers have made 11 practice sorties since May in readiness for a potential strike on North Korea. The remote island is home to 162,000 people.
Read the rest:
https://www.theguardian.com/world/2017/aug/10/north-korea-details-guam-strike-trump-load-of-nonsense