Did the president mindlessly pick fights, or did he deliberately choose his targets to speak to middle America?
Aug. 28, 2017 11:07 a.m. ET
Here are two ways of looking at how President Donald Trump has spent his August:
He has ruined the month—perhaps even his presidency—by mindlessly picking fights with Republican congressional leaders and the media, and by wallowing in divisive cultural issues rather than pushing his economic agenda.
But here is another:
Rather than stumble and fumble into these controversies, Mr. Trump has quite deliberately chosen his issues and his enemies.
He has drawn attention to cultural issues—immigration, his border wall, defending Confederate symbols, Maricopa County Sheriff Joe Arpaio—precisely because they speak clearly to middle America. There, they resonate with both his core supporters and a wider universe of people who don't love the president but think the nation's elites have walked away from them on social issues.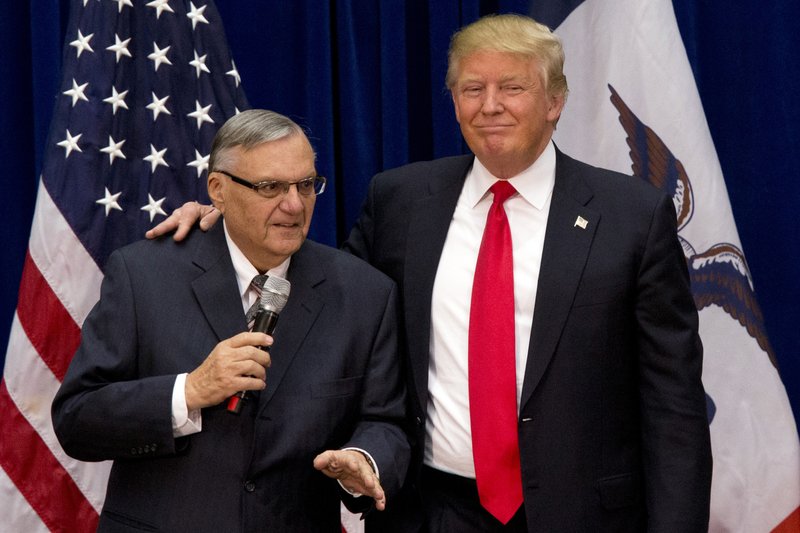 Similarly, he has picked his targets for wrath—the media and the Republican establishment—carefully rather than cavalierly.
Targeting the news media is a winner with his base as well as a much broader segment of GOP votes. And by attacking Republican Senators, he is trying to be sure they are blamed rather than him for failures on health care—while also creating grass-roots pressure on them to atone for that failure by delivering on tax reform this fall.
"He's framing the fall," says Jason Miller, who was communications director of the Trump campaign and maintains close ties to the White House. "I think the president masterfully knows how to work the synergy of this counterculture, anti-Washington-elite sentiment to help him push forward on his agenda."
In short, perhaps Mr. Trump is simply doing exactly what he did during last year's presidential campaign, which is to use controversy and even seeming chaos to show that he stands apart from establishment forces that many Americans think have failed them. He won by running essentially as a political independent and, after seven rocky months in office, he appears to be gambling on that course again.
That doesn't mean this is the wisest approach, or that it won't blow up in the president's face. It's certainly risky to think that angering rather than wooing congressional leaders of his own party is going to produce a productive working relationship this fall. It's equally hard to grasp why Mr. Trump is pursing this approach after having eased out of the White House its main proponent, Steve Bannon.
Still, it isn't mindless. It is controversy generated for a purpose.
Trump aides believe—and there is ample evidence to support them—that cultural anxiety among working-class voters was as big a factor as economic anxiety in his campaign victory. Look at the list of issues Mr. Trump has touched upon in recent weeks—transgender Americans in the military, sanctuary cities, the racially charged march in Charlottesville—and you can see him returning to that path.
In doing so, he has stoked deep divisions in the country, particularly with his language that appeared to equate white supremacist marchers with those who protest them. Yet while many in Washington hear defense of neo-Nazi groups when Mr. Trump talks, his supporters make clear that what THEY hear is defense of historic Confederate statues—and, by implication, a traditional version of American culture.
House Democratic leader Nancy Pelosi has responded by calling for removing every Confederate statue from the U.S. Capitol—something Mr. Miller calls "a very dangerous spot of overreaching."
Similarly, when Mr. Trump revives tough immigration talk, he is embracing an issue that helped him steal white working-class voters away from the Democrats.
Democratic pollster Stanley Greenberg calls immigration a "critical element of the Democrats' working-class challenge." His survey work has found that, among 2016 voters, white working-class men—a traditional Democratic group who became a core Trump constituency—were twice as likely to call immigrants an economic burden on the country as were college-educated white women, a core Democratic constituency.
Chicago Mayor Rahm Emanuel, who is in Mr. Trump's crosshairs over his city's policies toward immigrants, thinks he see another motive: an attempt to distract attention from the administration's failure to produce economic policies that help the working class. "Each of these announcements is of a single piece: to grab voters they have lost on economic issues with cultural red meat," he says.
Heading into the fall, the paramount economic issue for the Republican Party and the White House is the quest for tax reform and a broad tax cut. Across the GOP there is no more important priority, and party leaders know they can ill afford to fail.
Mr. Trump's criticisms of party leaders are designed, Mr. Miller says, to add to the pressure. The president is saying: The party establishment failed me—and you—on health care. It's not my fault. Don't let them fail us on taxes.
Write to Gerald F. Seib at jerry.seib@wsj.com
https://www.wsj.com/articles/are-trumps-august-controversies-carelessor-calculated-1503932851